Our Weekend Excursion
The weather here is fickle.
It rains.
It snows.
Hello, it's Spring…bring me sunny days.
Over the weekend, we had nice weather.
It was mildly cool and sunny.
We packed a lunch and headed for the mountains.
We drove up to Big Cottonwood Canyon.
After lunch we explored Ledgemere Cave.
You don't have to hike to get to the Ledgemere Cave.
The cave is in the Ledgemere Picnic area.
It's located in Big Cottonwood Canyon 1.5 miles from the light.
You'll want to Park on the left to avoid the fee (or take a picnic and enjoy the day, but a fee is required).
Once you cross the bridge to the picnic tables take the paved path west (right).
Follow it all the way to the last table in the path.
As you approach the last table, you'll see the entrance to the cave a few feet off the trail on your left.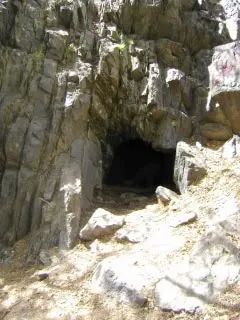 Actually, only Dear Hubby and Li'l Man explored the cave.
One of the kiddos was terrorized due to her imagination thinking that it was a BEAR Cave.
This was not the case.
It runs back about 75 yards into complete darkness, so remember to take a light source.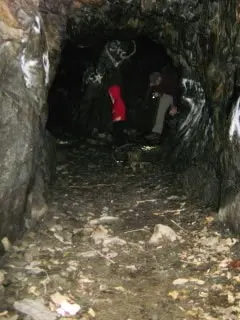 Don't you just HATE vandals!
The entrance to the cave is small, it actually is right at a picnic site.
It's not so small you have to skitter through it, but you should watch your head.
It may be a man-made cave, it's hard to say.
Once inside, you can stand up.
Once inside, there is a turn to the right.
It goes back a few feet and then there is a small passage parallel to the longer shaft.
After the cave we went hiking.
We followed an old road built by the CC back in 1931.
The kiddos enjoyed hopping from concrete block to concrete block and it was fun looking for names and dates the workers imprinted into the cement.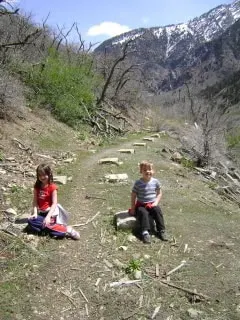 Then, as I've mentioned, I'm Mom Extraordinaire and my side kick (Dear Hubby) sometimes rocks the world next to me, check out this Tee-Pee!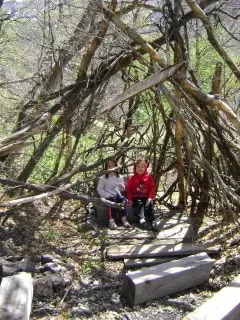 It was a great day.
Cannot wait for the weather to be steady so we can get out more!
We appreciate your subscription to Mommy's Memorandum