Panini the Italian word for a sandwich roll–or bread other than sliced bread. It's a delicious word. Panini are filled with meats, and cheese and served warm after being pressed by a warming grill giving the sandwich a toasted goodness. In Tiffany Collins Blackmon's cookbook, 200 Best Panini Recipes, tantalizing and innovative recipes inspire, whether recreating classics or leaving your comfort zone to experiment with more exotic flavors.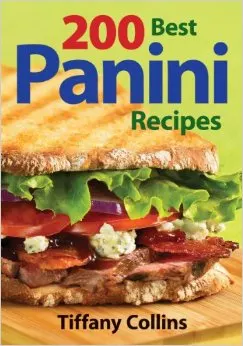 The 200 Best Panini Recipes is a tantalizing cookbook that offers innovative recipes to provide all the inspiration you need to recreate the bistro experience at home. In Italy, panini is considered fast food because they're so easy to prepare, but the delectable results make them seem gourmet. Whether you're looking for a traditional sandwich or a completely new combination of flavors, these recipes will provide you with an endless variety of mealtime solutions — for breakfast, lunch, dinner, and even dessert!
It is now in its second edition with an all-new cover and 16 all-new color photographs that provide irresistible inspiration. Tiffany has spun some traditional sandwich recipes, such as the Classic Reuben Panini, the Monte Cristo Panini, and the Philly Chicken Panini. She's also figured out how to reinvent other recipes that she enjoys (and we know you will too), like Chicken Caesar Panini and Lobster Fontina Panini, as well as including her favorites, such as Beef and Brie Panini and Shrimp Club Panini.
There's also a wonderful array of recipes featuring brand-new flavor combinations that are simply delicious.
Before you get to preparing one of Tiffany's recipes, there's a comprehensive section on equipment and ingredient options. A bonus chapter even features over 25 recipes for fresh, homemade condiments. This handy information makes for the ideal panini pantry, so you'll create the perfect panini every time.
TIFFANY COLLINS is a nationally recognized culinary professional. She captivates audiences at home shows and has made numerous national media appearances, including Good Morning America, HGTV, Home Shopping Network and E! Entertainment Television.