We've entered the year Tiffany & Co. is coming to Salt Lake City. It happens on March 21. While I think it's a milestone for Salt Lake City, this year marks the company's 175th anniversary. Utah and Tiffany's & Co. will be celebrating this grand anniversary at its grand opening.
175 Years and The 2012 Golden Globes with Tiffany & Co.
To add to the excitement, a new 2012 collection will be coming out in March to coincide with the 175th anniversary of Tiffany & Co. I can't wait to see this collection. I'm sure it will be amazing!
The Golden Globes were filled with celebrities and bling. Did you know that two celebrities radiated the red carpet with Tiffany & Co. jewelry and accessories in Los Angeles last night?
Jessica Biel wore Tiffany stud earrings, an opera-length necklace, and rings. Golden Globes presenter, Natalie Portman, held a Tiffany Morgan clutch.
Clare Danes, the previous winner for her work in My So-Called Life and Temple Grandin, is a nominee for Homeland this year and showed off some serious back in her black, white, and silver J. Mendel dress, with Bulgari jewels, a Tiffany & Co. clutch, and Giuseppe Zanotti shoes.
Tiffany & Co. World's Favorite Engagement Ring
Certainly, it's not the celebrities that make Tiffany & Co. popular. After all, the unique Tiffany setting has been the world's favorite engagement ring (Forbes)! It was first introduced in 1886.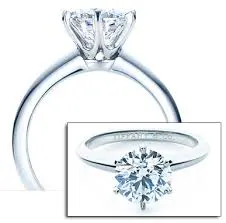 The Tiffany setting features an innovative, six-prong setting that lifts the diamond away from the band to permit a complete light return and generate a stunning radiance.
Tiffany's diamond standards are far more stringent than the industry's. Tiffany accepts only two percent of gem-quality stones.
Just think, in just two more months, Utah shoppers will get to view the Tiffany Setting in person!
Squeee!
*This post is part of the Tiffany & Co. Utah Blogger Campaign. I received no compensation for this post. All opinions, where expressed are my own and were in no way influenced by the sponsor. Others experiences may vary.