Delicious and satisfying Paleo diet friendly slow cooker recipes that everyone can enjoy.
I enjoy using a slow cooker. They are convenient, don't require heating up the kitchen and the results are delicious! In The 163 Best Paleo Slow Cooker Recipes cookbook, all the recipes are focused on the Paleo guidelines and recognize the wide variety of reasons people choose to eat Paleo that are beyond weight loss. It makes this book flexible and attentive to your personal requirements and expectations of the Paleo Diet.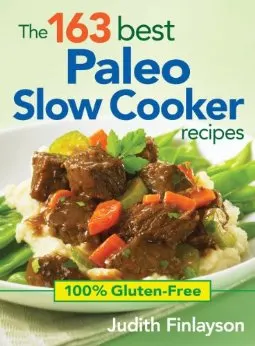 The 163 Best Paleo Slow Cooker Recipes Review
This is a fun cookbook that mixes the new classics with the old standards with this collection of slow cooker recipes. Each recipe has been refined to meet the needs of Primal or Paleo lifestyle. The Paleo diet is one of the most popular diets being followed today–with a whopping 1.5 million people in North America alone! You won't find any recipes between the covers of this book that contain grains or legumes (which makes them gluten-free as well)! There's no refined sugars, no refined oils and no processed ingredients. It's all the basic principles of the Paleo diet.
It's all here: from great family food to more sophisticated recipes for entertaining, not to mention luscious desserts:
Starters and Snacks: Eggplant Caviar, Country Terrine, Swedish Meatballs, Braised Tomato Topping
Soups: Shrimp Bisque, Double Tomato Soup with Arugula-Walnut Pesto
Poultry: Chicken Provencal, Texas-Style Chicken Stew, Tomato-Braised Turkey Breast
Fish and Seafood: Braised Swordfish, Caribbean Pepper Pot, Florida Fish Chowder
Beef and Veal: Short Ribs in Rich Mushroom Gravy, Meatball Goulash, Mom's Sunday Pot Roast
Pork and Lamb: Ancho-Embraced Pork with Tomatillos, Pork Columbo, Irish Stew
Meatless Mains: Louisiana Ratatouille, Cumin Beets, Braised Red Cabbage, Onion-Braised Potatoes with Spinach
Desserts: The Ultimate Baked Apples, Peruvian Cream.
Now even people who follow the Paleo lifestyle can enjoy easy delectable meals that reflect an outstanding variety of fresh flavors, cuisines and textures.
About the Author:
Judith Finlayson is a best-selling author whose lifelong love of food and passion for cooking as translated into sales of over one million cookbooks, including many popular slow cooker cookbooks.