When it comes to my family, their safety is my priority. While I am far from a helicopter mom, I follow the traditional rules of safety, poisons locked up, matches out of sight and reach, and we don't tend to leave the young 'uns home alone without supervision. One area that I realize I might not be so fierce in claiming Mom of the Year is keeping my family safe on the road.
I know! I just figured we bought the car; the folks at the factory know what makes it safe. Then the maintenance is pawned off to someone else…strangers whose workmanship I sometimes fail to question.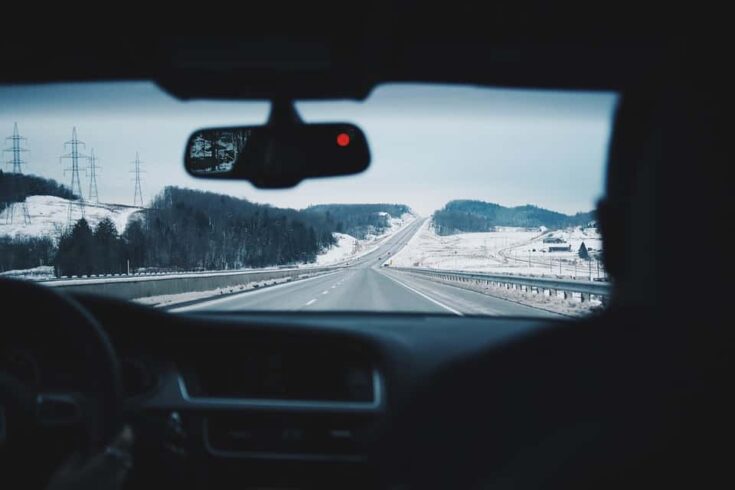 Let's think about this:
10 Tips for Keeping Your Family Safe on the Road
Did you know that a windshield provides 30 percent of your vehicle's structural integrity? Yikes, last year we had our windshield replaced, and it took all of ten minutes!
Think you can ignore a chip in your windshield? Think again! A special resin can quickly repair a chip smaller than six inches (or the size of a dollar bill).
We live in Utah, home of the ferocious winter and marathon days of 100 degrees. The drastic temperature changes are murder on our roads and, as we learned the hard way, if a chip isn't taken care of, whoa!
Chips turn into Cracks. Like right. Before. Your eyes! Windshield repair is often a safe and economical alternative to a full windshield replacement.
Why wait until it's a full-blown necessity to replace the entire windshield? There's a more straightforward and more cost-effective solution.
Scheduling a windshield chip repair is easy! Companies like Safelite AutoGlass provide mobile service – wherever your car is – often within 24 hours of your initial call.
I watch the news too, and some whacked-out folks live and work in our communities nationwide. No worries!
Safelite AutoGlass brings you peace of mind by emailing you a Technician Profile before your appointment, showing you a photograph and credentials of the technician coming to your home or place of business.
I hear you. My husband's famous last words are, "I can do it." Yeah. Yeah. We've rafted that river far too many times. It's not economical, and I had envisioned it being completed.
Forget do-it-yourself repair kits. The resin could easily shrink or yellow, lowering the quality of the repair. Safelite AutoGlass uses a patented repair process. A vacuum is created over the damaged area, and the resin penetrates and fills the finest micro-cracks. The technician pulls off the vacuum changer, and the UV light hardens the resin. Safelite's resin is proven to be the strongest and longest-lasting on the market.
Crunch the schedule, and it still doesn't leave room for the addition of just one more thing. I hear you. I'm thankful I don't have to schedule breathing because I'd suffocate most days.
The repair often takes just 30 minutes, and the result is barely visible, and the windshield is strong again.
Put your money where your mouth is. How many times has convenience crept up and kicked us in the butt? I want a guarantee.
A national warranty backs all Safelite repairs and is guaranteed to pass lease turn-back and state vehicle inspections.
Spam (and not the canned, uber salty kind) has become part of life. I don't need it knocking on my door or finding me in a parking lot.
Some unethical companies – windshield bullies — take advantage of the fact that insurance companies cover the cost of the repair, so they're using it as a way to file fraudulent charges to the insurance company when there isn't really damage. These types of scammers show up at car washes gas stations and even go door-to-door and pressure you to file unnecessary claims. If you suspect damage, go to a trusted vendor to inspect the glass before performing work.
Isn't it great to know that you're doing great things in keeping your family safe with a simple step like taking care of a chip? Beyond the windshield, I recommend:
Take a field trip to the fire department and ensure your car seat is installed correctly. Many communities also offer stop stations. Give kids the boost of the seat and ensure their safety–correctly.
Recently, my grandma experienced some crazy stuff on the road. It did significant damage to her car and left a valuable impression. While driving home late at night, she experienced a tire blowout. She pulled over immediately and without any issues only to find that her entire right bumper and side panel was destroyed…not from the tire but from where someone had crashed into her car, which caused the tire blowout.
Before getting into your car, walk around it. Make sure someone didn't get back into the car, crash into the car, and that all bumpers, mirrors, etc., are intact. Look at your tires for proper inflation. It might just save your life.
Honestly, I really didn't know that a windshield was such a vital part of the car. I admit I thought it was there to keep the bugs and debris from flying into my face in my naivety! Whoops!
Road Trips are what we do, and I encourage my family not to drive distracted…no headphones, blaring music, no food while driving and if you get tired, pull over. You must be alert at all times because someone else behind the wheel may not be.
What are your tips for safe family road travel this summer?
"I wrote this blog post while participating in the SocialMoms and Safelite blogging program for a gift card worth $30.