It's great to encourage your little ones to play sports; they'll get plenty of exercise, make friends with other kids, learn to play competitively yet respectfully, and of course learn the value of team work. Taking up a sport is nothing but positive for your children, but it can get to be a strain on your wallet. Sports equipment is expensive, and it seems like every other week something else is worn out, broken, lost or otherwise needs replacing. You still want to encourage the kids to play, but how can you fund their new hobbies without breaking the bank?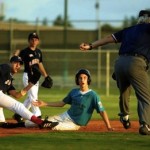 First, try to limit your kids to one sport per season. Some children have a tendency to choose a sport, play it for a few weeks, and then move on to the next game, once again losing interest quickly. This can end up costing you a lot of money and leave you with piles of barely used sporting goods all over the house. If your child seems like the type to lose interest after a short period of time, try striking a deal; tell them that they must finish out the season in this sport, and then they can take up something new afterward. They may fight it, but will most likely end up having a great time.
When shopping for sports equipment, remember the old saying; buy it nice, or buy it twice. Investing in quality sports equipment now can save you money in the long run by reducing breakage and extending the life of the equipment. Your kids will also enjoy playing more, because honestly there's nothing more frustrating that playing your best in a sport and being held back by shoddy equipment. Help your kids have a good time for a long time by buying quality equipment.
Some sports really don't require much equipment. Basketball, soccer, swimming, running–the only real investments that need to be made for these and other sports are proper attire and/or footwear. However, for other more equipment heavy sports like football and hockey, the amount of equipment needed multiplies exponentially. For equipment heavy sports, consider buying things like heavy pads used. Thrift stores and flea markets are often packed with them. You may not find everything you need this way, but it can cut costs significantly, leaving you to spend more on nicer items like helmets, jerseys, and shoes or skates.
Finally, look for the online deals. You can get your NFL tickets online now, so why not your kids' little league equipment as well? Ebay and Craigslist can be gold mines for sports equipment, particularly towards the end of the season. If you need new equipment for your kids next year, the end of the season is a perfect time to buy. Sporting goods retailers often offer internet discounts as well. You'll just need to make sure to size appropriately since your kids won't be able to try everything on this way. Don't worry, of course. Buy smart and your kids will be having productive healthy fun all year.