Sometimes You Feel Like a Nut, Sometimes You Don't
Holidays are my baking time, but sometimes I enjoy the adventure of making a holiday favorite just because. One of my favorite go to recipes is the homemade Mounds and Almond Joy Bars. They are fun to make and I feel so productive when it's over–and that is worth the reward of the feast!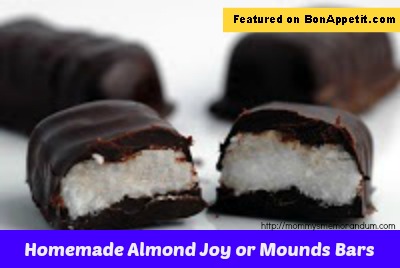 Ingredients:
3 cups finely chopped pecans
1 pound unsweetened or sweetened coconut, depending on taste
1 pound powdered sugar
1 can Eagle Brand Sweetened Condensed Milk
12 oz. Dark Chocolate chips
1-2 almonds per bar, if making Almond Joys
Directions:
Combine pecans, coconut, powdered sugar and condensed milk in large mixing bowl.
Mix well. Form into logs to cut or roll into ball to dip easily.
Note:  Roll into logs as big and round as you want your Mounds. Wrap in waxed paper and freeze the log for at least 30-minutes. Remove from freezer and slice into preferred thickness–we like ours 1/2″ thick.
Melt 12 oz chocolate chips in a double broiler.
Note: To make the chocolate shiny like they really are, you'll want to add 1/4 block of paraffin wax. This works best if you chop the paraffin into small pieces and melt in the double boiler first; then add the chocolate. Be aware the paraffin is flammable and does take longer to melt than chocolate!
Dip coconut log pieces into melted chocolate and cool on wax paper.
Note:  I love all things chocolate, so I dip more than once after they've cooled. I also work best with waxed paper on top of my cooling rack to give the candies that smooth flat bottom.
Enjoy!
You can freeze these or store in an airtight container–that is if you have any left to store.
This recipe appeared on Bon Appetit on 10/16/12 here: http://www.bonappetit.com/blogsandforums/blogs/badaily/2012/10/diy-halloween-candy.html

Julee is the writer behind the blog, Mommy's Memorandum. She vents her emotions through flour and butter. While she realizes there are the tried and true endorphin-inducers like exercise, being thankful and eating healthy, she prefers to live in the fast lane: real butter, a new recipe with a gazillion calories and laughing until she sobs…and of course blogging. She's perky, quirky, dorky. A Utah native and NC transplant with an appetitie to taste the world, meet its desserts!