As a new mom, I experienced so many wonderful women in my life. At the time I belonged to a church group and we would get together a couple times a month and discuss our family, help each other with stenciling and share recipes. I can't remember who gave me this recipe, but I hope I thanked them profusely because it is a recipe I make often for my family.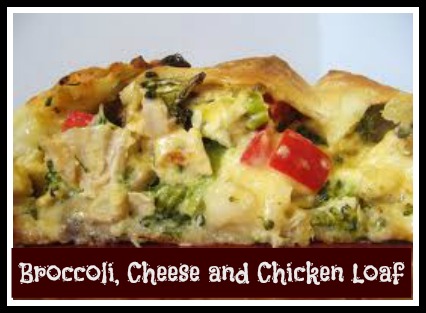 Ingredients
2 cans Pillsbury Original Crescent Rolls
2 cups chicken chunks, cooked
2 cups cheddar cheese
2 cups broccoli, frozen, steamed and chopped
1/2 cup light mayonnaise
red peppers, roasted and diced (optional)
Directions
Preheat oven to 375 degrees F
On a parchment paper lined cookie sheet, spread both cans of crescents length wise to form a long rectangle.
Press each of the seams to form a single layer of dough.
In a large bowl, combine chicken, cheese, broccoli and mayonnaise and red peppers (optional)
Spread mixture over the center of the croissant dough evenly to create a log.
Using a sharp knife, cut horizontal strips 1 inch apart down each side of the crescent dough.
Fold the dough strips over the top of the chicken mixture, alternating left and right to create a braid.
Bake for 28 – 30 minutes until golden brown.

Julee is the writer behind the blog, Mommy's Memorandum. She vents her emotions through flour and butter. While she realizes there are the tried and true endorphin-inducers like exercise, being thankful and eating healthy, she prefers to live in the fast lane: real butter, a new recipe with a gazillion calories and laughing until she sobs…and of course blogging. She's perky, quirky, dorky. A Utah native and NC transplant with an appetitie to taste the world, meet its desserts!