Finding tasty snacks that don't trigger out of control eating and still keep me in my caloric range has been challenging until Vitalicious entered my world. Meet Vitalicious' new 50-calorie Fudgy Chocolate Mini VitaCakes. It's the first of its kind and Vitalicious' LOWEST CALORIE product ever!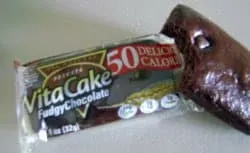 The launch was perfect for those of us ready to head for healthy with our New Year's resolutions. When mine arrived I couldn't get over how fudgy they tasted and how well they filled my desire for all things chocolate. Plus, one filled me up and that's important!
With 2g of protein, 6g of fiber, 14g of carbs, only 1g of fat plus 15 vitamins and minerals, the all-natural Fudgy Chocolate Mini VitaCakes are loaded with as much nutrition as they are with gooey chocolate goodness.
VitaCakes are made from all-natural ingredients and whole grains without any artificial coloring or preservatives of any kind. Plus, it only takes 7 minutes to "walk off" the 50 calories contained in each Mini VitaCake. (And, they are only one measly point on Weight Watchers PointsPlus program! That's right. ONE! )
Without the wrapper they will lure any brownie lover. Alone, on a plate, there's no thought that considers this healthy. One bite and you'll be further deceived. They are incredibly delicious! Though, without the wrapper, when its gone, there may be guilt…until you disclose it's a Vitalicious Fudgy Chocolate Mini Vitacake!
I've been known to warm 'em in the microwave for a healthy after school snack that my kiddos give me "brownie" points for being "The BEST Mom who gives us brownies after school!" Yup! They're that good!
Make your Valentine's Deay with these Fudgy Chocolate Mini VitaCakes available exclusively for purchase online at www.vitalicious.com. Impress them even more with this amazing offer: Get 6 FREE Chocolate VitaTops- Learn More!
While you're there, don't forget to enter the Vitalicious "Walk It Off in 7 Minutes" Facebook Sweepstakes.
One grand prize winner will receive a LifeSpan TR 1200-DT Desktop Treadmill ($1,999 Retail Value).
Ten runners-up will receive a 48-pack of the new 50-calorie Fudgy Chocolate Mini VitaCakes ($48 Retail Value). It takes just 7 minutes to walk off a Mini VitaCake!
The sweepstakes will run from January 19 through March 4, 2012.
*I received Vitacakes in order to facilitate an honest review. The opinions, where expressed are my own and were in no way influenced by the sponsor. Others experiences may vary.