The Divine Miss M dresses to the nines. She loves dresses and if they flair when she spins, it's a keeper! My job as the Princess' mom is to keep her underwear discreet. It's a tough gig. They are constantly showing. We've tried shorts, but The Divine Miss M says, "Shorts go with shirts". Thankfully, Over Undies heard my cries (or maybe they just got tired of my modesty lectures with my girls).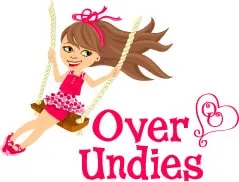 Over Undies are cute shorts designed for girls to wear under their dresses and over their underwear.
They're made in the United States from 92% cotton, 8% spandex jersey blend fabric.
The Divine Miss M selected a pair of white (goes with everything) Over Undies accented by a ruffle trim at the bottom of the leg.
Over Undies offers eight fun colors and four different trim options, so there's something for anyone.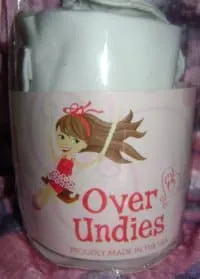 The Divine Miss M lives like the Princess and the Pea only her nemesis is the clothing tag.
Even as an infant I had to remove the tags or she'd whimper.
It's a detail Over Undies didn't miss in their creation–we're talking tag-less labels for no-itch comfort and pampering!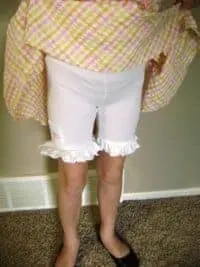 Over Undies look like shorts, but The Divine Miss M didn't give me a lecture.
Out of the package, she thought they were "so cute!"
When they went on, they were a hit.
Being the girly girl she is, the first thing The Divine Miss M noticed is the heart pocket for all her treasures.
We love the diversity whether it's under a dress or just a peek of ruffles under a long shirt, The Divine Miss M's undies are covered!