Tropical Traditions Lavender Moisturizing Lotion Review
Just Google "Coconut Oil" and you'll discover a plethora of information, recipes, and secrets of the people in the Philippines!
We've been using Tropical Traditions Gold Label Virgin Coconut Oil at our home, adding a delicate taste of coconut to our stir-fry, brownies, and more.
I love it.
Recently, another opportunity came to try Tropical Traditions Organic Moisturizing Lotion – Lavender Scent Made from Virgin Coconut Oil.
This moisturizing lotion is a pioneer in the beauty industry as it is the ONLY product on the market that is made with a base of organic Virgin Coconut Oil and Virgin Palm Oil.
Tropical Traditions maintains a quality product by making its moisturizing lotions 100% Natural.
Their lotion contains no alcohols, no artificial fragrances, and no petroleum products.
Here are the ingredients in the Lavender Moisturizing Lotion I reviewed: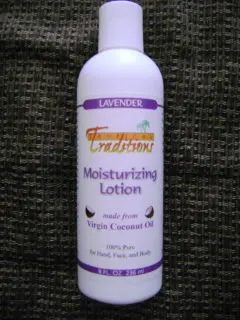 purified water, organic virgin coconut oil, organic jojoba, emulsifying wax (plant-based, no soy), grapefruit seed extract, virgin palm oil, and organic essential oil of lavender.
The Moisturizing Lotion is available in an unscented version or scented with high quality organic essential oils imported from France.
The scents available are Lavender, Citrus, Baby Silk, Peppermint, and Arnica.
Two bottles of Tropical Traditions Moisturizing Lotion retails for $43.00 through their website. Each bottle is 8 ounces.
Tropical Traditions Moisturizing Lotion is an excellent anti-oxidant!
From their website:
This lotion is more than a facial moisturizer, and it is also great for your body.
Virgin Palm Oil contains high concentrations of a powerful form of Vitamin E called "tocotrienols" which published research has shown is 40–60 times more potent than alpha-tocopherol (the most common form of Vitamin E found as an additive in most skincare products.) In addition to these powerful Vitamin E tocotrienols, Virgin Palm Oil is also rich in natural carotenes. It is one of the richest natural plant sources of carotenes with concentrations of 500–700 ppm. It is 15 times more retinol-equivalent than carrots and 300 times more than tomatoes.
Remember I live in Utah, don't let the mountains fool you, it's a desert.
OkIt's dry. This environment causes my skin to flake and itch and demand hydration.
Tropical Traditions Moisturizing Lotion was first used on my hands.
My hands take the brunt of abuse with washing, cleaning, and being outside. I applied a small amount of the lotion and rubbed it in.
The texture is great. It's thick and creamy.
It was easily absorbed and left my hands feeling relief, especially around my knuckles.
It wasn't overly greasy, and once it was completely absorbed, left no greasy feel at all.
Remember there's absolutely NO alcohol in this lotion.
Therefore, it takes a little bit of time for it to absorb completely.
Tropical Traditions is transparent in this asking on the back of the bottle that you wait up to one minute.
I've been using this lotion for a little over two weeks, and my hands are feeling much smoother.
I've also applied it to my legs, and they're getting ready for shorts, looking smooth, moist, and feeling awesome.
I selected the lavender scent.
One of my boys thought it smelled amazing, while the other said it smelled like Malaluca.
This is a great moisturizing lotion and offers a luxurious feel.
Disclosure: No monetary compensation was offered or accepted for this post. I was sent the item mentioned in this post in order to facilitate my review. The opinions are my own and in no way influenced by the sponsor. Other experiences may vary.
We appreciate your subscription to Mommy's Memorandum