The Week 3. Challenge of Pepperidge Farm's Fishful Thinking Program was to work with your child to decorate a box that is kept on the table you eat at regularly. Keep a stack of index cards and crayons and markers next to the box. Two or three times a week, ask your child to write down or draw something good that happened, something good they saw or heard, remembered or accomplished. During a meal once a week, take turns pulling a treasure from the box and reading it aloud.
Today was the perfect day for this…the weather could not decide if it wanted to be winter by sending falling snow, or to just be cold. Either way it was too muddy or too cold to play outside, so we talked about the things in our day and our life that were "good". Things like the smell of the cookies baking. When family comes to visit. Playing outside and a friend comes to join the fun. Our family. There is certainly an abundance of "good" in our lives.
We searched the garage for a box that was worthy of the title "Treasure Box". To a five year old the qualifications were simple…it couldn't be too big, but still it had to have plenty of room for stickers…LOTS of stickers! We discovered the perfect one. It was Daddy's fishing reel box, but certainly he won't mind when he sees the "make over"!
With box in hand, we searched through hoards of scrapbooking paper. The decisions! She considered Barbie, but that "maybe would make the boys in our family feel it wasn't for them." We found some hot pink with white "swirls"–tossed aside as it was "WAY too much pink!" (she's a die-hard purple girl). After 20 minutes of "maybe this one" and "this might be good" she decided on a white paper with pastel asterisk looking flowers.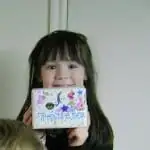 We wrapped Dad's fishing reel box with the perfect paper and then took it to the Creation Station where stickers were lovingly placed in the perfect spot to give it some flair. I was impressed by her meticulous selection of the stickers–"this is really important"–she said as her tongue licked the corner of her mouth with a pause.
As her 3 year old brother, tacked sticker after sticker to his "Happy Page" she explained, with enduring love, how "This Treasure Box is going to be a guest for dinner every night. Whenever you know about something good, you tell me and I'll help you write it down on paper and put it in this box. Okay, Little Buddy?" He grunted an "Okay" and continued to slap stickers on his page.
After the passing of quite a span of time, the Treasure Box was complete. Truly a beautiful expression of artwork. She paused briefly for a photo and then set about telling us all how the Treasure Box works.
She walks by every few minutes and gently shakes the Treasure Box to see if anyone has added "Good Things" to its soul. The sound of papers inside light up her eyes and she whispers to herself, "This is amazing!"
We'll open it tomorrow night at dinner. It is a welcome guest at our table!