While this season it might be difficult to tell, but we live in a desert. Our home is in the valley, and throughout the summer we retreat to the mountains to escape the heat that's amplified by the asphalt. While it's cooler, we are aware that our surroundings are different and some small predators that can leave their mark in a big way…ticks! Other areas we hike in have the discomfort of poison ivy.
I'm not a big advocate of medication. We try and stay healthy and work through the need for medications, and I can't think of the last time we visited a doctor. This is not to say we aren't treating aches, bumps, and pains. There are a lot of natural options out there like Topricin.
For a month, we have tried out three varieties of Topricin: Pain Relief and Healing Cream, Foot Therapy Cream, and Topricin Junior.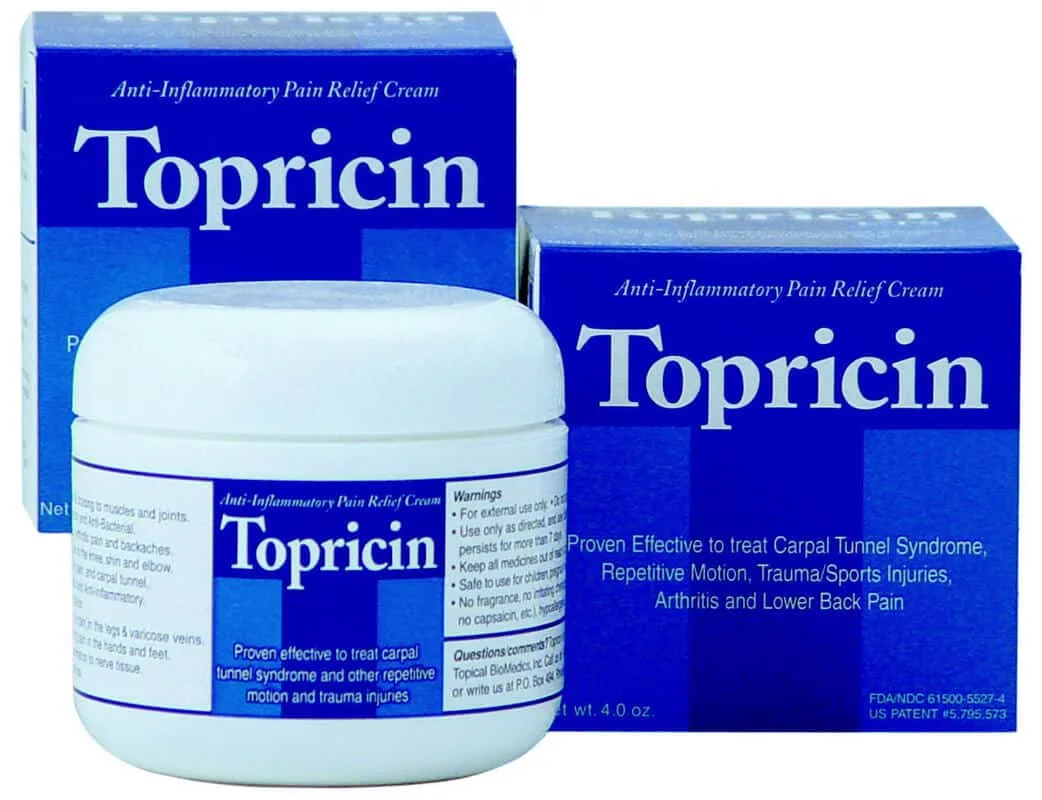 About Topricin
Topricin is a natural pain ointment. It's easy to use by rubbing into your skin for relief of pain. It can be used to treat pain associated with fibromyalgia, arthritis, lower back and shoulder pain, sciatica, Carpal Tunnel Syndrome, trauma, and sports injuries.
"Other than masking pain like most over-the-counter topical pain relievers, Topricin stimulates the body's natural healing process".
Topricin Junior Pain Relief and Healing Cream is specially formulated for children and can be used on your child for injuries, bruises, sprains, cramps, and muscle aches, bug bites, minor burns, and overall growing pains.
We've used it for a variety of ailments. I love that it is odorless…no one wants to be around someone that wreaks of that medicine smell. I also appreciate that it is soothing without being greasy. It absorbs quickly and doesn't leave a nasty residue.
My favorite is the Topricin Foot Cream. My heels get so cracked and dry, and after a week of Topricin, they were healing and didn't split when I walked. It was as easy as applying lotion, but far more soothing.
Topricin Gets Even Better:
Topricin is safe for people with diabetes and pregnant and nursing women.
Because it's all-natural, Topricin can be applied as many times as you wish throughout the day to minimize itching, burning, or pain.
Topricin understands people are on the go. They have a convenient 2-ounce tube (MSRP $16.95) that works great in backpacks, first aid kits, sports/gym bags, and glove compartments. As an added convenience, Topricin is also available in two larger sizes: 4-ounce jar (MSRP $24.95) and 8-ounce bottle (MSRP $39.95).
I appreciate that I don't have to go out of my way to find Topricin. It is available in retailers nationwide as well as direct from the Topical BioMedics' online store.
From the company:
There's nothing more irritating than a skin rash to set your summer activities back.
Poison ivy is among the most common skin rashes to get while playing outside during the summer, so it's best to have some Topricin Pain Relief and Healing Cream on hand to treat the rash and minimize the discomfort and duration so you can get back to your summer fun.
Topricin can help you feel more comfortable in the skin you're in a while, stimulating the body's healing process.
From eczema to bug bites and from poison ivy to sunburn, Topricin soothes the skin by revitalizing, restoring, moisturizing and providing vibrancy and energy to the skin.
The proprietary formula contains eleven natural regulated homeopathic biomedicines that assist the body to reduce inflammation, detoxify and stimulate blood flow that increases oxygenation of the skin to stimulate healing the damage that is causing the pain.
Topricin is safe and natural and doesn't use any volatile oils such as camphor, menthol, petroleum or lanolin, fragrances, or an irritating chemical. It is patented for the treatment of pain associated with fibromyalgia and neuropathy and is safe for pregnant and nursing women and diabetics.
The cream is odorless, greaseless, and will not stain your clothing.
Topricin is formulated for maximum absorption can be applied many times a day as needed to minimize itching and scratching with no fear of overuse or interference with other medications.
Along with treating poison ivy and other skin conditions, Topricin offers safe, effective relief for treating all kinds of injuries, sprains, strains, muscle cramps, lower back, neck, and shoulder pain, and other pain issues.
Here are a few tips from Topricin to help keep you and your family safe from ticks:
Check yourself, family members, and pets for ticks daily. Remember that deer, mice, birds, and other small animals found right in your backyard carry ticks. Nymphal ticks are the size of a poppy seed in early spring and are particularly hard to find.
Remove the tick properly. Use blunt curved tweezers and grasp the tick close to the skin and pull in an upward, steady motion. NEVER squeeze or rupture the body of the tick while still attached because its belly contents, which may contain disease-producing organisms that could be expressed into your bloodstream. Wash your hands and the area of the bite with soap and water. Remove ticks from your pets properly.
Check for Lyme Disease: Once removed, take the tick to a Department of Health laboratory or testing facility to have it tested for the presence of the organism that causes Lyme disease.
Examine/evaluate. Early symptoms of tick-borne illness can include a headache, stiff neck, numbness, tingling, fatigue, swollen glands, or migratory pains that may come and go. Late-stage symptoms are generally multi-systemic and can be very serious. A person infected with Lyme disease can exhibit symptoms within days of exposure, but symptoms may appear weeks, months, or even years after the bite.
There is not always a rash. A person may have Lyme disease without presenting the most obvious and "classic" symptoms such as bulls-eye rash, flu, joint pain, or swelling.
Highest Risks are Kids: Children ages 2-12 are at the highest risk for being bitten by ticks because they often play in tick-infested habitats.
Co-infection. A single tick bite can transmit more than one tick-borne illness, such as babesiosis, anaplasmosis, Bartonella, or tularemia. Co-infections can complicate Lyme diagnosis and treatment.
Educate Yourself. The more you know and understand about Lyme disease and other tick-borne illness, the greater your chances are of avoiding infection and detecting illness if it occurs.
Lyme disease in its initial stage is often easily treatable; however, delayed diagnosis or inadequate treatment can lead to serious brain, heart, or joint problems. Be sure to consult your physician for a proper diagnosis.
*I received Topricin to facilitate an honest review. The opinions expressed are my own and were in no way influenced by the sponsor. Others experiences may vary.