Almost three years ago I moved to the East Coast. Two years ago I started working in Martinsville, Virginia. In making small talk, one day, I brought up Survivor–one of my all-time favorite shows. The Supervisor mentioned he had never watched an episode, which I found hard to believe, but, he added, "Jonny FairPlay is from Danville." Danville is about 45 minutes from Martinsville.
Through the past two years, I have received deliveries to the warehouse. Most of the drivers are local, and there has been a tremendous amount of conversation about Jonny Fairplay. On one occassion, the driver went to school with Jonny FairPlay and told me all about Jonny's term as Class President at George Washington High School. This conversation went on for quite some time, enough so that when we were back in the office, one of the guys at the shop said, "Julee, WHO is Jonny FairPlay?"
In case, you aren't familiar with Jonny FairPlay, he was on Survivor: Pearl Islands back in 2003. Here's a clip that sort of secured his nick-name. His real name is Jon Dalton.
Fast forward to today.
About 2:25pm I get a phone call from the Supervisor, who is whispering into the phone.
"Julee Morrison, guess who is standing here?"
I took a guess. I was shot down.
"I don't even know where you are?"
"Danville"
"Do I know them?"
"You don't KNOW them; you've never met them, but you have talked about him many times."
"I have no clue."
"Jonny Fairplay!
"How do you know Jonny Fairplay if you've never watched Survivor?"
"Allen is with me. He pointed him out. He's looking at a red mustang right now."
"I don't believe you! Put him on the phone!"
"I'm going to."
There was some mumble in the background and then the Supervisor says, "Hold on, he just got a phone call."
Then I hear, "Are you Jonny?"
"Yes."
"Will you take this call, she doesn't believe I'm with you."
Then, the voice comes on the phone, "Hello? This is Jonny. Jonny Fairplay."
People! I was floored. This had taken a turn for crazy.
Jonny Fairplay talked to me for about 3 minutes. He is a really nice guy on the phone.
The Supervisor even got a picture. He asked to take a picture of Jonny, who insisted they BOTH be in it.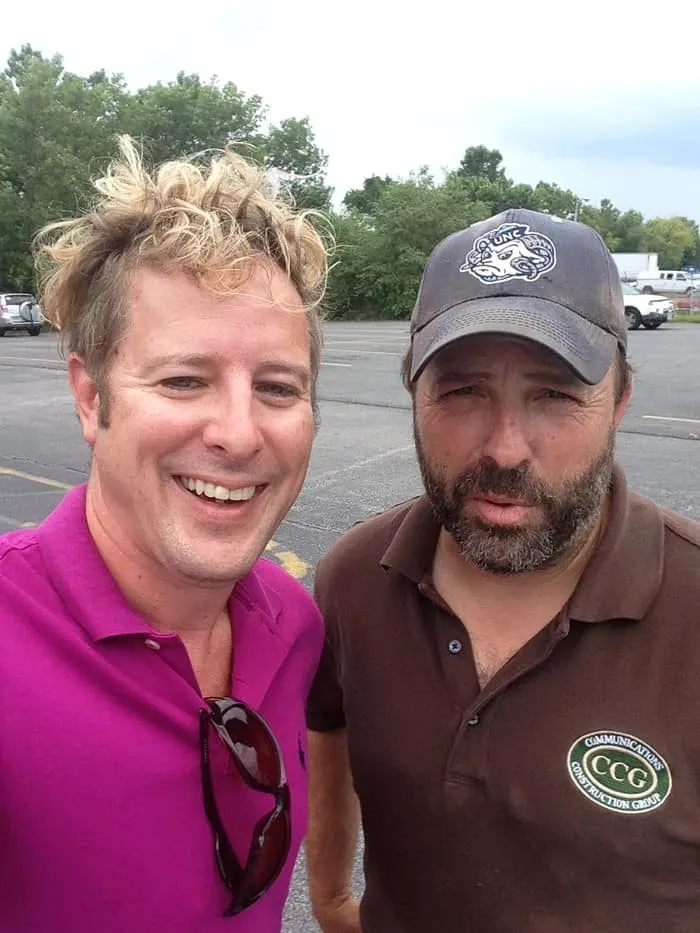 And, while Jonny FairPlay may not be the most beloved fellow in the world, he even sent the supervisor back with this souvenir for me.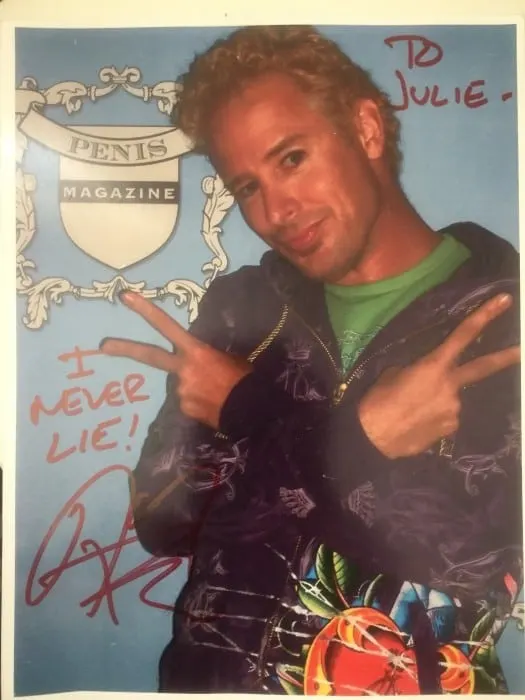 The guy best known for his lie about Grandma, and the most talked about guy by delivery persons at my job, made me laugh out loud and I appreciate that he took time away from HIS life, to take a phone call!
About Jonny Fairplay:
Jonny Fairplay, whose real name is Jon Dalton, is a former contestant on the reality TV show "Survivor." He gained fame as a controversial and memorable participant in the reality series.
Jonny Fairplay first appeared on "Survivor: Pearl Islands," the seventh season of the show, which aired in 2003. He was known for his cunning gameplay and creating alliances, but he became most notorious for a deceptive move known as the "Dead Grandma Lie." During the show, he fabricated a story that his grandmother had died to gain sympathy and leverage in the game. This deceitful tactic remains one of the most talked-about moments in "Survivor" history.
Jonny Fairplay returned for "Survivor: Micronesia – Fans vs. Favorites," the sixteenth season, which aired in 2008. However, he was eventually removed from the game due to an injury.
Beyond his appearances on "Survivor," Jonny Fairplay has made appearances on other reality TV shows and has remained a polarizing figure in the world of reality television. Please note that there may have been further developments or appearances since my last update, so I recommend checking more recent sources for the latest information about him.