A well-stocked pantry makes me beam. I love the options and knowing that what I am about to make is going to have all the ingredients available without a trip to the market. A well-stocked pantry is also the beginning of Thanksgiving success. It's easy to stock a pantry and affordable.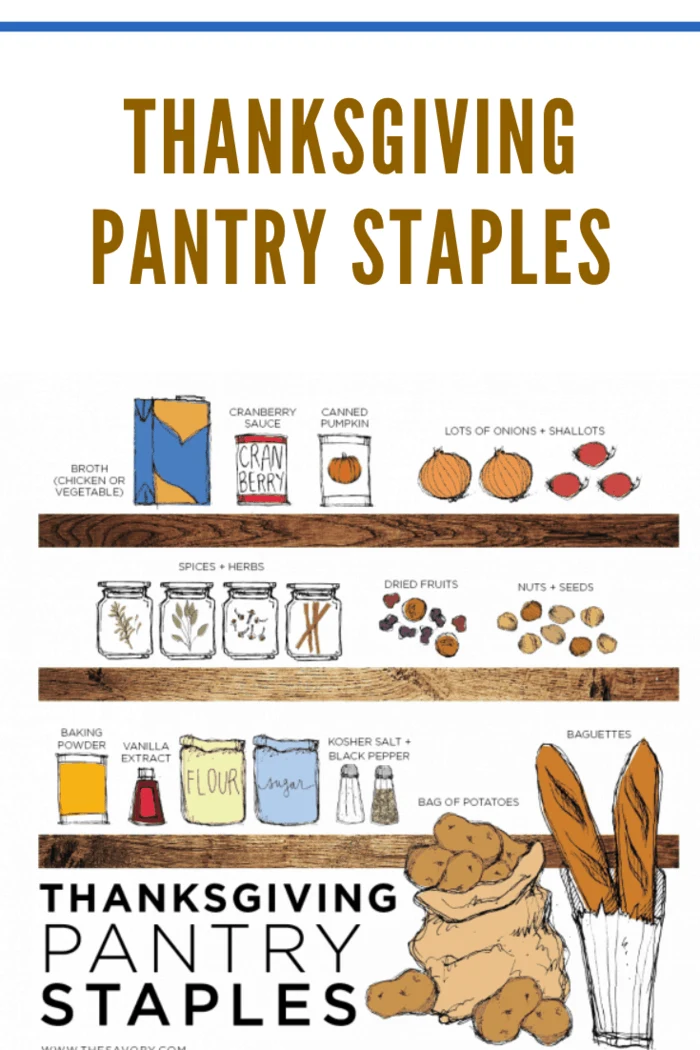 Thanksgiving Pantry Staples
Dried fruits:
Keep fruits like cranberries, raisins, dried figs, and dates on hand for making stuffing and for baking purposes.
Nuts and seeds:
Use nuts in stuffing for an unexpected crunch.
Toss in salads and keep around for baking (hello, pecan pie).
Canned jellied cranberry sauce and canned pumpkin:
We love when you make your own cranberry sauce or relish but we just feel like a canned cranberry sauce safety blanket is totally worth it (and still delicious).
Always have some canned pumpkin (we like Libby's brand) around from October through December.
Broth:
Chicken, vegetable, or turkey. Think soups, gravies, sauces – can't have enough of it.
Spices and herbs:
Move baking spices to the forefront of the spice rack and keep dried rosemary, sage leaves, thyme, and tarragon nearby.
Potatoes, onions, and shallots:
Thanksgiving doesn't usually slide by us without the mashing of potatoes.
Onions and shallots are the flavor purveyors of many holiday dishes and sauces.
Buy plenty – you'll use them.
Baguettes:
Keep fresh baguettes around for appetizer crostini-making, day-old bread for stuffing, and two-day-old baguettes for croutons.
Baking essentials (flour, sugar, vanilla extract, baking powder, and baking soda):
Do you think you'll get by without making a pie this season?
Savory.com provided these tips