Loose leaf tea inspires me. I find it romantic, beautiful, and filled with flavors from subtle to bold. Loose leaf tea allows me to control the flavor, the steeping and make every glass one that is mine.
Tiesta Tea Loose Leaf Tea's Beginnings:
Sometimes we encounter a friend who carries us through the hard times, laughs out loud at our silly jokes, and stands the test of time. Sometimes we meet this person later in our life, or in the case of Tiesta Tea, in preschool! That's right co-founders Dan Klein and Patrick Tannous met in preschool! They're still best friends to this day!
The idea for Tiesta Tea began as they studied abroad in the spring of 2009.
They booked a last-minute trip to Prague–I know!
Who does that?
Turns out, Prague is more than just a fairy-tale-looking city with rich history–it's also an international tea hub.
Then, as the story goes, Dan and Patrick stumbled upon a traditional Czech tea house and ordered a famous fruit tea called Granny's Garden.
That cup of tea, full-flavored, taste, sight, and appearance, was unlike anything they had seen before.
They purchased a few bags, smuggled them on the plane, and started Tiesta Tea after realizing how important coffee and tea shops were in European Society and wanted to bring that same ideal to America.
Tiesta Tea: Loose Leaf the Difference
Tiesta Te combines small business with tea. Founded in Champaign, Illinois, it's a tea company that does things differently.
To begin with, they categorize their tea blends by effect–Energizer, Immunity, Slenderizer, Forever young, and Relaxer–any questions on the benefits of each of those?
Secondly, the sight of the tea will appeal to any tea lover. The quality is evident in the quality ingredients and the aroma will make your mouth water!
Just look at the Eternity: Blueberry Wild Child: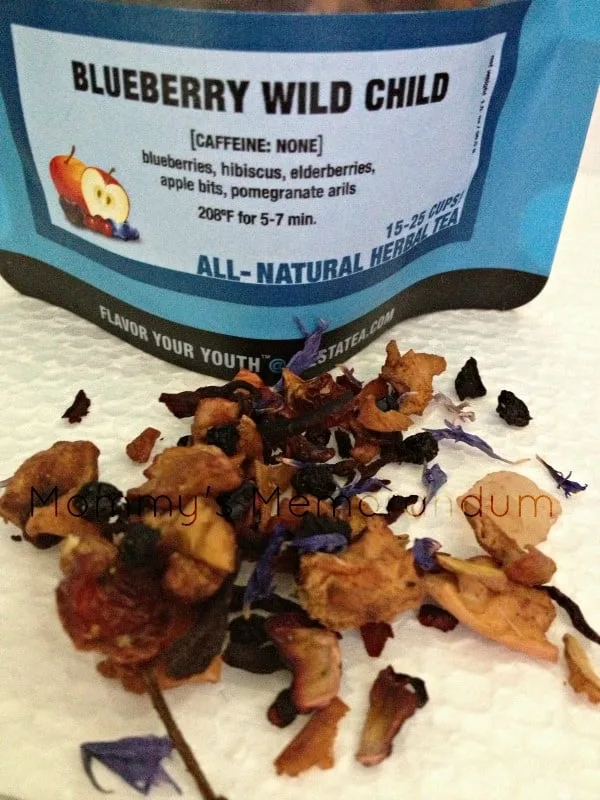 I couldn't believe the chunks of blueberries, hibiscus, elderberries, apple bits, and pomegranate arils.
I was so fascinated I actually put a pinch in my mouth and chewed.
It was REALLY good…just like that…now imagine the tea!
These days, I'm drinking the Relaxer: Palm Beach Punch.
It's all I can do to keep from exploding with the stress of back-to-school and a new job coming up.
It's refreshing with the herbal and rooibos teas to help me handle the stress.
I also received the Slenderizer: Lean Green Machine.
It's low in caffeine and filled with green teas, lemon peels, lemongrass, and bergamot oil.
It's tasty, but my least favorite of the three I received.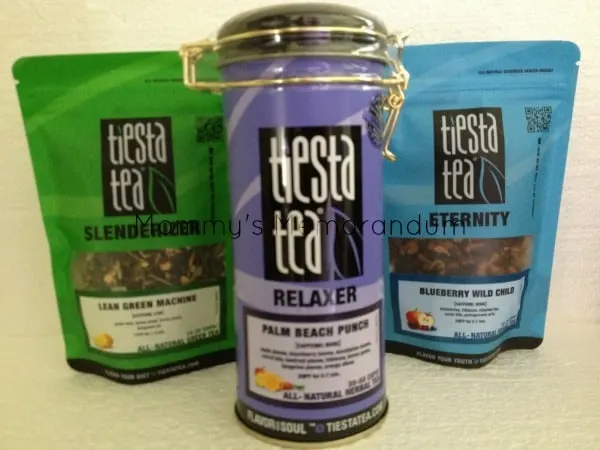 Tiesta Tea Offers 50 Loose Leaf Flavors!
It's an impressive collection and I'm sure you'll find several you'll need to try!
Where to Buy Tiesta Tea Loose Leaf Tea
Find Tiesta Tea online to learn about their line of tea or to order.
If you enjoy tea, whether it's hot or iced, Tiesta Tea is something special.
Indulge yourself and discover why I'm a fan of the flavor and quality.
Tiesta Tea is unique loose leaf tea and delicious!