Exploring unexplored destinations and traversing new paths can be so much fun. The travel bug in you will let you go to any limits to reach to most beautiful locations. But there can be one obstacle between you and this travel adventure: your health. Over the years, your hair will turn grey, and your health will be too fragile. At times you may still be young, but there may be some medical issues. Does that mean that you stop traveling and kill that travel bug inside you? No, not at all! You can easily strike a balance between your frail health and your strong desire to travel by taking a few measures.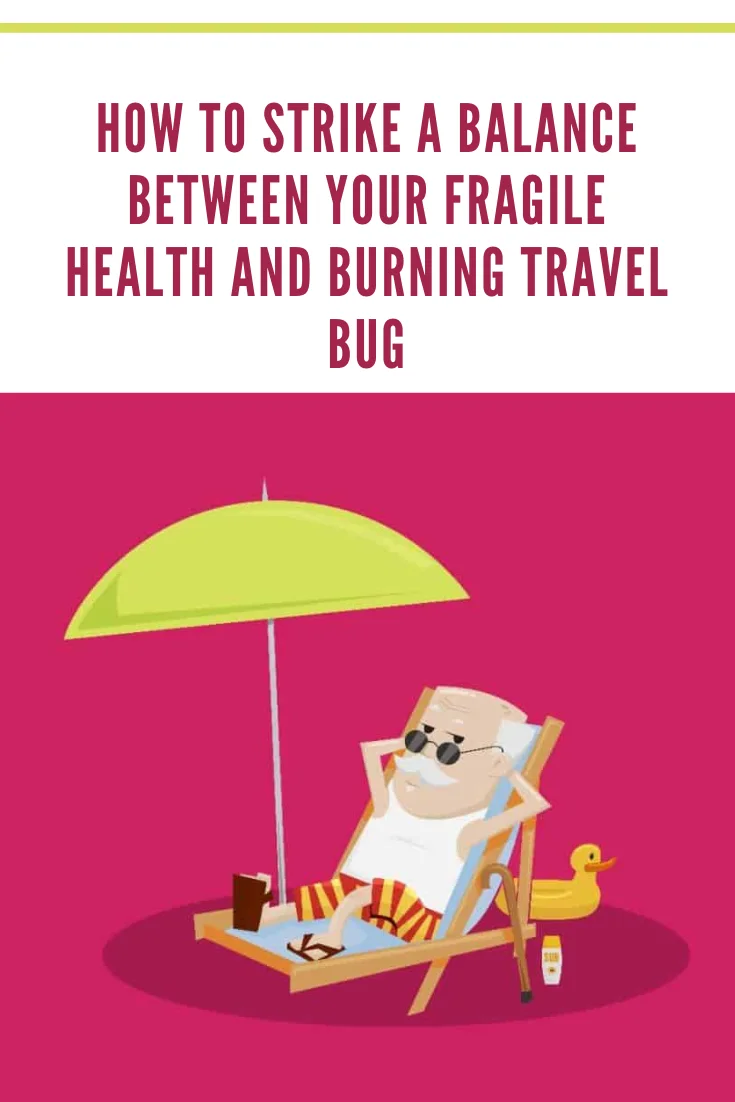 Health Check-Up and Medicine Kit
If you are suffering from a chronic medical condition, make sure you visit your doctor before making your travel plans. Let him do a thorough check-up and decide if it is fine for you to travel. Also get a complete list of medicines that you will need. Make sure that you carry the prescription along with the medicines when you are traveling. Ensure that you carry all the medicines in the required quantity. This is because there is a possibility that you may not get certain medicines in a different country.
Be Well-Prepared
Make sure you carry all you require during your journey like your medicines. Of course, there will be some things that you will not be allowed to take in as cabin baggage in air travel (TSA). But still, try to be well-equipped. Also, carry a note in your bag that mentions your medical conditions and the medicines you need. If you have a problem or emergency, it will be easier for people around you to assist you.
Don't forget to check if certain medicines are illegal to carry in the country of your visit.
Travel with a Companion
Avoid traveling alone. Explore places with your friends and family members. This way, there will be someone around you to take care of you all the time. It will also give you confidence that you have company, and that your loved ones are there if there is a medical emergency.
Avoid Too Much Baggage
Your health is already not supporting you. Let heavy baggage not spoil it further. It is better to carry only those things you will require. Avoid carrying excess baggage which you will not be able to handle.
Stress-Free Vacation
Keep in mind that you are going on a vacation and not to win a race. So, keep the trip stress free. Make sure that you plan your trip in such a way that you get a break and you can get proper rest. Avoid doing things that will tire you easily, like walking for long hours or climbing hills etc.
Buy Travel Health Insurance
You may take the best of measures to ensure that you remain in the best of health. But medical emergencies can crop up anytime and anywhere. It is, therefore important that you take proper measures to tackle these situations.
The best way to manage these situations is by opting for travel insurance, suggests icicilombard. Travel health insurance will cover the medical costs that you incur at the time of travel. Once you have a travel health policy, you need not take tension about a sudden medical emergency.
Benefits of travel health insurance policy:
Enjoy cashless hospitalization in a foreign location
Theft/Loss of baggage and documents
Last-minute ticket cancellations
Emergency extension of a hotel stay
How to Buy Travel Health Insurance?
Nowadays you do not even have to take the trouble of leaving your home. Just compare the different policies of different companies online. Opt for the best service provider. Let your delicate health not be the reason you confine yourself to your home. Opt for a good travel insurance policy and take a few measures to balance your health and the travel bug.