Looking for a family game night with some flair? We were sent Square Shooters, and y'know, it might just be the game. It combines dice with cards and uses a typical poker game with a spin!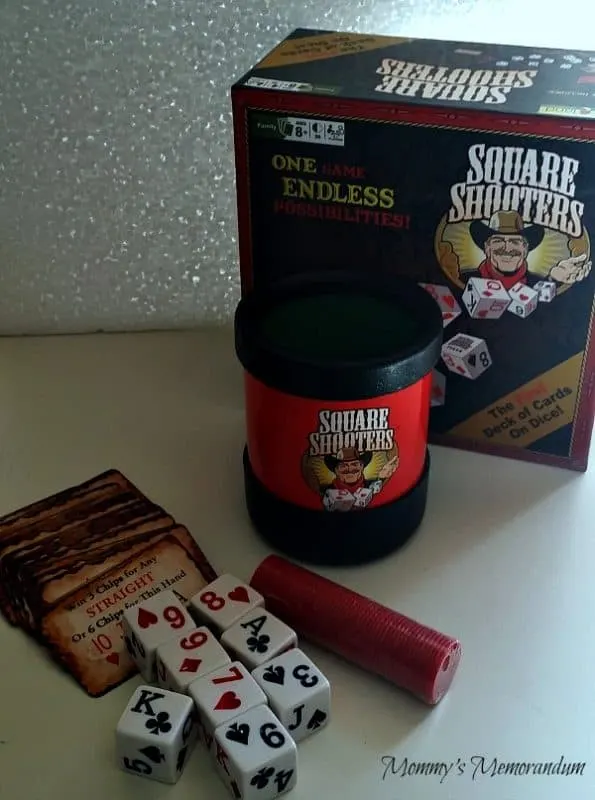 We love family game night. Finding a game that entertains a span of ages can be challenging. It has to be engaging enough to keep me entertained and the kiddos. My kiddos love poker, and we tend to bet gummy bears or chores. It's a fun night with everything enjoying the game.
In Square Shooters, the dice faces become the deck of cards. The nine dice make up a complete deck of cards, including the aces. The instructions also include some fun alternative games you can play, even including cards (included).
Almost any card game can be played with nine dice. In Square Shooters, you flip a card and attempt to match the hand shown in three rolls or less. Get the hand before your three rolls are up and win! There are even "Shootout" cards that add to the fun!
The game is for ages eight and older; however, if your child understands rummy, they should be able to play Square Shooters. I love that my kiddos can roll dice in this game, as they are still mastering the skill of holding cards in their hand during gameplay.
This game also includes a deck of cards…this is for an alternative game of play. They are not required for the game of Square Shooters.
It's a quick game. You simply turn over your target card (small cards), then roll the dice up to three times to reach the goal. Succeed, and you win chips. At the end of each "hand," scores are tallied. Complete eight rounds (or however many you decide) and determine the winner by the scores. Get a "Shootout" card and make the game more interesting.
I love that the pieces all fit in the cup to play it wherever we want. We're looking forward to taking the game with us to the beach at the end of the month.
You can buy it on Amazon or through the Square Shooters website.