Kick Your Beauty Regimen Up with Sensai by Kanebo
Don't you hate it when a product makes you reflect on your poor choices and realize your priorities were scrambled beyond omelets? Welcome to my world and the product that has had this effect, Sensai by Kanebo.
Here I am in the early part of the 40s decade of life. I look in the mirror and realize that everything about us fades as we age. My eyes aren't nearly as green, my hair..well, gray fills in where I once was a brunette. My skin has faded and seems dull, and let's not even talk about the lines and sagging that's occurring!
Sensai by Kanebo Beauty Regimen Review
For at least ten years, I have committed to nourishing and doing whatever I can to prolong aging. This is not to say I'm winning, but I am trying to slow it down to at least an agile approach. My routine involves washing my face using a toner, serum, peptides, moisturizers, eye creams, and sunscreen. It's a ritual I do in the morning and repeat at night, minus the sunscreen. Tonight I went a different route.
Sensai's Purifying Cleansing Oil
Kanebo sent me samples of Sensai, and I've been reading about it and working on the massage techniques. Oh, mercy, they are relaxing! So tonight, I decided I would sit down and try the products. I started with the Asian Double Cleansing Routine of Sensai's Purifying Cleansing Oil and Silky Purifying Creamy Purifying Soap.
A creature of habit, I'm going to be honest and tell you that I did wash my face with my nightly face wash. Then I opened the Sensai Silky Purifying Cleansing Oil.
I know what you're thinking because I was thinking it too…wash my face with oil? Gross. I did. It felt very similar to baby oil on my fingers, which made me shudder as I raised my fingers to my face. I rubbed it all over, using my perfected massage techniques, and was impressed by how light it felt. I let it do its thing, releasing dirt, then I wiped.

Sensai by Kanebo Cleaning System
Kanebo Silky Purifying Creamy Purifying Soap
Remember, I washed my face FIRST. As I wiped my face with cotton balls, it became disgustingly clear that my facial cleanser needed to go…it left seven cotton balls of DIRT…there was makeup still embedded in my pores, and I don't know what the other yucky stuff was…pollution and my day trapped in my pores. It was incredible what Sensai Silky Purifying Cleansing Oil removed from my freshly washed face!
The next part of the Sensai cleaning process was the Silky Purifying Creamy Purifying Soap.
A little goes a long way. It comes out like a thick lotion, but add some warm water and rocks luxury in its suds. I loved this stuff. I did NOT want to stop massaging it on my face. It rinsed clean with minimal effort, and my skin felt shockingly clean. It wasn't taunting like soap can leave your face, but just a balanced, clean feeling.
It rinsed clean with minimal effort, and my skin felt shockingly clean. It wasn't taut like soap can leave your face, but just a balanced, clean feeling.
These two amazing products are available at Bergdorf Goodman and Neiman Marcus.
Sensai Lifting Radiance 3D Mask
I carefully unfolded the mask. I was surprised there was no dripping or stickiness. Per the instructions, I put it on my face and instantly felt the coolness. It was so pampering and soothing. It eliminated some puffiness, and I enjoyed the full 20 minutes resting on my face. It didn't dry out; it just kept on hydrating. Then I treated myself to the Sensai Lifting Radiance 3D Mask. Wow! This mask broke my stereotyping facial masks forever. When I opened the package, there was no mud. Instead, it was a box filled with Sensai's Lifting Radiance Concentrate and a gently folded mask that felt like a soft blanket. It's cut out around the eyes, nose, and mouth, and the neck/jaw area is cut, so it rests perfectly on these areas without effort.
Then, with sadness, I had to remove it and guess what? It came off as quickly as it went on. I lifted it off, disposed of it, and massaged the Lifting Radiance Concentrate into my face and neck.
My face felt amazing, and there was no way I'd put makeup on after this treatment. I cannot think of a time when my skin felt so amazing.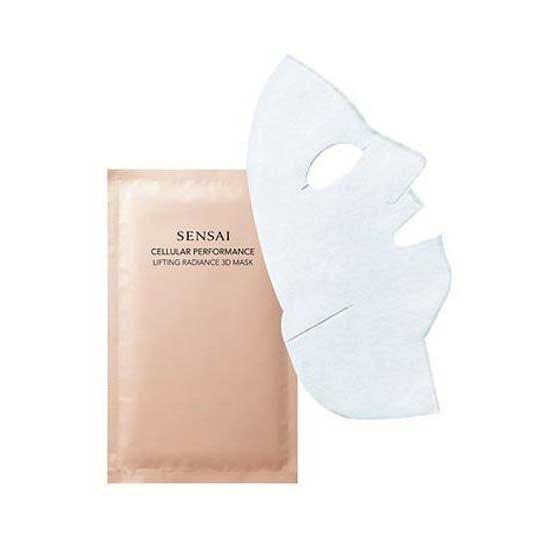 3D Mask and Concentrate Technology
Here's a bit more background info on the muscle "Work Out" ingredient technology featured in the 3D Mask and Concentrate from Sensai by Kanebo:
As we age, we gradually lose muscular tension in the face, which eventually drags the dermal layers down, causing wrinkles and eventually folds (aka Marionette lines/nasolabial folds…yikes!) SENSAI by Kanebo has uncovered a natural yeast derivative (Natural Musculifter) that promotes the breakdown of sugars (in a process called glycolysis) in the muscle to boost the energy supply and fuel the energy metabolism within the facial muscles so that your face gets an intensive "work out." The workout contributes to improved muscle contractility and tension. The new Lifting Radiance Concentrate and 3D Mask feature the highest concentration to date from the series.
The "Oxygen" "Blood-pumping" aspect is provided by the new exclusive Golden Chamomile Extract that works as an "oxygen mask" to pump oxygen into the muscles and the skin by boosting microcirculation while also providing a radiant, glowing natural look.
Sensai Lifting Radiance 3D Mask ($245) Lifting Radiance 3D Sheet Mask (6 packs for $165) will be available at Bergdorf Goodman, Kanebo.com, BergdorfGoodman.com, and Neiman Marcus.
Sensai Cellular Total Lip Treatment
My final follow-up was with the Sensai Cellular Total Lip Treatment and the Brightening Creme. Both are creamy and go on nicely. I love the Cellular Total Lip Treatment because I'm a lip balm person all day long, and at night, my lips miss the stuff I've addicted them to. The Total Lip keeps them hydrated throughout the night and leaves them silky smooth in the morning!

Celebrities use Sensai
I read that Miley Cyrus uses the Sensi by Kanebo Line, particularly the Sensai Oil Control Mask and Wash. This is where those priorities I was talking about at the top of this post come into play. When I was Miley's age, I spent every dollar I earned to hit the Fake and Bake. On summer days, I strutted around the pool and skied the slopes in the winter. I was reckless because I didn't use sunscreen. It would take me until my late 30s to recognize the value of UV Protection. This being said, my skin has been through a lot. Do you know how GOOD Miley's skin will look when she's my age if she continues to use Sensai by Kanebo? I'm not a professional, and I could be wrong (I've been wrong before); however, after seeing how much dirt was removed from my freshly washed face and feeling the difference after each of the Sensai products, I'm feeling confident that Sensai is what Miley's generation would call HOPE.
You can learn more about this fantastic product through the Kanebo Sensai Website.
While I love all of the products, I'd go for the Silky Purifying Creamy Purifying Soap if I am going to invest in just one.
I was sent the products mentioned in this post to facilitate an honest review. No other compensation was received. The opinions are my own and were not influenced by the sponsor. Others' experiences may vary.