Rebelle Friendship Bag Review
Like shoes, handbags are a natural part of any girl's DNA structure. Like me, my mini-Divas are all about glam and having style. They are also social butterflies.
As the mom to young girls, I want them to experience fashion. Finding the perfect handbag has been a chore. There are some cute ones on the market, but they outgrow the fad quickly and soon thing they are far too mature for "that" purse before long.
Daisy Cook is a pioneer in bringing the style and glam of a bag and combining it with the social butterfly aspect that comes naturally to all things GIRL with her line of Rebelle Friendship Bags. These bags are stylish, fun and very unique.
We were sent a Butterfly Victorian Pink Rebelle Friendship Bag to review. When it arrived I was beside myself in awe. When I unwrapped the Rebelle Friendship Bag I notice immediately the quality.
While I seriously wanted this bag for myself, it was for my girls and I invited them into help facilitate the review.
They "oh-ed" and "ah-ed" and then started to bicker over who was going to get this purse. While they were busy in negotiations I said, "What if I told you, you BOTH could have this bag?"
"Mom, I don't want to share." Came the selfish answer.
"Let's look at the bag together and at the end we'll figure out a way to make this work for BOTH of you.
Daisy Cook has not overlooked anything in her design. The attention to detail is astounding! The first thing I noticed is how soft the handbag is. It is made from a laminated spandex. The colors are soft and the design had my girls breathless. Pink and blue hues swirled with gold lines compliment the soft Victorian Floral print and it's the touch of violet and green make for a very eye-appealing design.
Each side of the purse is complimented by three pink faux leather hearts that are outlined with a violet piping. The upper left-hand corner of each side has 12-strategically placed clear rhinestones that really add bling to this beauty.
The more I handle the Rebelle Friendship Bag the more impressed I am. It has a magnetic clasp that is state of the art cool. It stays shut and opens easily. The clasp, though heavy enough to secure is not the "grabby" magnetic force that snaps it shut. It is a quiet and gradual release that we found to be very appealing.
The inside of the bag is just as rich in beauty and detail as the outside. It's soft to the touch and has some serious eye-appeal.
The faux pink leather lines the flap giving way to a pastel lavender faux suede lining.
The Rebel logo is placed perfecting on the pocket. My girls associate logos inside the purse as the "real deal", so this added touch went a long way in their book.
My girls were excited when they discovered a "hidden treasure" inside the purse. There is a hot pink tag that reads: "Cut Open to Reveal Your Secret Code". Of course, we HAD to do this.This secret code gives access to the Rebelle Girlz Friendship Club. In this BFF Zone, girls learn how to be a fashion designer and get fashion tips from the designer, Daisy, herself! There's even an incentive where one lucky girl will have her design chosen by Daisy and it will be put into production! This really hit home with me. I love that Daisy Cook has realized her dream and is now supporting young girls to explore their own dreams–and Daisy's helping make those dreams a reality!
While the beauty and quality of this bag are awesome, the next part is what will make you want your own Rebelle Friendship Bag. I promise.
This double zip around saddle bag is a bag you can unzip and share with your B.F.F. The quality and detail of this process are just as thought-out as the design and bag itself. The zipper has a heart charm in silver that matches the hearts on the front of the bag. It is heavy duty and large enough for smaller hands, yet small enough to not stand out, adding, even more, charm to the bag.
Remember, I promised my girls we'd work through this and find a way for them each to have this bag?
Well, by unzipping this zipper…this one bag….
Becomes TWO…one for you and one for your B.F.F.!!!
Even the straps are interchangeable for mix and match fun!
My girls were THRILLED as they sat with their jaws gaping. "Wow! That is SO Cool!" replied my oldest.
Indeed, it is! As a mom, I'm extremely impressed with Rebelle Friendship Bags. Daisy Cook has outdone herself in her design, color combinations, details, and quality. She has transformed the "Best Friends" necklace from my youth into a
stylish and modern
way to express your individuality, create a "Friendship Club" and declare your B.F.F. What I love most is that she is paving a path for girls to dream…and dream big..to pursue their desires and be creative. I love that!
My girls love their Rebelle Friendship Bag…and are looking forward to spreading the word to their B.F.F's so they can start exchanging!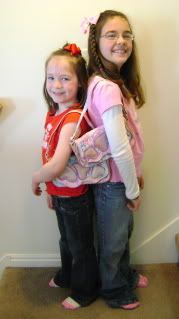 Disclosure: No monetary compensation was offered or accepted for this post. I received the item mentioned in this post for review purposes. These opinions are my own and in no way influenced by the sponsor. Other's experience may vary.