pediped Flex Line "Jake" REVIEW
My Li'l Man hates shoes.
He has wide feet that sweat, and he just doesn't care to be confined to a shoe.
Then, through a review opportunity, we discovered PediPed, and the world has become a much better place!
For our review, we were sent the "Jake" PediPeds in Navy.
When they arrived, Li'l Man was stoked to get a package.
When he opened it and saw it was shoes, he folded his arms and huffs.
After negotiations, he agreed to "try them".
We put them on and then walked .75 miles to 7-11 for a Slurpee (part of the negotiation).
He did not complain ONCE about his feet or the shoes on the walk there or back.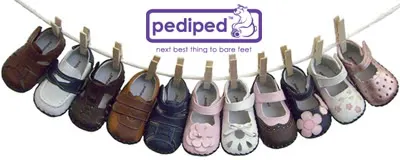 I was impressed.
When we returned home, I fully expected him to follow protocol and kick them off before his body was even through the door.
He did not. He kept them on.
As the day progressed, he was still in the PediPeds, and neither he nor I were saying a thing.
He took a nap in his new pedipeds.
He woke up and noticed his shoes were still on.
His eyebrows furrowed as he scolded me, "Why did you let me sleep in my shoes?"
"I forgot you had them on," I said, begging his forgiveness.
Then his dad came home, and Li'l Man greeted his dad at the top of the steps.
"Buddy, does your mom know you have shoes on in the house?"
It's a rule at the Morrison Home that we don't wear shoes inside.
William said, "These are my NEW shoes. They make me run faster and jump higher and funny thing, and I forget I even have 'em on!"
My husband's and my eyes locked.
"He hasn't taken them off since we put them on him."
It's an impressive thing to be a shoe that my four-year-old loves.
He has had his PediPed "Jake" shoes for one month now.
While he isn't napping in them any longer, there are no screams and kicking when it's time to go, and he needs to conform to the world's request for shoes.
He is my only child who can walk and walk and walk and not complain his feet hurt or his "shoes are tired".
I'm impressed by the quality of these shoes.
They are made from premium grade, non-toxic leather.
The inside is padded- heels to help absorb shock and foam insoles for added comfort.
The creators of PediPed, Angela and Brian Edgeworth believe in the same truth as I do, we only get one set of feet, so we need to take care of them.
From their website:
Today, pediped® uses the latest technology, plus the highest quality materials and craftsmanship to create shoes for children that are designed to care for their feet from crawling, to those amazing first steps and into the toddler years. The philosophy of pediped® has always been Comfort, Quality, and Style, which is why pediped® was one of the first children's shoe companies the American Podiatric Medical Association awarded their Seal of Acceptance for promoting healthy foot development.
This month PediPed also celebrates the launch of machine washable footwear from pediped®. pediped® footwear's Spring/Summer 2010 line is machine washable footwear.
My Li'l Man is a puddle jumper, and now with this welcomed innovation, he can.
These machine-washable shoes for kiddos 2years to 5 years will continue to look great and are super easy to clean.
pediped® Flex line extension features DRYZ® technology, a magic technology that resists odor development might possibly even eliminate stinky feet! DRYZ® insoles wick away moisture to help keep sweaty, little feet dry and comfortable.
pediped offers a great selection of more than 45 styles and colors.
While I haven't personally worn the shoes, I can tell you that Li'l Man won't likely be graduating from pedipeds.
He loves their comfort, and I love the quality.
You can use the pediped store locator to find a retailer near you to view and experience the pediped shoe first hand.
We appreciate your subscription to Mommy's Memorandum