Joe Gumm is on my husband's list. Recently, I approached my husband with a gleaming smile and asked him to read 150 Secrets to a Happy Wife. It's written by Joe Gumm and has some great advice my husband should heed. After all, as Gumm says, "A happy wife, a happy life."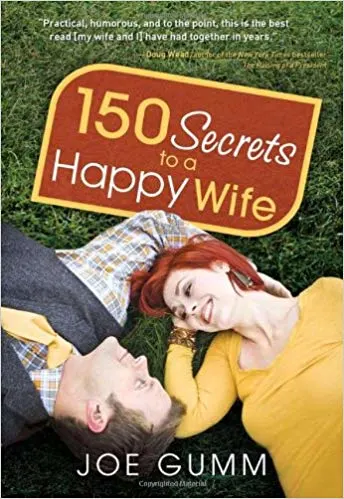 While, for the most part, I'm content, there is a lot my husband can still do to make his wife happier. Take, for example, his willingness to read this book. He said, "Nope!" I read it for him, and now post-its highlight Gumm's advice. I display them for hubby to "get the hint."
Gumm offers advice that's practical and realistic. Things like "Take out the Garbage," "Empty the Dishwasher," "Help clean the house," "wear your wedding ring." These are givens I tell my husband, along with "Hug." Every "secret" is definite. There is nothing complicated. Most of which my husband already does.
I found the book humorous and loved the way Gumm broached relationships. His insight is from a man who has learned, and his advice builds a foundation for teamwork, humor, and romance…even after the kiddos are born.
In an interview on Oprah Radio, Gumm shares his humor and insight that truly highlights the book and its focus. There's even a humorous interaction when he shows up for an interview without his wedding ring.
About the author: Joe Gumm is an award-winning author and has been featured in the Chicago Sun-Times, Fort Worth Star-Telegram, MSN.com, and Parents magazine, and has been seen regionally on NBC, FOX, and ABC. Joe is an experienced broadcaster who worked as a reporter-anchor for ESPN for eight years. He has also worked as a public address announcer for NBA's Dallas Mavericks, Major League Soccer, NASCAR, and more. He lives in Texas with his wife and four daughters. For more information on Joe, check out www.joegummonline.com.