Weight Watchers Smart Bars Recipe

These Weight Watchers Smart Bars are a delicious blend of good-for-you ingredients–nuts, seeds, whole grains, and dried fruit.
They are delicious and filling with a SmartPoints value per serving of 3.
The best part, is they're easy to make and they satisfy.
Keep bars in the refrigerator or at room temperature, covered, for up to five days, or freeze for up to four months.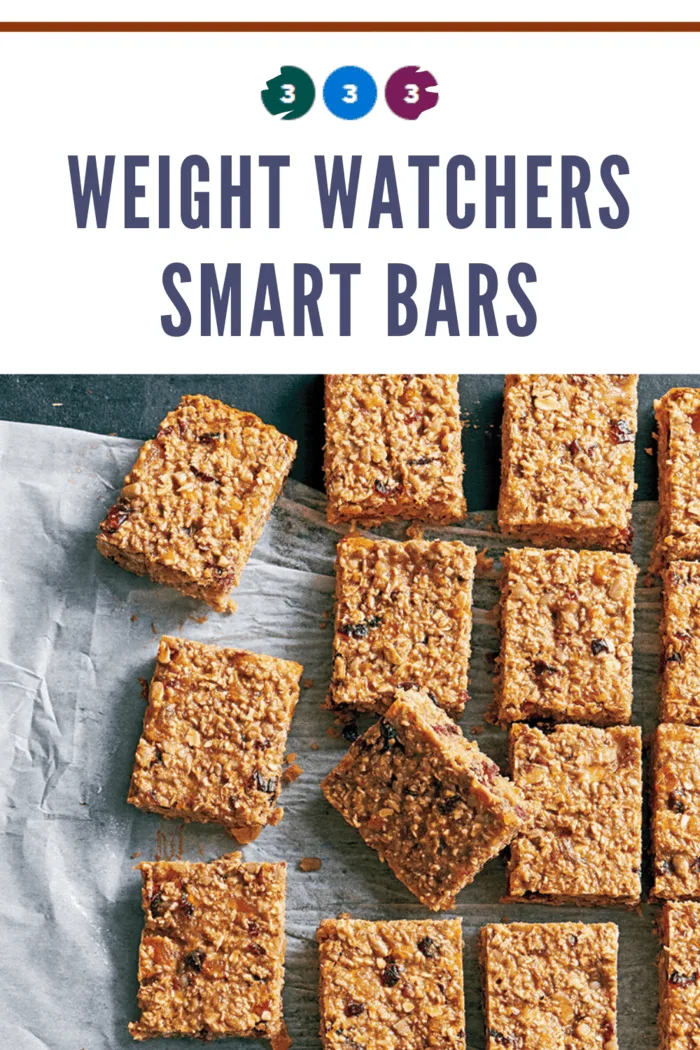 Weight Watchers Smart Bars Recipe
Serves 32
Prep 10 minutes
Bake 20 minutes
Ingredients:
1 cup quick-cooking oats
1/2 cup sunflower seeds
1/2 cup toasted wheat germ
1/2 cup dried apricots
1/2 cup pecan halves
1/2 cup raisins
1/2 cup dried cranberries
1/2 cup instant nonfat dry milk
1/4 cup whole wheat pastry flour
1 teaspoon cinnamon
1/3 cup maple syrup
2 large eggs
1 ripe banana
1 teaspoon vanilla extract
How To Make Weight Watchers Smart Bars
1. Preheat the oven to 350_F. Coat a 9 _ 13-inch baking pan with nonstick spray.
2. Combine the oats, sunflower seeds, wheat germ, apricots, pecans, raisins, cranberries, dry milk, flour, and cinnamon in a food processor. Pulse until the mixture is finely chopped. Add the syrup, eggs, banana, and vanilla and pulse until well combined.
3. Transfer the mixture to the pan, wet your fingertips with cool water, and press down to level the surface. Bake until the mixture is golden brown and firm to the touch, about 20 minutes.
4. Cool in the pan and cut into 32 bars.
Nutritional Information:

Per serving (1 bar): 83 Cal, 3 g Fat, 0 g Sat Fat, 0 g Trans Fat, 14 mg Chol, 11 mg Sod, 12 g Carb, 2 g Fib, 3 g Prot, 27 mg Calc.
Kids Can . . .
Peel the banana, then moisten their hands and use their fingertips to press the bar mixture into the pan as evenly as possible.
Reprinted from the book Weight Watchers Eat! Move! Play! With permission from John Wiley & Sons Inc