If you're planning a trip to India with your family, you definitely should consider going to Chennai.
Chennai, also nicknamed "The Gateway to South India," is located in Tamil Nadu.
It is one of the top 50 most significant urban centers globally!
Chennai is home to rich South Indian traditions and culture.
But it's also a modern city making its way into the contemporary world.
What's more, Chennai has something to offer for everyone in the family while still being way more unique than traditional tourist destinations.
So, have a look at just five of the most fun places to visit in Chennai with your family, and learn a little more about this special place as well.
A Bit about Chennai
Chennai is the capital city of Tamil Nadu, located on the Coromandel Coast of the Bay of Bengal.
It is an essential part of India in traditions, culture, history, and academics.
It is also the 4th largest city in India and the commercial hub of South India.
What's more, it is well-connected to all of the major cities in India, making it easy to visit.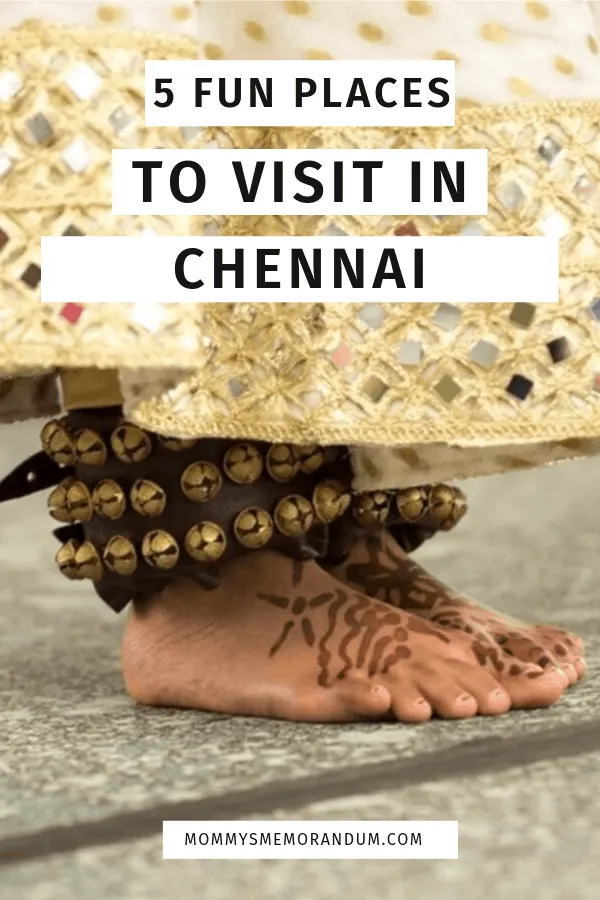 5 Fun Places to visit in Chennai with Family
Marina Beach
If you plan to visit Chennai with your family, you must dedicate at least one day to Marina Beach.
Marina Beach is the longest beach in India and the second longest beach globally.
It starts in Besant Nagar and ends in Fort St. George, totally spanning 12 kilometers.
Marina beach is also convenient to visit because, being so long, it is near some of the best hotels in Chennai.
Any time of day is great for visiting Marina Beach.
You can walk along the beach at sunrise and sunset to enjoy lovely views and a prism of warm colors.
In the evenings, the beach becomes an exciting fair, with many stalls and pop-up shops selling artisan jewelry, artifacts, art, and food.
Your kids will love playing games with the other kids around while you shop for souvenirs to ring home.
Of course, swimming is a popular activity at the beach, but parents should closely supervise their children, as the undercurrent is quite strong.
Families will love to do other activities together, including flying kites and pony rides.
Marina Beach is also home to an aquarium and ice house.
Nearby, you'll also find the Chepauk Palace, PWED office, Presidency College, and the Senate House.
For a bit of an educational trip, make sure to find the statues of the Victory of Labor and Mahatma Gandhi.
Dakshinachitra
It isn't easy to put into words precisely what Dakshinachitra is.
But one must try. Dakshinachitra is a museum.
But it's also much more than that.
The official Dakshinachitra website describes it as "an exciting cross-cultural living museum of art, architecture, lifestyles, crafts and performing arts of South India."
It was founded in 1996 to promote and preserve Indian culture.
This living-history museum is home to architecture, crafts, performing arts, and examples of life in India.
Don't tell your kids it's a museum because they might not want to go, but they will love it once they get there.
Dakshinachitra was designed to be like a village.
It has 18 authentic South Indian houses that were broken down, transported, and reconstructed at the museum site.
If you want to learn more about the rich culture and tradition of South India, then a visit to Dakshinachitra is a must.
The museum also offers workshops for both kids and adults, so there's something to be gained by everyone in the family.
National Art Gallery
This is a popular spot among tourists, and for excellent reason.
The building itself is stunning. It features colonial architecture in the Indo-Saracenic style, a work of art.
This museum was built in 1906, and inside houses paintings from the 17th and 18th centuries.
Tips for visiting the National Art Gallery
Bring your camera; photos are allowed
Plan your visit for earlier in the day, so you have plenty of time to see the paintings.
Don't let your kids climb or touch the sculptures!
Don't bring any pets with you into the museum
Facts about the National Art Gallery
It was founded in 1906
Built in Indo-Saracenic style using red sandstone
Home to paintings from the Mughal and Tanjore periods, including works from renowned Indian painter Raja Ravi Verma
Works include many depictions of Lord Rama and Sita (for Indian literature and culture buffs)
Semmozhi Poonga
Semmozhi Poonga was opened in November 2019 by Dr. M. Karunanidhi, the chief minister.
It was the first botanical garden in Chennai and is now the most beloved and most visited one.
The stunning landscaping makes it a tourist destination, a favorite morning walking spot for locals, and a popular attraction for filmmakers.
The park spans over 20 acres and is home to exotic flora and bonsai trees.
Families will love merely walking around the gardens, viewing the multitude of fountains, and learning about all of the different species of plants imported from all over the world.
Mylapore
Mylapore is a historic Chennai neighborhood, sometimes called the "soul of the city."
It is one of the oldest residential parts of Chennai, and most of its residents are Brahmins. Brahmins are part of the Hindu class system, and as such, they are a class of priests, teachers, and protectors of sacred learning.
While in Mylapore, you'll get to see the Kepaleeshwarar Temple, built in the 17th century and dedicated to Lord Shiva.
You'll also see the neo-gothic San Thome Cathedral and visit the Ramakrishna Mutt Temple.
Whether you are a history and culture buff and are already knowledgeable about these temples, or you've never heard of them, you and your family are sure to find a great sense of peace and tranquility during your visit.
Other places of note
There are so many places to visit in Chennai that are worth seeing.
Here is a brief list of some more options of places to visit with your family if you find you have some extra time:
Fort Saint George:
It was built by the British East India Company, with a museum displaying military artifacts, paintings, and relics from the colonial period.
Madras high court:
You should stop by if you love Indo-Saracenic architecture. If your family lets you, you can even sit in on a court session.
George Town Markets:
Rows and rows of colorful street stalls will be sure to delight the whole family. Don't forget your camera!
Turtle Walk:
The endangered Olive Ridley turtle comes ashore to lay its eggs during nesting season.
Every year, the Students Sea Turtle Conservation Network volunteers collect the eggs and bring them to an incubator to help them survive.
The hatchlings are being released in the evenings during March and April.
This event is not to be missed by animal lovers and future marine biologists.
So there you have it.
Chennai is an old city brimming with rich culture and traditions.
It is also a modern city, finding its place among some of the most innovative urban centers in the world.
There are so many things to do in Chennai that you won't possibly be able to visit them all.
We recommend these five places to visit in Chennai with your family. Still, wherever you do go, you and your family will have a great time, and more importantly, you'll learn about other cultures, religions, traditions, and ways of life.