Cookies are good.
I like that a cookie can be many things. It can be chewy. It can be crisp. It can be frosted, or plain. It can be shaped, cut, or plopped on a cookie sheet.
I like that cookies are delicious.
I have a friend who makes cookie dough, puts it in her refrigerator and each night bakes her family one dozen cookies. What a gift of love, warm cookies!
This cookie recipe is easy. It makes small shortbread chocolate chip balls.
These cookies offer the perfect shortbread taste with just the right amount of chocolate. They require few ingredients and are simple to mix and easy to bake. They also freeze great!
Mini-Shortbread Chocolate Chip Cookie Balls Recipe!

Mini-Shortbread Chocolate Chip Cookie Balls Ingredients:
3 sticks butter
3/4 cup powdered sugar
1 Tablespoon vanilla extract
1/2 teaspoon salt
3 cups all-purpose flour
2 cups mini semi-sweet chocolate chips
additional powdered sugar
Mini-Shortbread Chocolate Chip Cookie Balls Directions: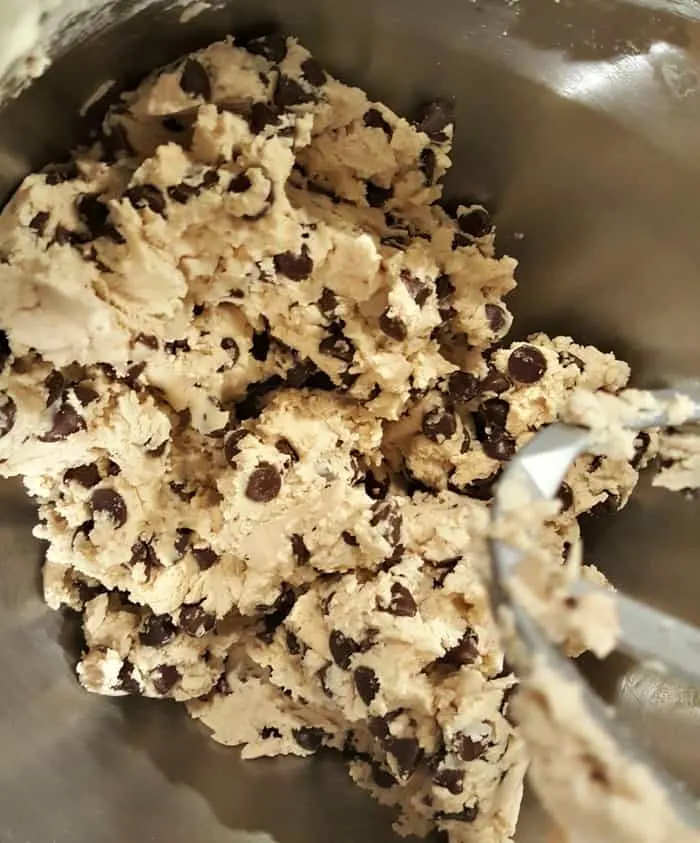 Preheat oven to 375-degrees
In a large mixing bowl combine butter, 3/4 cup powdered sugar, salt, and vanilla until creamy
Gradually beat in flour
Stir in chocolate chips
Shape into 1-1/2 inch balls and place on a greased cookie sheet
Bake 10-12 minutes or until golden brown
Remove from cookie sheet
Sprinkle hot cookies with powdered sugar
Store in air tight container
Makes 5 dozen cookies

Mini-Shortbread Chocolate Chip Cookie Balls #Recipe
Author:
Prep time:
Cook time:
Total time:
Ingredients
3 sticks butter
3/4 cup powdered sugar
1 Tablespoon vanilla extract
1/2 teaspoon salt
3 cups all-purpose flour
2 cups mini semi-sweet chocolate chips
additional powdered sugar
Instructions
Preheat oven to 375-degrees
In a large mixing bowl combine butter, 3/4 cup powdered sugar, salt, and vanilla until creamy
Gradually beat in flour
Stir in chocolate chips
Shape into 1-1/2 inch balls and place on a greased cookie sheet
Bake 10-12 minutes or until golden brown
Remove from cookie sheet
Sprinkle hot cookies with powdered sugar
Store in air tight container
Makes 5 dozen cookies