Cinnamon Mini Muffins are a delightful treat that will fill your kitchen with the warm and comforting aroma of cinnamon and spices. These bite-sized muffins are perfect for a quick breakfast, a snack on the go, or as a sweet addition to your brunch table. In this revamped recipe, we'll not only guide you through the preparation but also delve into the history of this classic, provide expert tips, and answer some common questions about these delectable mini muffins.
History of Cinnamon Mini Muffins:
Cinnamon Mini Muffins have been a beloved treat in households for generations. Originating from classic muffin recipes, these mini versions were likely created to offer a smaller, bite-sized option for those who couldn't get enough of the comforting cinnamon flavor. Over the years, they've become a staple at breakfast tables, brunches, and coffee gatherings.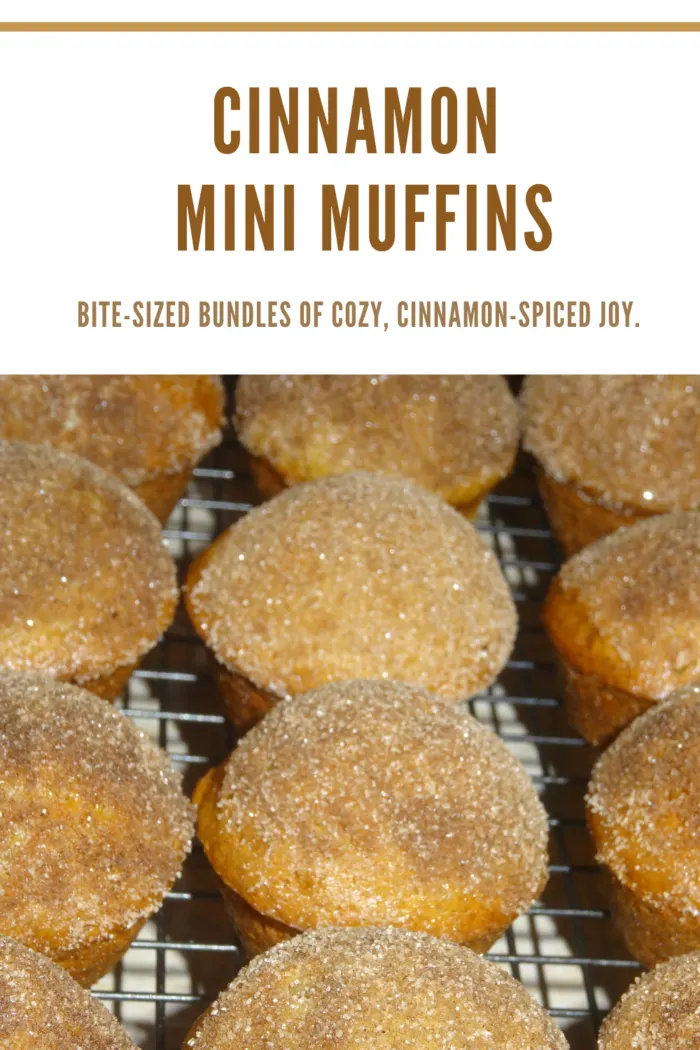 Mini Cinnamon Muffins
Prep Time: 10 minutes
Cooking Time: 12-14 minutes
Servings: 2 dozen mini muffins
Ingredients:
1 ½ cups all-purpose flour (180g)
½ cup sugar (100g)
2 teaspoons baking powder
½ teaspoon baking soda
½ teaspoon salt
½ teaspoon ground nutmeg
½ teaspoon ground allspice
1 egg, lightly beaten
½ cup skim milk (120ml)
1/3 cup margarine, melted (80g)
Topping:
2 tablespoons sugar (25g)
½ teaspoon ground cinnamon
¼ cup margarine, melted (60g)
Ingredient Expanded Information:
All-purpose flour: This versatile flour provides the base for the muffins. It's the perfect canvas for the warm spices and sweetness of cinnamon.
Sugar: Adds sweetness to the muffins. You can adjust the sugar amount to suit your taste preferences.
Baking Powder and Baking Soda: These leavening agents help the muffins rise and become fluffy.
Salt: Balances the sweetness and enhances the overall flavor.
Nutmeg and Allspice: These spices infuse the muffins with a warm and aromatic flavor profile.
Egg: Binds the ingredients together and provides structure.
Skim Milk: Keeps the muffins moist without adding excess fat.
Margarine: Adds moisture and a buttery flavor to the muffins.
Expert Tips:
Don't overmix: When combining wet and dry ingredients, mix just until moistened. Overmixing can lead to dense muffins.
Use freshly ground spices: If possible, grind your nutmeg and allspice from whole spices for the best flavor.
Grease or line the muffin cups: This prevents the muffins from sticking and ensures easy removal.
Brushing with margarine: This step not only adds flavor but also helps the cinnamon sugar topping adhere beautifully.
Storage and Leftover Information:
Store any leftover muffins in an airtight container at room temperature for up to 2-3 days. To keep them fresh longer, you can refrigerate them for up to a week or freeze for up to three months. Reheat in the microwave or oven before serving.
FAQs for Cinnamon Mini Muffins:
Q1: Can I substitute butter for margarine? A1: Yes, you can use butter instead of margarine. It will impart a rich, buttery flavor to the muffins.
Q2: Can I make these in regular-sized muffin cups? A2: Absolutely! Just adjust the baking time to around 18-20 minutes for regular-sized muffins.
Q3: Can I add nuts or raisins to the batter? A3: Of course! Chopped nuts or raisins can be a delicious addition for added texture and flavor.
Known Alternate Names:
These delightful treats are often referred to as "Cinnamon Spice Mini Muffins" or simply "Cinnamon Muffins." Enjoy baking and savoring these aromatic bites of goodness!