Review Frog with Tooth Pouch
Last Summer, my daughter was so fascinated with how a flat piece of fabric could be transformed in a few hours into a beautiful dress.
It was magical to her, and every day we made a new sundress or top.
Truth be known, it fascinates me as well.
Allow me to show you just how amazing a piece of material, and some creativity can be.
A weekend not long ago, Regina and her son, Chaz, spent some quality time together in her Southern Ooaks Studio.
Chaz drew this: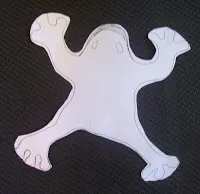 Chaz's Frog
Then Regina created a story sure to capture any imagination.
Once upon a time in the enchanted forest of Chazmainia, there was a cool and refreshing pond.
This pond was hidden from humans but open to all the forest creatures, elves, gnomes, and faeries around.
This was a busy little pond.
There were big goldfish having a spitting contest….. dragonflies were swirling in the air and birds trying their best to catch them.
Right in the middle, amongst the lily pads, was one happy, smiling blue and green toad frog.
Rippert was this handsome frog's name, and he was enjoying this bright, happy day watching all the other creatures play.
Rippert was not just any ole toad, either.
He was the best friend of the Tooth Faery.
He enjoyed the time he spent. Read more of this story…
Then Li'l Man got a surprise in the mail.
His heart instantly beat with love and adoration.
He had what all boys want.
A frog!
Meet Rippert: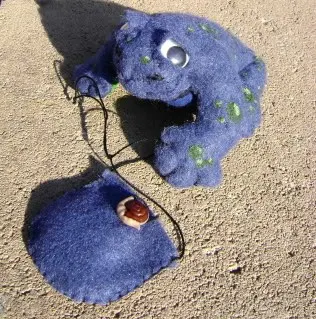 Rippert
He is what was "set free" from Chaz's drawing above. Amazing, don't you agree?
Rippert is quite the freckled stud.
He is made of blue felt, and his spots are hand-painted, with great detail to give them depth and capture his personality.
He is detailed in every way…from his wiggly eyes, complete with eyelids!
His nostrils and mouth.
The separation of his toes and his belly, made of a masculine fabric that coordinates tremendously well with Ripperts rough and tough demeanor!
Rippert also came with the pouch to help the Tooth Faery.
This pouch is made of the same felt as Rippert's body.
It is hand-stitched, with a blanket stitch, and has a very "natural" looking button that gives the impression it was put together right there at that busy pond in Chazmania.
Rippert and Li'l Man are inseparable!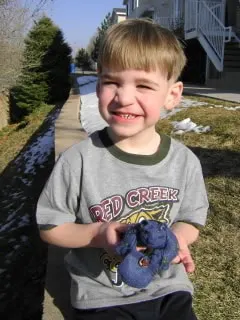 Rippert and Li'l Man
Together the two of them create quite the stir…chasing sisters, who scream and declare Rippert to be "absolutely disgusting."
They sleep in the same bed.
Rippert sits quietly in Li'l Man's lap while he eats.
Everywhere one of them goes, the other is right there.
When The Divine Miss M lost her tooth over the weekend, she Sooooooo wanted to use the pouch that came with Rippert.
She begged.
She pleaded.
In the end, Li'l Man said, "No Way!"
Rippert is an absolutely perfect companion.
He is Li'l Man's pet–and thankfully, Rippert can take care of himself!
There are no newspapers to clean up, food to feed, and no icky, yucky slime!
He's a frog I can have affection for!
I love that Rippert is a boy's toy.
He appeals to Li'l Man's snakes and Snails side.
He is the perfect size to keep track of, keep in a pocket (with ALOT of stuffing), and sit on his shoulder.
I also appreciate the fact that Rippert comes with the great story as well as a pouch for the Tooth Faery—there just aren't many clever boy items like this one.
Southern Ooaks will be introducing these fun frogs in her Etsy Shop very soon.
Take a "leap" and spoil your favorite boy!
We appreciate your subscription to Mommy's Memorandum