Stay Cool and Comfortable Year-Round with the Marchpower Arc-Chill Cooling Blanket
The Marchpower Arc-Chill Cooling Blanket is a game-changer when it comes to maintaining the perfect sleep temperature. Whether it's the sweltering summer heat or a warm cozy night, this innovative blanket has you covered. Get ready to embrace a peaceful night's sleep like never before.
Key Features:
Cooling Technology: The Arc-Chill blanket is equipped with advanced cooling technology. It effectively dissipates body heat, providing a refreshing night's sleep.
Soft and Breathable: Crafted from high-quality materials, it's not only cooling but also incredibly soft and breathable, ensuring a comfortable sleep experience.
Multiple Sizes: Available in various sizes (Twin, Queen, and King), so you can choose the perfect fit for your bed.
Easy Maintenance: Machine washable for hassle-free cleaning. The cooling technology remains intact even after multiple washes.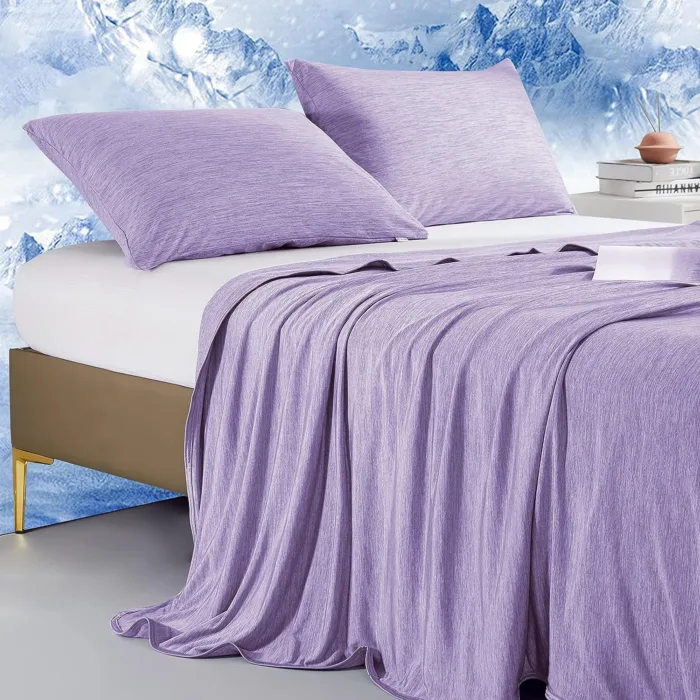 Experience Nighttime Bliss with Marchpower's Cooling Blanket
Are these summer sweltering nights robbing you of your precious sleep? Bid farewell to tossing and turning with Marchpower's innovative cooling blanket. Engineered with cutting-edge Japanese Arc-Chill technology, this blanket is your ticket to uninterrupted slumber. Let's dive into the details of this must-have sleep companion.
Superior Cooling Technology
Tired of sleepless summer nights? Marchpower's cooling blanket is the answer. It boasts Japanese Arc-Chill technology with a Q-MAX value exceeding 0.5, outperforming standard blankets with their paltry < 0.2 Q-MAX.
How does it work? The secret is in the cooling fiber, which adeptly absorbs your body's heat, leaving you feeling refreshingly cool throughout the night.
Say goodbye to sweaty discomfort! This remarkable blanket can reduce your skin temperature by a remarkable 35.6 to 42°F, making it the perfect choice for those reluctant to crank up the AC all night.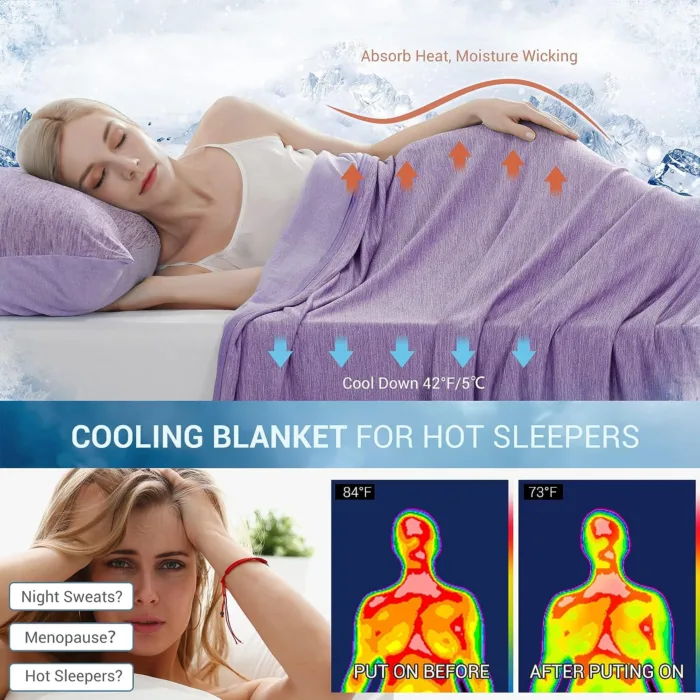 Double-Sided Design for Year-Round Comfort
Marchpower's cooling blanket is a versatile addition to your bedding. It features a double-sided design that adapts to the changing seasons.
On one side, you'll find the Arc-Chill cooling material, providing an extra-smooth and cool sensation. It's your best friend during those scorching summer nights when staying cool is a top priority.
Flip it over, and you'll revel in the plush comfort of 100% Egyptian cotton. This side offers coziness and warmth, making it an ideal pick for brisk spring and autumn evenings.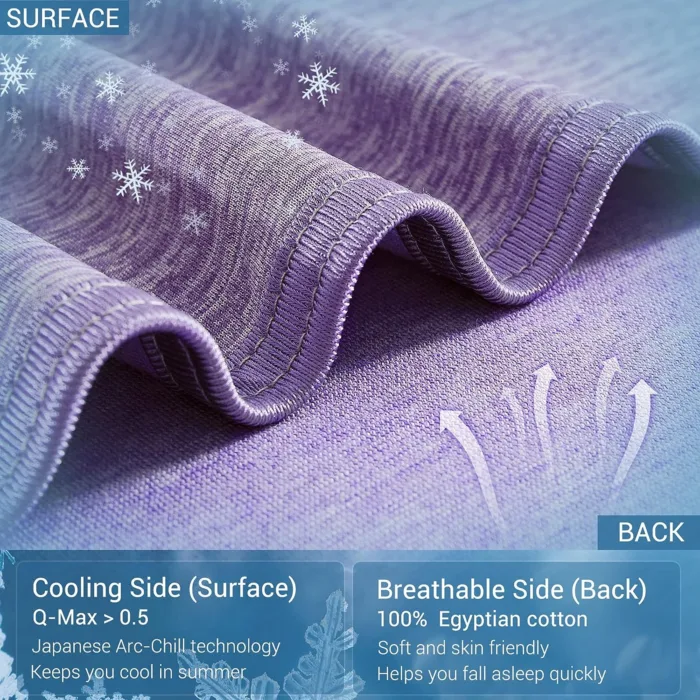 Skin-Friendly and Certified
We care about your well-being. That's why cooling blankets are STANDARD 100 by OEKO-TEX certified. They're gentle even on the most sensitive skin, making them suitable for your little ones, pets, and anyone prone to night sweats.
The cool side of the blanket efficiently wicks away moisture, leaving you feeling fresh and revitalized. Say farewell to restless nights and embrace the luxury of rejuvenating slumber with Marchpower's cooling summer blanket.
Effortless Maintenance
Worried about washing? Don't be. Our cooling blanket is a breeze to care for. Simply toss it into a laundry bag and run it through a gentle cycle with water not exceeding 30℃/86℉. No fading, no bleaching, no ironing, and absolutely no tumble drying. Hang it in the shade to maintain its pristine condition.
The best part? You can take it with you wherever you go. Whether you're at home, in the car, on a train, or on a plane, this blanket is your trusty companion for staying cool and refreshed.
Choose Your Perfect Fit
Marchpower understands that one size doesn't fit all.
That's why this cooling blanket comes in four sizes to cater to your specific needs:
Small (51″x 67″): Ideal for kids, pets, and travel.
Twin (59″x 79″): Perfect for single sleepers.
Queen (79″ x 86″): Tailored for couples.
King (90″ x 108″): Designed for family use.
Looking for a thoughtful gift? this cooling blanket is a splendid choice for occasions like Valentine's Day, Father's Day, Mother's Day, or Christmas, especially for those who struggle with night sweats and overheating. Give the gift of comfortable sleep to your loved ones.
Say goodbye to sleepless, sweaty nights and embrace the soothing embrace of Marchpower's Cooling Blanket. Invest in your sleep and wake up refreshed, day after day.
Product Details:
Proprietary cooling technology
High-quality fabric
Ideal for one or two sleepers, depending on the size chosen.
The Marchpower Arc-Chill Cooling Blanket is a modern solution to a timeless problem: maintaining a comfortable sleep temperature. Inspired by the need for a good night's rest during hot summers, this cooling blanket was born. It combines cutting-edge technology with the age-old desire for restful sleep.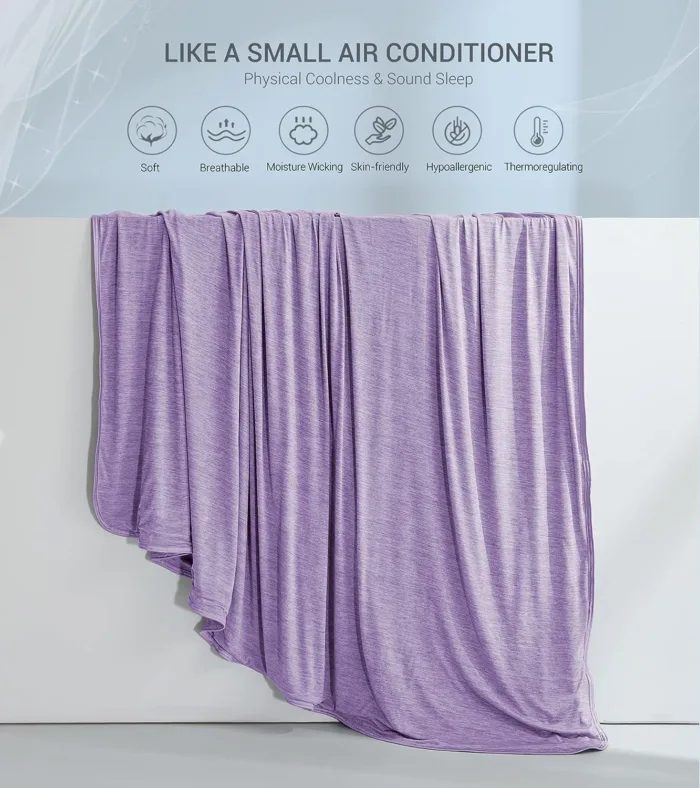 Different Versions:
Available in various colors to suit your bedroom decor.
The cooling technology is a proprietary blend of cooling fibers that regulate your body temperature throughout the night. The high-quality fabric is soft to the touch and promotes airflow.
Expert Tips:
Pair with breathable sheets for the ultimate cooling sleep experience.
Fold and store in a cool, dry place when not in use. Avoid exposure to direct sunlight.
FAQs for the Marchpower Arc-Chill Cooling Blanket
How does the cooling technology work? The proprietary cooling technology in the Arc-Chill blanket absorbs and dissipates heat, keeping you cool throughout the night.
Can I use this blanket year-round? Absolutely! It's designed to provide comfort in both warm and cool conditions.
Is it machine washable? Yes, it's machine washable. Follow the care instructions for best results.
Does it require any special maintenance? Not at all. Simply wash and use like any other blanket.
Can I use this with my existing bedding? Yes, the Arc-Chill blanket is designed to be used with your regular bedding.
Elevate your sleep experience with the Marchpower Arc-Chill Cooling Blanket. Say goodbye to sleepless, sweaty nights and hello to rejuvenating rest.
Get Your Cooling Blanket with this Great Discount!
Get 10% off using code YZEKYA2I at check out on Amazon.
expiration date: 2025-12-31