In a world filled with adversity and challenges, one man dared to defy the odds. Brace yourself for an extraordinary tale of resilience, love, and the power of the human spirit. Introducing "Man Shoes" by Tom Watson.
Prepare to embark on an inspiring journey as you delve into the true story of Tom Watson. From a survivor of child abuse and a turbulent upbringing, Tom's life takes an unexpected turn when he finds himself in the care of the Watson family.
Guided by love and nurtured by hope, Tom learns the invaluable lessons of patience, perseverance, and the strength of tradition. Through the laughter and support of his community, he discovers the courage to overcome any obstacle.
But life is never without its trials. Just as Tom starts to find his footing, he faces devastating losses that threaten to shatter his spirit. In the face of heartbreak, Tom's determination to live life to its fullest becomes an inspiration to us all.
"Man Shoes" is a testament to the indomitable human spirit. It reminds us that no matter our age or the obstacles we encounter, we have the power to create a better life for ourselves and inspire others along the way.
A must-read for men of all ages and the women who love them, "Man Shoes" will touch your heart, ignite your spirit, and leave you believing in the power of second chances.
Order your copy of "Man Shoes" by Tom Watson today and step into a world of triumph, love, and the journey of a lifetime.
Our Man Shoes by Tom Watson Review
Some people struggle and never seem to recover, while others get up, brush off their knees and rise above it all. Tom Watson, is one such person. He had thirteen foster homes by the time he was five, a mother unable to care for him; turned over to foster care by an aunt and uncle. Shuffling from home to home and then there was the child abuse that was beyond horrific he endured at age three.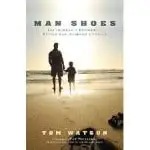 Sometimes, the light shines when it seems too dark to go on. For Watson, it was his thirteenth foster family. An older couple in their 50s who loved him despite his trouble-making, his past. They loved him unconditionally, giving him the seed that grew into a man.
I couldn't put Watson's book,
Man Shoes
down. I expected it would be written as a biography, but Watson raises the bar by grouping his life into lessons and adventures. It's a story of hope. It's a story of
heart break
. It's rooting for the underdog. It's watching him cross the finish line in a story that shouts, "Good for You!"
Watson take his personal stories and amplifies them into lessons that can be applied to anyone's life. There are summaries of key lessons to be incorporated as well as space to jot down thoughts or the reader's own experiences. Each chapter shares a verse from a country song. I thought this was clever as we've all heard how life is captured in country music.
Like life this book is filled with painful losses and the sweetness of amazing experiences. It's the joy of finding love and the bittersweet whisper of losing them to leukemia and becoming a suddenly single father of two.
I was in awe at the love Watson found in that thirteenth foster home. The unconditional love made Watson a son who was wanted and needed. It is a journey of a tremendous relationship that Watson captures so spectacularly even in the events leading to losing his parent; I was in awe. Love is truly beautiful!
While I shed plenty of tears reading this book, I found it inspiring. It's the journey of one man who after trials and tribulations and a stroke, writes down his life's lessons for his two grown sons. One of the most powerful lines in the book reads: "Remember, you're not alone in your thoughts, in your fears, or your uncertainty. It's not a sign of weakness to admit that your shoes are actually bigger than your ability to fill them." How true is that to us all? How comforting is that to know!
While I hestitated reading Man Shoes – The Journey to Becoming a Better Man, Husband & Father at first, thinking it was reserved for my husband, I'm so happy that I didn't let gender have anything to do with this book and its message. It was moments of reflection in my own life watching Watson grow from being a boy into a man. I was consumed with the major situations, but just as much so with the minor situations. Both helped him grow, build his faith and respond accordingly. It's not a book for the pessimist because there is no wallering in the misery life threw at Watson, he reveals that we can either allow our struggles in our past and present to bring us down, OR we can learn from them, find the lesson and build on it to make our future amazing!
A survivor of child abuse, upheaval and 13 foster homes, Tom Watson learned early to overcome adversity. Rescued at the age of five by the Watson family, he found new hope and love that helped to heal his deep physical and emotional wounds. Encouraged by a community of supporters, Tom learned vital lessons in patience, perseverance, laughter and tradition. Years later, these lessons would be tested as Tom faced heartbreaking losses that threatened to destroy him. A stunning revelation of one man's determination to live life to its fullest, Man Shoes demonstrates that new beginnings are possible at any age and at any stage of life, no matter what obstacles get in the way. This story is an important reminder that we can live a better life and influence others to do the same!"
Take a moment to learn more by visiting Tom Watson's website for Man Shoes: http://www.manshoes.net