As any sports fan knows, tailgating involves food and drinks. The party takes place in the parking lots of stadiums and arenas before, after or during sporting events such as Football, Basketball and Baseball Games etc. or non-sports related events such as barbecue gatherings.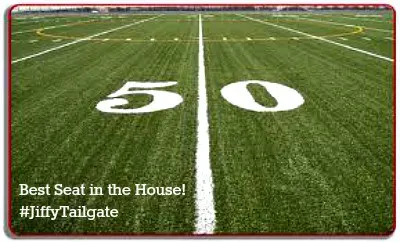 Join me for the Big Day starting February 2 at 10am EST for the #JiffyTailgate. They're talking cars and football and I'm sharing the best Big Game Day grub. It's fun for male and female…Seahawks or Bronco fans…car enthusiasts or just passing time, waiting for the Big Game Mania to be over!
About the #JiffyTailgate:
No matter which team you root for this Sunday, your taste buds deserve to win! Celebrate the big game and the best football grub by joining @JiffyLube for its first-ever #JiffyTailgate beginning at 10 a.m. EST this Sunday. Food blogger Julee Morrison of Mommys Memorandum will be joining the virtual party and sharing the ultimate game-day recipes, from six-layer dip to buffalo wings.
Like any great tailgate, the party begins well before kickoff, so check out #JiffyTailgate today for some pregame tips and the chance to win the ultimate tailgating prizes. @JiffyLube will be rounding out the food talk with all things football and, of course, cars, while cheering on Seattle and Denver.
Looking forward to seeing you there!
Did you know?
•According to a study by the Automotive Aftermarket Industry Association, nearly 9 out of 10 female motorists are involved in their household's vehicle maintenance and repair
•According to a national survey that polled 522 women, 46 percent incorrectly assumed simply switching from conventional engine oil to synthetic oil enables the number of miles between oil changes to be safely extended* (* Jiffy Lube Survey Conducted by Opinion Research Corporation, 2006)
•Using a quality motor oil in the right grade can help maximize fuel economy, and help save money by preventing costly engine damage
•Off-brand, no-name or discount oils that do not meet industry standards or the vehicle manufacturer´s requirements could cost consumers in the long run by potentially damaging the vehicle´s engine or possibly voiding the manufacturer´s warranty