Forget about the drip coffee in the morning. Toss the French Press. Wave buh-bye to single-serve coffee pods. Javy Coffee Concentrate already has your coffee-you just have to decide how you want your cup right now.
Artisan roasted flavor is what you get with Javy liquid coffee concentrate.
It's an affordable option available in microdose for the perfect java wherever you are!
Each bottle offers 30 servings of perfect coffee magic.
Whether you opt for coffee in the morning or on the go, your coffee is waiting.
No more messy grounds.
No more waiting for it to drip.
No more tossing empty pods.
No more drive-thrus.
No more waiting in line.
It's just perfect coffee.
It's so perfect that my teenager, who says she doesn't like coffee, took a sip and stole my cup of coffee!
Just add one or two teaspoons of the Javy Coffee Concentrate, and you have all you need for the perfect frappe.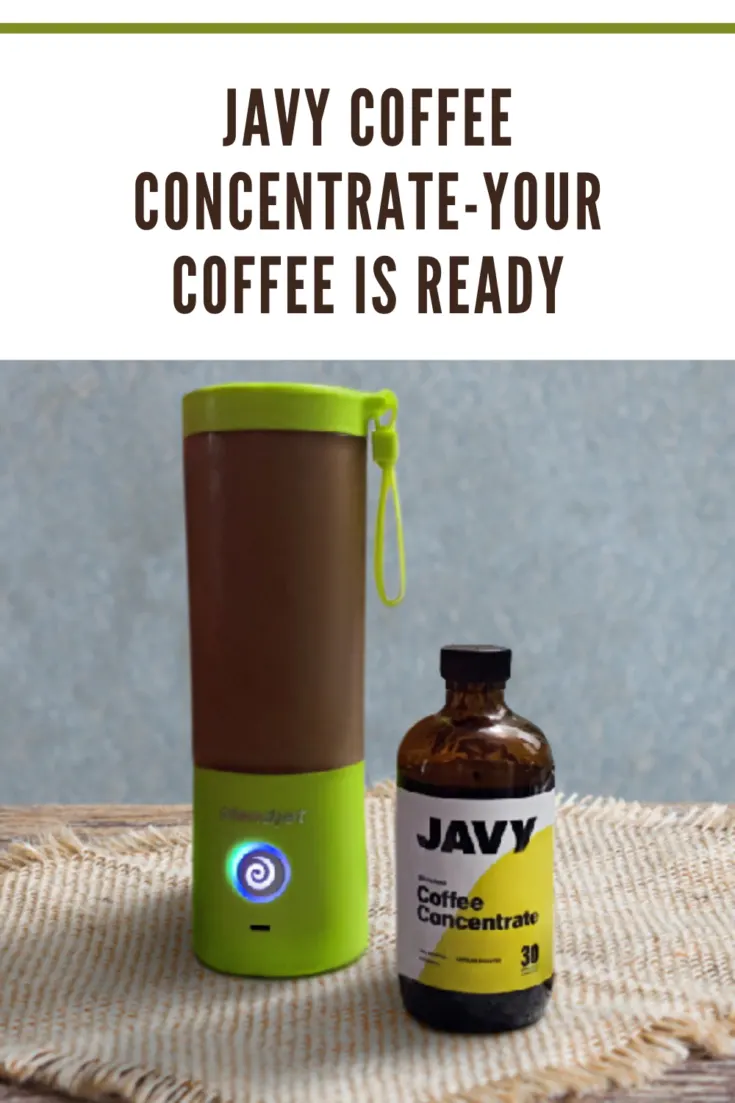 In the video, MacKenzie makes herself a Javy Frappe:
1.5 cup water
1/2 cup ice
1/2 teaspoon vanilla extract
2 teaspoons Javy Coffee Concentrate
1 Tablespoon Whipping Cream
2 packets sugar
Place all ingredients in a blender and blend until ice is no longer "chunks."
Javy Coffee Contrate is consistent.
Never Bitter.
It's smooth, rich coffee you'll want over and over again.
No effort coffee.
Ethically source Colombian beans crafted by Artisan roasters who hone their skills for a unique flavor profile of the beans.
From here, the Artisan blenders steam the beans to extract the flavorful aroma, mix the beans, and unleash the flavor.
It's consistent tasting coffee in every. Single. Cup.
I love that I can control the strength of the coffee with just a few drops.
One bottle is an entire month–or 30 cups of coffee.
Javy is coffee as it should be–simple.
No added extras.
No sugar,
No fat.
No GMOs.
Only what you crave–coffee.
Each serving of Javy Coffee Concentrate offers 100 mg of caffeine.
Also available in decaf.
I love the convenience and the versatility of Javy.
I can add it to a glass of ice water for iced coffee or to a hot cup of water for a hot coffee.
I can control the sugar and ingredients in my "fancy coffee" cravings.
The bottle makes it easy on the go, so I can have coffee while we are out and about or at home.
It's delicious, rich, smooth coffee with zero effort.
Suddenly my coffee options opened up time for Irish Coffee, copycat coffee recipes, and more.
Kick your feet up, add a teaspoon or two of Javy to your glass and elevate the moment!
Try adding it in your baking for added oomph–chocolate cake, muffins, and more.
Whip it into Whipping cream for a delightful whipped coffee cloud.
You'll never look back on traditional coffee once you've tried Javy Coffee Concentrate!