The dynamics of relationships are incredible. Two people are co-existing sharing their thoughts, their opinions and at times, trying to balance a love-hate relationship as diplomatically as possible. The one relationship I don't think I really gave too much consideration to has been the one between my son's girlfriend and myself.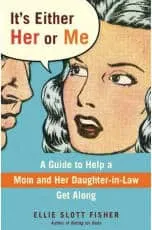 I love my three sons. I love them dearly. My oldest has moved out on his own, is attending college and truly is everything I wanted him to be in all my dreams and hopes for him. To same I am proud would be an understating the true emotion I feel for my son.
Here's where the book, It's Either Her or Me, by Ellie Stott Fisher and published by Bantam Books comes into my life. It begins:
I have loved all of my son's girlfriends.

As if I had a choice.

As mothers of sons eventually discover, one day you are relegated to the backseat of the car you helped pay for, while some young, nimble thing regally claims the passenger seat. It hits you at that moment: You've been replaced. Now the only way to retain some semblance of your cherished role as most venerated female in your son's life is by getting along with his girlfriend.

After last Christmas where my son was torn between how to divide the Holdays' Festivities, he realized as his Mom, I would understand. So the call came that he wouldn't be coming on Christmas Eve. It's true I was devastated. My world crashed for a split second.
After I calmed down, I gave pause for thought, and I realize that it's more natural than intentional for a young man to be "absorbed" by the girl's family. I have to rejoice that her family has welcomed my son, treats him as their own and nurtures him in ways that I cannot.
As I read "It's Either Her or Me" I realized how fortunate I am to have the relationships I do with my mother in law and with my son's girlfriend.
Ellie Slott Fisher addresses the mom and her daughter-in-law relationship tactfully and diplomatically. She touches the taboo subjects faced by:
The Mother-in-Laws
*Why it is important for moms to give up control and let the girlfriend or wife take first place;
*When it is appropriate for a mother-in-law to voice an opinion and how to do so without putting her son on the defensive;
*How moms can reach out to the new women in their son's life without being overbearing;
The Daughter-in-Laws
*How girlfriends can show respect to their partner's mother, while simultaneously setting boundaries;
*Why you should trust your boyfriend or husband when dealing with an issue with his mom;
*Why it is important to involve your future mother in law in the wedding process;
I could relate to the first chapter, Moms and Girlfriends Vie for First. Is this not what Christmas Eve was ultimately? It's true I want to be in the forefront of my son's mind. I want him to remember those self-less sacrifices I made for him. I want him to call home more often than he does and I suppose, though I raised him to be independent, I want him to need me. To even MISS me.
One of the things I love about his book is at the end of each chapter the author takes a moment to recap through a section called Keepsakes. For Chapter One these are:
1.) His significant other wins first place or the game is over–for everyone.
2.) A whole mom–one who has found the happiness that's not reliant on her kids–finds it easy to love and be loved.
3.) If a guy's mom is single, everyone involved–the son, the girlfriend, and the mother herself–will find they have to work
a little harder to overcome any guilt or sense of loss.
4.) Sons and boyfriends should never avoid the melee, especially since they are the center of it.
5.) A mother wants someone who will make her son happy. A girlfriend just wants her to recognize that she does.
This 204-page book is packed with good advice and stories to help you see more clearly both your side as well as the other's point of view.
It is witty and a steady read that had me laughing, nodding my head and saying, how about that.
While I am fortunate to have a wholesome and loving relationship with my mother-in-law–to the point I tell my husband, she is the reason I married him…LOVE HER! And I think a respectful and loving relationship with my son's girlfriend, whom I find to be creative, beautiful, intelligent and the person who lights his soul–I found It's Either Her or Me to be engaging.
Thankfully, I don't have to worry about "The Girl From Hell" (page 82) and truly hope I am not "The Mother from Hell" (pg. 86) It's Her or Me is insightful and I believe can truly be used to manage many relationships outside the triangle of Mother, Son, Girlfriend/Wife.
This book is an excellent resource and a must-read for any mother or daughter-in-law. It would be perfect for a Bridal Shower gift.
Kick back and read along as Ellie Slott Fisher explains the reasons behind some of the traditional strained relationships giving both positive and negative examples of how to handle different situations. You'll be informed and entertained, and it may just be the prescription your relationship needs.
It's Her or Me is available on Amazon
.
Ellie Slott Fisher has also written: Mom, There's A Man In the Kitchen, And He's Wearing Your Robe: The Single Mother's Guide to Dating Well without Parenting Poorly and Dating for Dads: The Single Father's Guide to Dating Well without Parenting Poorly.
Disclosure: No monetary compensation was offered or accepted for this post. I received the product mentioned in this post for review purposes from Random House. Random House is also providing and fulfilling the Giveaway item. These opinions are my own and in no way influenced by the sponsor. Other's experience may vary.