Flying with babies can be difficult, particularly when bringing a stroller with you.
The mere prospect of packing such a ginormous piece of equipment can make anyone feel tired, but such is the reality for many traveling parents.
After conquering that first hurdle, though, you'll realize that the task is not at all that hard.
Today we'll go over a list of tips that can help get you through every flight with your baby's stroller in tow.
But before that, let's check out what type of stroller you should bring to make things easier on yourself.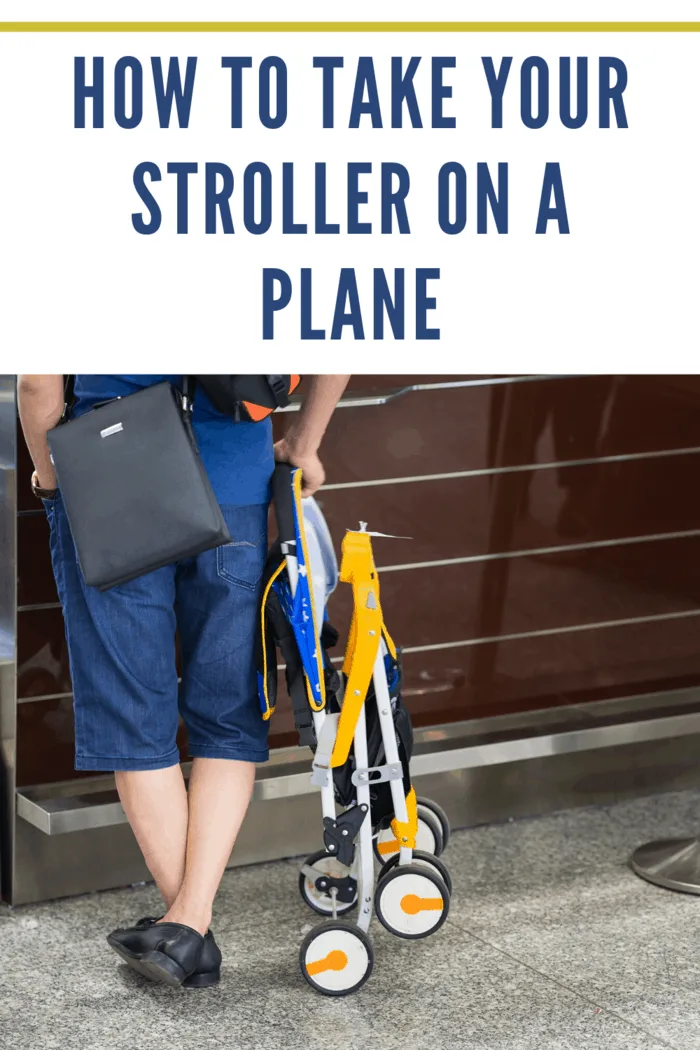 What Kind of Stroller Can You Take on a Plane?
While you can take any stroller on a flight, some will be more difficult to pack than others.
Take, for instance, huge, non-foldable strollers, which carry a lot of weight, consume too much space, and are a significant hassle to pack.
Honestly, you'd be better off purchasing a new, travel-friendly stroller at your destination than carrying this outdated, non-collapsible model.
It's just too much trouble.
For effortless traveling with your baby-carrying equipment, it's best to go for the top compact strollers in the market.
Most of these models have parts that collapse into themselves and features that make flying on a plane a breeze.
Many of them can also easily fit into the overhead bin, which is another plus for any frequent-flyer parents.
This day and age offer you a ton of travel-friendly stroller choices.
All you have to do is do your research to determine which one is most suitable for you and your child.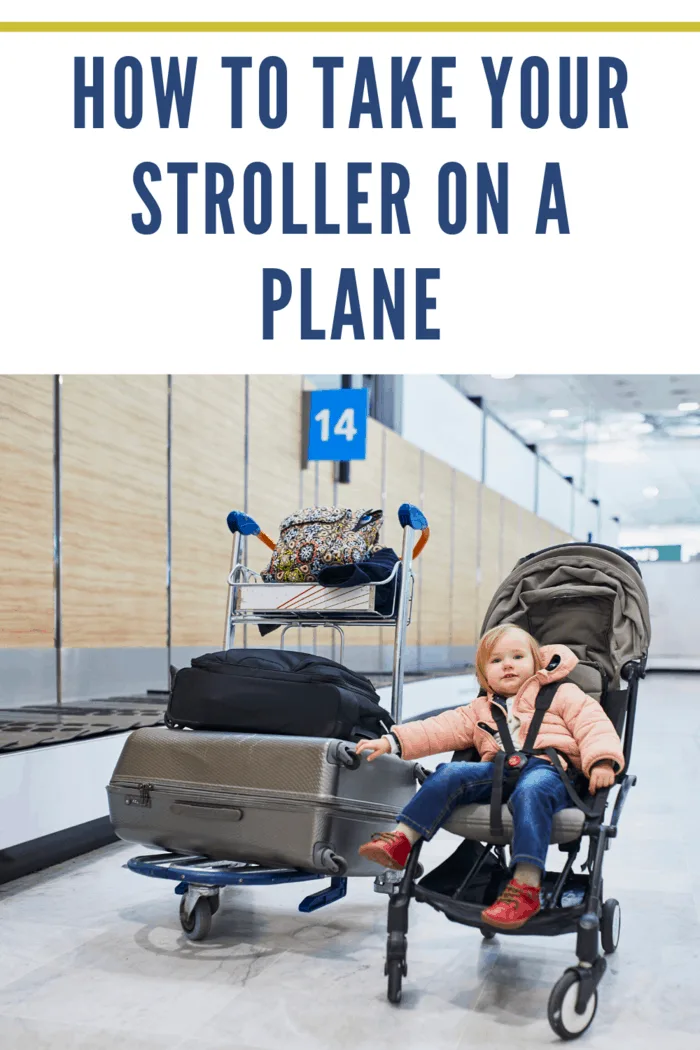 Simple Tips for Flying With a Stroller
Having a stroller that's easy to travel with is just the first step.
Here are some of the other things to keep in mind when flying with this piece of child-carrying equipment:
Decide Whether to Check or Carry the Stroller
Treat your stroller like luggage and decide whether to check or carry it on your flight.
Sometimes, you don't have a choice, as larger strollers can only be accepted as checked luggage, whether collapsible or not.
When checking a stroller, make sure to have it wrapped in a bag so that it's kept clean in the cargo hold.
Get Ready for Security Check
Just before you take your turn through security, remove your child from the stroller and fold the gadget up to make the situation less stressful.
TSA lines can be such a hassle, but if you're fortunate enough, your airport may have designated a line for families to help give you a breather and ease some of the traveling pressures.
Check the Stroller at the Gate When Needed
If you aren't too sure about your stroller fitting in the overhead cabin, you may want to check it at the gate.
Since you're traveling with a child, you'll have access to early boarding, which gives you enough time to be ready for these types of situations.
Just make sure you're at the airport before the pre-boarding time.
Thanks to this, airline employees will have more than enough time to load strollers waiting to be checked at the gate.
It also gives you time to get your child settled in their seat before your fellow passengers come in.
After arriving at your destination, you can just pick up your stroller at the jet bridge while leaving the aircraft.
Store the Stroller on the Plane Properly
If you aren't in a packed flight, or if your stroller is small enough in size, you should be able to carry it on the aircraft without any trouble.
It can be part of the carry-on luggage stored in the overhead cabin.
This is ideal for any parent because it means they have immediate access to the stroller upon arriving.
It also ensures fewer chances for this piece of equipment to get lost during a flight transfer.
Take Extra Care When Transferring the Stroller to Another Flight
Transferring your stroller to another plane can be a bit tricky.
You'll have to fill out tags for checking strollers correctly, leaving enough space for the flight number of your connecting flight.
With everything that takes place during a flight transfer, even the slightest error or illegible penmanship could lead to an airline employee mistakenly transferring your stroller to a different plane.
A better, less-risky option would be to check your stroller at the next gate yourself.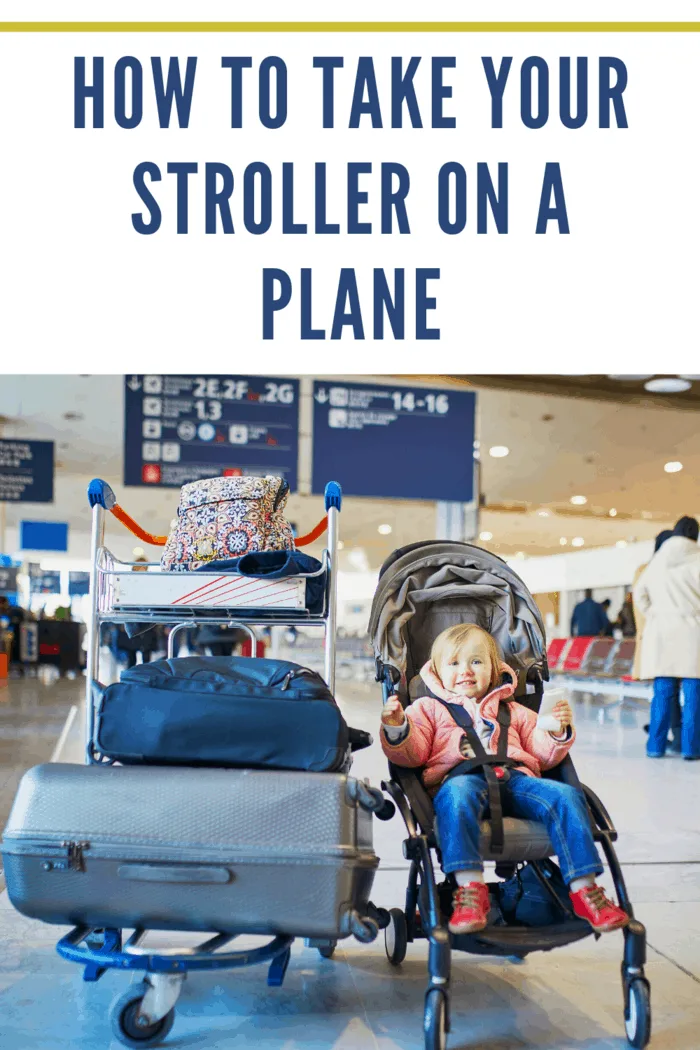 Final Thoughts
As soon as you get the hang of carrying a stroller on your flights, the rest of your travels with this piece of baby-carrying equipment will be a breeze.
To get to this level of traveling comfort, you just need to acquire a high-quality compact stroller that collapses into itself and stand by our tips on how to fly with a stroller.