Whether your kitchen has been the same for decades or one month, there is always room and need for modernization. Modernizing your kitchen doesn't mean you change everything or use a lot of money on it.
You can get closer to your dream kitchen without remodeling it.
There are powerful kitchen ideas that you can adopt to spice it up even with a small budget. Are you looking for kitchen ideas that will add some magnificence to your home? Here are some simple ideas for modernizing your outdated kitchen.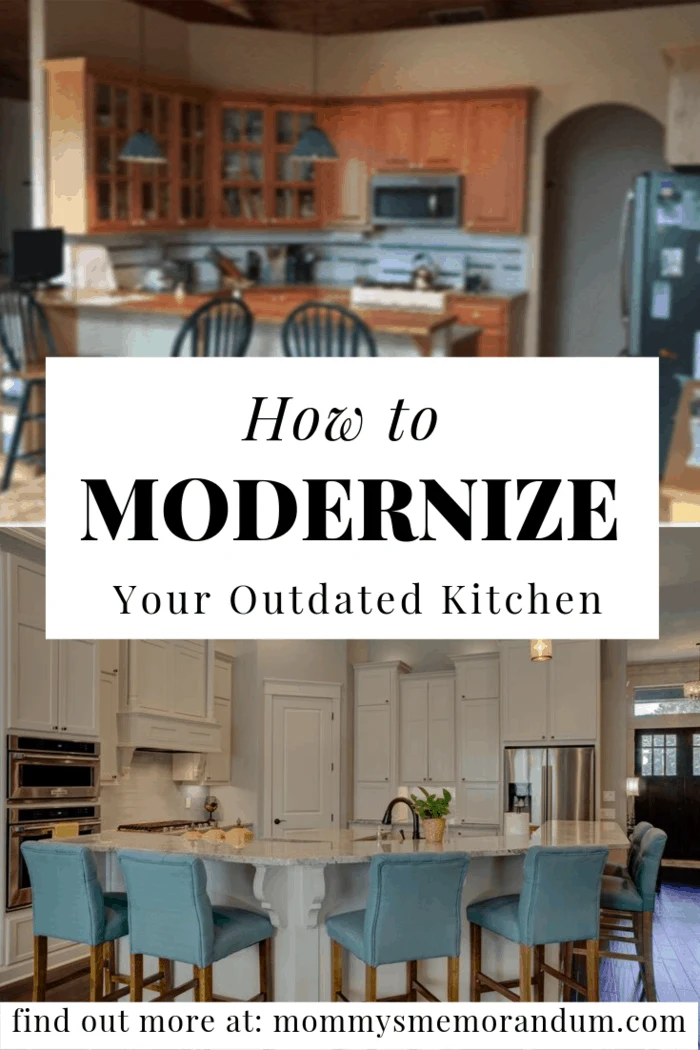 10 Ideas on How to Modernize Your Outdated Kitchen
1. Change Your Lighting Choices
With the gradual advancement in technology, your lightning options may be outdated. The emergence of new varieties is normal, and changing them will leave your kitchen with a touch of exquisiteness.
For many people, kitchen lighting can be of lighter weight, but it's vital for resourcefulness, mood, and safety for your kitchen. Alternate your lighting; if you have ambiance lighting, consider a contemporary radiance source.
Think of getting a dimmer switch for flexibility, especially when cooking or enjoying a snack at night. Investing in chandeliers and under cabinet lighting to irradiate the countertop is an exceptional option for modernization.
Pendant lighting for your kitchen island is a perfect choice too.
2. Acquire an Up-to-date Dish Rack
Cheap dishes rack, especially the wooden ones, steal beauty from your kitchen. Wooden racks are bound to crack and warp because they are not durable and of good quality.
Besides, getting a heavy-duty dish rack will not only redecorate your kitchen but also serve you for a long.
Buy a dish rack that can last for years; it doesn't have to be expensive, but still, don't go for the cheap ones.
If you have no dishwasher yet, consider getting a reliable one to make your work easier. Buy the best dishwasher, and you will see a big difference, not forgetting its charming look when resting on the counter.
3. Change Your Cabinet Space
When modernizing your kitchen, think of creating more space for storage. Do you still want to retain your current cabinets or want something new? To get more space for storage, buy graduated shelving inserts, lazy Susan, or dividers.
First, know your storage needs before deciding what to buy to get the best in the market.
4. Create a Sitting Area
A kitchen is likely to accommodate a lot of people, and hence, there is a need for a small comfy space. Contemporary kitchens are implementing this by providing a sitting area.
There are a variety of options available. For instance, you can choose to have a bench at a table near a window.
Seats at the breakfast table and countertop stools work magic too. Seating can give your kitchen a dazzling look, offering it a whole new captivation.
A lot of busy families where kids have to do homework and parents want to entertain friends while preparing food find it vital to have seating in the kitchen.
5. Upgrade Your Refrigerator
A kitchen stores all sorts of foodstuffs – both perishable and imperishable. Purchasing one of the best refrigerators enables you to store food which keeps it safe and harmless to your family's lives.
Besides, a refrigerator gives your kitchen a more complete feeling. Don't forget to check its warranty, though, and choose one with an extended service contract.
Purchase a fridge with ample internal storage too to ensure there is adequate space for all foodstuffs. There are lots of varieties in the market, and hence, due diligence is vital in selecting the best.
Finding the right fridge for your needs is important, check Pixel Fridge to help you choose the right type for your family.
6. Change Your Cabinet's Color
You can decorate your cabinets by changing their colors. It's doable and affordable, yet it will leave your kitchen sparkling. A can or two of paint are enough for the cabinets. If you are the one to paint, remember to buy elbow grease. A dove gray or black color can magically transform the look of the entire kitchen.
7. Modify Shelf or Drawer Liners
How often do you change your shelf liners? If you've never, modifying them should be on your list. If you use a non-stick liner, you will have a chance to empty the cabinets and reorganize them, bringing up a new look.
A non-slip liner has tons of uses. Remember, it's not a must to use a white non-stick liner. Otherwise, black is attractive too. Other people opt for the non-adhesive version, which is magical.
8. Customize More Open Shelves
If your kitchen has a substantial blank wall, contemplate adding more open shelves for kitchenware storage. It's a fantastic way of showing off your sophisticated glassware, classic cookbooks, or your assortment of serve ware.
Creating open shelves out of a blank wall lessens the disorganization of kitchen materials and products. Include negligible brackets for an extra touch of sophistication.
9. Add Decorative Features
Although you may not meditate about it, your kitchen is a fantastic place of decoration to bring a sense of style. Add all the decorations you love to brighten and make your kitchen charismatic.
A lot of people plant shelves over the cabinets leaving room for decorative elements, plants, and artwork.
Nevertheless, built-in exhibition shelves beneath the kitchen island can equally display your preferred cookbook and pricey kitchenware. Add a fresh bowl containing lemons for color and a flower vase.
10. Cover Horrible Countertops
Sometimes, creating new countertops can be a big deal as it incorporates a significant change. In such a case, you can try improving the existing countertops as there are various options from which you can choose.
For example, if you are living in a rental house, you can't make permanent modifications.
You can, therefore, top a part of your countertop with a huge gorgeous cutting board. It's both stunning and functional.
In case your house is not a rental, and you are determined, try painting the countertops.
Kitchen modernization is vital if you need a touch of elegance in your home.
Even with a small budget, it's possible to transform your kitchen to have a new look. With this list in mind, there is no need to worry about how to give your kitchen a new face. If you are currently not cooking in your dream kitchen, you need to modernize it.
---
Resources:
https://www.housebeautiful.com/room-decorating/kitchens/g22549092/modern-kitchen-ideas/
https://www.reviewthis.com/best-dishwasher/