At the beginning of summer, the kiddos and I attended our county's library kick off. There were bounce houses, entertainers and small tents with demonstrations and vendors. Surprisingly, The Divine Miss M was captured by the Bead for Life tent. Here Uganda women were rolling beads from recycled paper. In their tent, they had strips of paper cut and toothpicks for participants to make their own beads.
As The Divine Miss M tried to make the beads, she listened to the story about the beaders, tailors, and shea nut gatherers, primarily impoverished women who are hardworking, intelligent, and strong in their desire to improve their lives. I didn't realize the impact this had on The Divine Miss M, however, on the way home, she wanted to talk about how these handcrafted paper beads from the recycled paper were being transformed into necklaces, bracelets, and earrings.
We talked about how because they were using recycled paper it was jewelry that was doing well for the environment. We talked about how one man's trash is another man's treasure and that sometimes things we don't expect become something more. It was here that I realized how much The Divine Miss M understood in that tent. She offered, "Like the strips of magazines become beautiful beads that the women make and sell so they can get food and money for their family. I think that gives them hope that tomorrow will be better."
That day lit a fire in The Divine Miss M. We came home and she has spent months trying to perfect her bead making from recycled paper. She digs colored paper from the recycling bin and is eager to transform them into beads.
The Uganda women use a toothpick. We found this was too small for The Divine Miss M to manipulate. She discovered a wooden skewer works best for her. The strips the Uganda women used were about 24″ in length, far too long for The Divine Miss M to keep rolled tightly and straight.
We received a bracelet from Bead for Life. The quality of the jewelry's craftsmanship is impeccable. The recycled paper makes the bracelet very light weight. The bracelet is well constructed, without any metal–perfect for those allergic to metal.
The bracelet arrived in an orange canvas bag. A small signature Bead for Life tag reads "Bead for Life" on one side and "Made in Uganda" on the other. Such an intimate reminder that this bracelet is hope for the women who made it.
Whether you make a purchase from Bead for life, or register (now through September 31) to hold a Bead Party, every gesture helps them reach their goal of $155,000 to train their current member in Uganda for an entire year.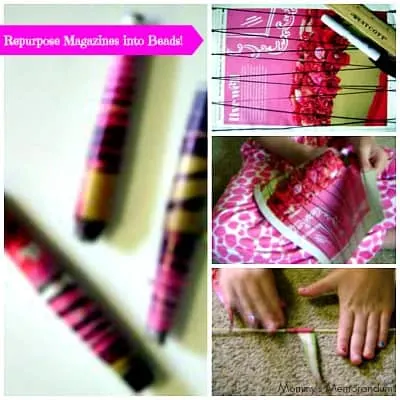 Here is The Divine Miss M's guide on HOW TO MAKE PAPER BEADS:
1.) Gather the paper: Magazines are great for rolled paper beads, however, The Divine Miss M also likes to color sheets of paper with different designs. She has also used scraps of scrapbooking paper.
Triangles make the bead pattern
2.) Design the Beads: There're no size regulations for the beads. The pattern is a triangle. Our experimenting has found that a one-inch base and the length of about 6″ works well. Thicker paper is easier to manipulate. The solid colored paper gives solid beads while patterned paper creates a more unique bead.
Cut out the Triangles
3.) Cut your Triangles – Cut out the Triangles.
Roll the Beads
4.) Get Rolling: Starting at the wide end, roll the triangles up. Experiment with different tools (toothpick, skewer, pencil) When the triangle is about half way rolled, add a drop of glue and keep rolling. We found using a glue stick on the top half of the triangle makes it easier to roll and keep it tight.
Rolled Paper Beads
5.) Create: String he beads on a yard, elastic cord, ribbon for necklaces and bracelets. String on the wire to shape into boxes, bowls or anything imagined.
*I received a Bead for Life bracelet in order to facilitate an honest review. The opinions, where expressed are my own and were in no way influenced by the sponsor. The opinions where expressed, are my own and were in no way influenced by the sponsor. Others experiences may vary.