The State of Texas is a state that allows for both no-fault divorces or fault-based divorces, depending on the circumstances of your case. This means that Texas couples can end their marriage in a civilized manner if they choose. As a no-fault state, Texas allows people to file for divorce without the need for an attorney. Thus, "Do It Yourself" divorce is possible and effective in Texas. A DIY divorce provides a relatively easy option to end your marriage, which is also very affordable in terms of time and money. It allows you the opportunity to observe discretion, which is, in most cases, lost during a divorce. Before starting your DIY divorce in Texas, there are some essential questions you should ask yourself to be sure that your case qualifies for this less expensive form of divorce. This will also ensure that you understand and agree about how the divorce should be settled. After going through this short list of questions, you can start your "Do It Yourself" divorce in Texas.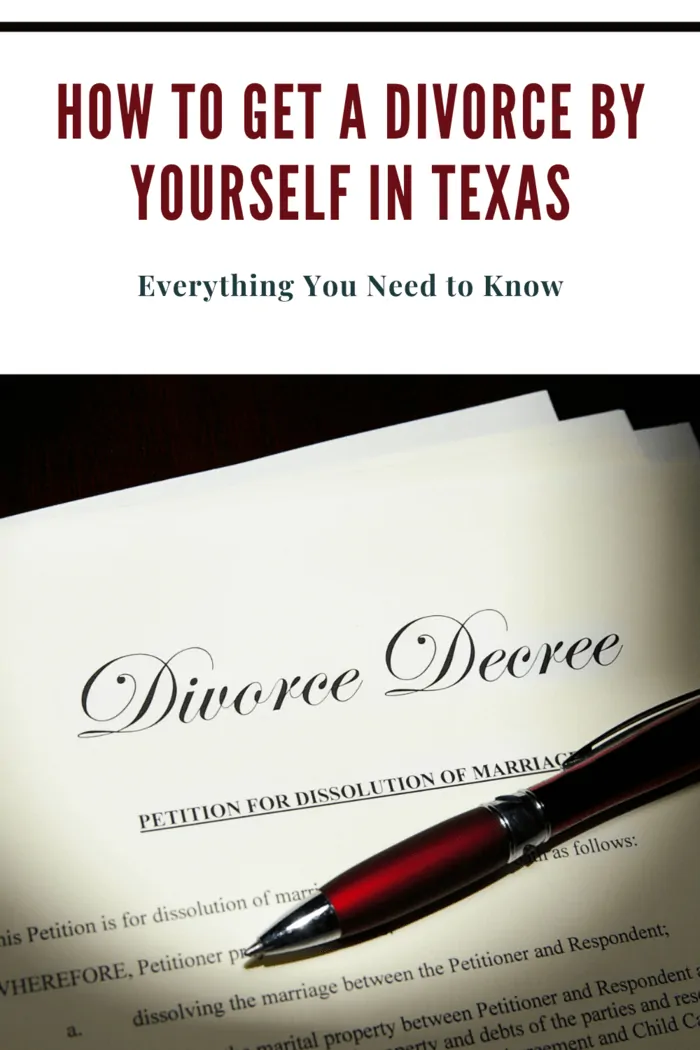 How to Get a Divorce by Yourself in Texas
3-Question Qualification Quiz
This three-question quiz will help you to be sure your case is eligible to be filed as a Do it Yourself divorce in the state of Texas.
Do you meet the residency requirements?
The first question is whether you meet the residency requirements to have your case settled in the state of Texas.
To have jurisdiction over your case, Texas requires that either you or your spouse be a Texas resident for at least six months before filing.
And the petitioner must have resided in the county where the case will be filed for at least 90 days.
Does your spouse agree about ending the marriage as a no-fault divorce?
It is important that you and your spouse are both on the same page about wanting the marriage to end and that your divorce will be filed as a no-fault case.
This allows your case to proceed without you having to go through the court to prove the fault or misconduct of the other spouse, simplifying the case.
In most cases, people reference "insupportability" as the basis of their uncontested, no-fault divorce.
The term insupportability is used to indicate that both partners have irreconcilable differences, and the marriage cannot be fixed.
Is your case uncontested?
Although a Do It Yourself Divorce in Texas is simple and preferred, it is not applicable to all divorces.
It mainly works in uncontested divorces, says HG, where the divorcing parties come to an amicable agreement and end their divorce in a civil way.
The couple has to come to an agreement about issues related to the division of marital property and wealth, alimony if needed, and child support and custody if children are involved.
In cases where the respondent contests the divorce or the two spouses can't agree on anything, using a lawyer is not only more effective but also essential.
Do-it-yourself divorce is applicable for couples who have an understanding that their marriage is over and are able to reach an agreement about all of the terms of their divorce.
The Texas Online Divorce assistance service can be instrumental in making this process easier and less time-consuming.
It is also legitimate and effective.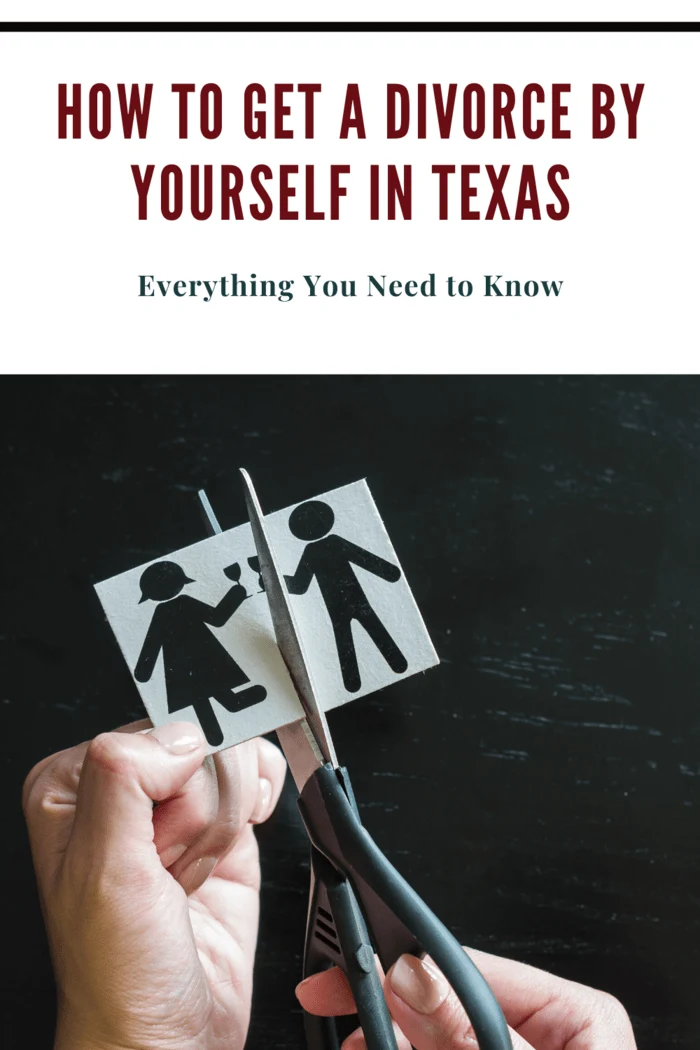 THE DO IT YOURSELF DIVORCE PROCESS IN TEXAS
Step 1: Develop your Divorce Petition Online
Any divorce starts by completing the paperwork needed to initiate your case.
The forms needed for your case can be downloaded for free from the Texas court website or picked up from the local clerk of court's office at no charge.
The Texas court website also has information available online to assist you with completing the paperwork and filing for your divorce on your own without the help of an attorney.
Despite the available information, some couples still find it difficult to handle the paperwork on their own.
This can be especially true in cases that involve property or children says Brides.
If the paperwork is too complicated or you just don't want to deal with the hassle or the risk, online divorce services like Texas Online Divorce are a perfect option to take on this part of the process.
For a very low price, the Texas Online Divorce assistance service will select and complete all the necessary forms for your case for you.
There will be no need for you to pick out your own forms, study divorce law, or hire an expensive lawyer.
Texas Online Divorce allows you to complete your DIY divorce from the comfort of your own home while keeping your costs at a minimum.
Texas Online Divorce works like most online divorce service websites, and you will complete a questionnaire about the details of your case.
And your answers will determine the foundation of your divorce petition.
Once your completed divorce document kit is ready (usually in as little as two days), it can be printed out, signed, and filed with the court.
The site only uses legitimate court-recognized forms, so you won't have to worry about whether or not they will be accepted.
Step 2: Review and Sign the Petition
Once you have printed the forms, you will have to review and sign them.
If you are doing this together with your partner, then both of you will review and sign the forms.
Once you sign these forms, it means that you each agree with the terms indicated in the forms.
It is possible to amend the forms once you file them, but that will require you to restart the process all over again by refiling the case.
If you are doing this process alone, you will file the petition before serving your spouse with a notice for the filed petition.
This is further explained in the next two steps.
Step 3: File the Petition with the Texas Divorce Court
You will need to file the papers with the appropriate court for your location.
The Texas Online Divorce assistance service will provide you with a list of options for Texas courts.
You have to choose one that's within your county of residence and file the petition with the appropriate district court clerk's office.
The main reason for filing within your county of residence is due to jurisdiction guidelines specific to the Texas district courts.
It is important to file the original petition with the clerk's office and keep two copies (one for you and one for your spouse).
It is possible to deliver the petition physically or via mail; it depends on what's convenient for you.
If you choose to mail the petition, be sure to include a stamped, self-addressed envelope that the clerk will use to send you a date-stamped copy that indicates the filing date and case number.
In the event that you are working together with your partner and have filed the petition together, this is likely to be the last step of your divorce process.
In that case, once you have filed the petition, the judge will assess the petition and approve your divorce.
The Do it Yourself divorce process in Texas takes at least 60 days.
Step 4: Serve the Other Party with the appropriate Documentation
Next, you must notify your spouse that you have filed a petition.
The best way to do this is to ask them to sign a waiver of citation.
The waiver basically relinquishes the legal need for using a county constable or process server to hand-deliver a copy of the petition to the respondent.
This is important, because some people may fail to respond and claim that they never received any documents.
Using a county constable or process server for the process provides evidence that the respondent actually received the documents.
Once they sign the waiver, serve them with the appropriate documentation, and file the waiver with the clerk's office.
Step 5: Create a Final Decree of Divorce
According to Texas law, there should be a 60-day waiting period from the day of the filing of your petition to the date your divorce is finalized.
You and your spouse should use this time to create your settlement agreement if you haven't yet.
Make sure that you agree on all matters relating to property division, alimony (if needed and can be provided), and child support and custody, recommends Texas Law Help.
Once everything is settled, complete a final decree (you can find the forms on the Texas Online Divorce Assistance Service website).
This document provides information on the division of property (both assets and liabilities); according to Texas law, these should be divided equally.
If you have any children, you will provide details pertaining to child custody and child support, including support payments and visitation in the final decree.
Step 6: Attend the Uncontested Hearing
Once the 60 day waiting period has passed, .
You can confer with the clerk for the court's office to set up a date for the hearing.
Although your spouse can attend, it is not a requirement by the Texas divorce law.
If you have any questions, you can run them by the clerk just to be clear about what is required for you to bring to the hearing.
During the hearing, the judge will ask you some questions before signing your final decree.
Obtaining a simple, uncontested divorce is quite easy in the state of Texas if you and your spouse both agree on all matters relating to the divorce.
If you are both on the same page about your divorce, you can follow the do it yourself divorce process and finalize your divorce quickly and efficiently.
Use the Texas Online Divorce Assistance Service for better orientation and efficiency in your divorce process.