Introducing the Highchair-Helper: Revolutionize Mealtime for Your Little One!
Are you tired of messy mealtime battles with your toddler? Say goodbye to the chaos and embrace the convenience of the Highchair-Helper! Designed with both you and your child in mind, this innovative highchair accessory will transform your dining experience into a seamless and enjoyable affair.
Here's what makes the Highchair-Helper a game-changer:
Maximum Comfort: Crafted with plush, ergonomic padding, the Highchair-Helper provides optimal support and comfort for your child. No more fidgeting or discomfort during mealtime, ensuring a peaceful dining experience.
Mess-Free Solution: With the Highchair-Helper, messy spills and food fights become a thing of the past. The waterproof and stain-resistant fabric is a breeze to clean, simply wipe it down or toss it in the washing machine for a fresh start every time.
Versatility at Its Best: Whether you have a traditional highchair or a portable one, the Highchair-Helper is compatible with most models. Its adjustable straps and secure fastening system ensure a snug fit, providing a stable and safe environment for your little one.
Smart Design: The Highchair-Helper is intelligently designed with thoughtful features that enhance convenience for parents. The built-in pockets allow you to keep essentials like bibs, utensils, and wipes within easy reach. Plus, the compact and foldable design makes it travel-friendly, perfect for on-the-go families.
Stylish and Fun: Available in a range of vibrant colors and adorable patterns, the Highchair-Helper adds a touch of style to your dining space. Your child will love the cheerful designs, making mealtime an exciting adventure every day.
Make mealtime a stress-free and enjoyable experience for both you and your child with the Highchair-Helper. Order yours today and witness the transformation in your highchair routine!
Our Highchair-Helper Review
The highchair-helper is a must have for parents of toddlers. This sticky plastic mat adheres to the child's plastic high chair via a sticky back. Then, parents should press the bowl or plate into the mat. Any type of bowl or plate can be used with the Highchair-Helper. For rigid bowls or plates though, you may need to press harder on the dish to secure it firmly to the mat.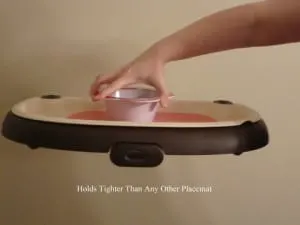 Once secure, your toddler's or baby's meal can't go flying or even tip over. What a blessing for busy parents!
My MES was Miss Independent. She wanted to do everything herself – she still does for that matter! Eating was messy; our dining room floor was the cat's best friend with all of MES's goodies strewn about at mealtime. It wasn't all her fault; what can a mom expect when she gives the new eater a flimsy yogurt container and a heavy toddler spoon? It's going to tip over. She wanted to hold the spoon to eat, but the plastic bowls for toddlers just wouldn't stay in place, so I ended up holding the bowl, guiding the spoon, and dodging the erratic toddler motions all at the same time. The Highchair-Helper solves the problem. Just press the bowl or plate into the Highchair-Helper and it will be secure until Mom removes it with a clockwise twist. How awesome! Now, Little Bit can dip her spoon in the bowl all by herself without worry that her muscle groups are still developing. She won't send the bowl over the edge even if she tries! (insert maniacal Mommy laugh here — because Mommy has WON THE BATTLE of the MESS!)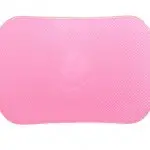 When Little Bit is big enough to eat solid foods, you can bet the Highchair-Helper will be my BFF. She'll have more success and enjoy the process of eating so much more with better confidence!
Be aware though that it is meant for highchairs. If you feel inclined to use it on your dining table, test the sticky side to make sure that it does not take the varnish off of your table. If you need to relieve the sticky nature of the mat, use water on the mat. You can even store the Highchair-Helper on the plastic sheet that it arrives on. The Highchair-Helper is durable and lasts up to 6 years. It is also BPA-free, Phthalate-free, and PVC-free, which means it is safe for Baby!
For more information, visit the website at www.highchair-helper.com.
Connect with Highchair Helper on Facebook.
Lauralee Saad loves homeschooling her three kiddos: Ballerina, age 8, Big Boy, age 6, and MESS, age 3. She enjoys sewing when she can find a spare corner to set up her machine and dig out fabrics, cooking and baking – especially if the kiddos are helping, and enjoying a good book after the kiddos have gone to bed. She is thrilled to have welcomed a baby girl into the family on March 23, 2012.
Disclosure of Material Connection: I received one or more of the products or services mentioned above for free in the hope that I would mention it on my blog. Regardless, I only recommend products or services I use personally and believe will be good for my readers. I am disclosing this in accordance with the Federal Trade Commission's 16 CFR, Part 255: "Guides Concerning the Use of Endorsements and Testimonials in Advertising."