Using Commerce and Culture To Effect Change
Heart of Haiti generated some fond memories for me. When my Jake was three or four years old, we lived in a complex in Miami, Florida. Here we would stroll the grounds for a morning walk and hope to see an eagle or another animal in the Wild Life Sanctuary conjoined with the complex grounds. On one particular stroll, Jake was introduced to Jean Claude. He was unlike anyone Jake had ever seen or met. Jean Claude was Haitian.
Over the course of the next year and a half, Jean Claude and Jake looked for each other on those morning strolls. They engaged in conversation, Jean Claude's accent was far to enriched with his Haitian heritage for me to understand very much, but Jake had no issues and would chatter and listen. It was a friendship that enriched both Jean Claude and Jake.
One year ago this month, images of the devastation unleashed from the earthquake in Jean Claude's native home of Haiti came into our homes through media and we became a country of people who are compassionate. A country that is thankful for what we have been provided. We sent supplies, help and began to help Haiti rebuild.
One organization that is centered around that rebuilding is The Heart of Haiti. This organization, partnered with Macy's.com is helping to employ 350 artists in Haiti and another estimated 4,000-5,000 people in Haiti are being provided financial benefits. That's an amazing way to rebuild.
One of the great things about Heart of Haiti is that it is creating opportunities for Haitian artisans and residents to earn an income, rather than asking for a one-time donation through a charity. it's not only about rebuilding Haiti, but rebuilding the skills and the people that call Haiti their home.
With raw materials extinct, poor sanitary conditions and the inability to generate income as they did before, Heart of Haiti allows the incredible talent of Haiti to surface and earn income for their community, their family and themselves. We're talking the ability to repair their home, money to attend school and the necessities of food and clothing. What person doesn't want someone to have nutrition, education and health?
Heart of Haiti sells hand-crafted items designed and made by a Haitian artist in Haiti. It is a collection of 40 different home decor items and accessories each made from recycled materials. It's a stunning assortment of serving trays, picture frames, bowls, mirrors, jewelery, purses, vases and more. For most, the retail of the items is between $25 and $60. The Haitian artisans receive 22-percent of the retail for each item sold.
Our trip to the Dominican Republic introduced my children to the poverty of the island, shared with Haiti.
Here's a glimpse of some of the beauty offered through Heart of Haiti.
Heart of Haiti Bowl, Watermelon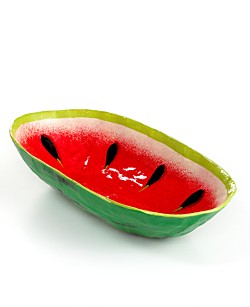 Fresh from Haiti's master artisans, this papier-mache watermelon bowl is as bright and enticing as the real thing. A juicy red center and ripe green exterior inspire creativity in your kitchen.
Heart of Haiti Candle Holder, Fire Bird Hurricane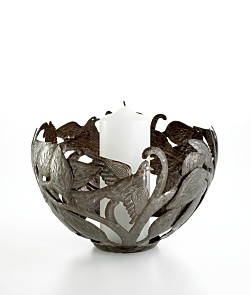 Rustic yet refined, this beautiful candle holder is the product of basic scrap metal. Steel from recycled oil drums is cut, shaped and totally recreated into sculpted birds and branches by Haiti's brilliant artisans.
Heart of Haiti Pendant, Heart of the Goddess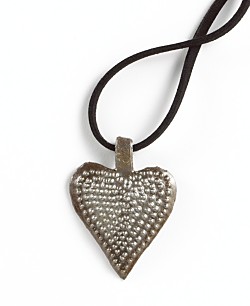 Have a heart. Made of metal from recycled drums, this handcrafted pendant embodies the unparalleled creativity of Haiti's master artisans. Cool textured detail creates a look of rustic beauty. With a faux suede cord.
The entire collection can be viewed through Macy's.com Hearts for Haiti. It's a beautiful collection of Caribbean art that through our purchases, bring wonderful change to the country and the lives of the people of Haiti.
Willa Shalit Introduces the Heart of Haiti
Willa Shalit is the amazing woman who has worked to bring two wonderful projects to Macy's attention: Rwanda Path to Peace and Heart of Haiti. She recognized the need for sustainable income in these countries and with her company, Fairwinds Trading, she is making it possible. The Heart of Haiti initiative at Macy's has already led to the employment of 450 artists in Haiti and has provided some financial benefits for an estimated 4,000 to 5,000 people in the country.
Willa is hands-on in Haiti and has made several trips since the earthquake. She knows the lay of the land, the artisans, the heartbreak, and now the hope that these communities have as a result of the Heart of Haiti. Through this blogger trip and under Willa's guidance, we want you to see firsthand the impact that this program has had on individuals, families, and communities.
"Who says you can't buy hope? Willa Shalit is proving that shopping can transform other people's lives." http://www.oprah.com/spirit/The-Woman-Who-Makes-Shopping-Meaningful
I was selected for this very special "CleverHaiti" opportunity by Clever Girls Collective, which endorses Blog With Integrity. All opinions are my own.