Anima Soap Review
My husband is constantly telling me I should make soap.
I reply, "yeah. Yeah," and wonder what he thinks I do all day.
The truth is, I wouldn't know where to begin and ahem.
I'm inherently lazy!
Morrison's resolution for 2010 is to be more Earth Friendly.
I realize that the chemicals and synthetics contained in the soap we buy are not great for our environment, and I've seen the commercials about the soap resin left behind on our bodies…ewwwwww!
Then you think about all of it going down the drain and into our water, which hydrates our food supply, and yeah, I'm not feeling too good about my choices right about now.
So when Anima Soap contacted me and sent me their Grapefruit and Baby Bar Soap, I was filled with joy.
Truthfully, I wanted to take it out of the package and put it on the counter and profess it was my labor of love that skillfully made my husband's dream come true, but integrity got the best of me, and so I confessed the truth, and we set out to review.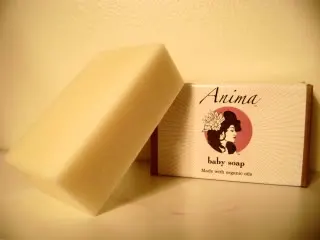 You may recall that I have no sense of smell.
I am intrigued by how people describe scents.
We opened the boxes one at a time, and first, we smelled the Grapefruit Bar.
My kiddos think it smells, "mmmmmm…just like Starbursts!"
My husband was not nearly as poetic, stating, "It has a nice citrus smell."
Then I was amused when we pulled out the Baby Bar.
My kiddos inhaled, then again, and again and then said, "Hey, this one doesn't smell like anything."
My husband supported them and said, "It has no smell to it."
I find this strange, but who is one without the smell sense to argue?
Now, I've used homemade soaps before, and most of them do NOT get a lather.
Maybe it's just me, but I'm judging how clean I'm going to be on the other side of the showerhead by how lavish my lather is!
Upstairs the kiddos and I headed to test out Anima Soap.
In the tub, we set to scrubbing.
I was AMAZED at how sudsy the soap got!
It was super!
It even supported me in my Mom Extraordinaire Magic Bubble Blowing! Kudos!
Then I announced we were going to get some in someone's eye (Baby Bar).
There were screams and pleads.
I could only remind them that "We're doing a review, and someone needs to take one for the team."
Shockingly, there were still no volunteers.
Strategically I did my Magic Bubble Blowing trick and POP!
Suds in the eye!
Li'l Man panicked, "You got it in my eyes! You got soap in my eye!"
Then as quickly as the panic set in, he said, "Hey, it doesn't burn."
I don't recommend washing your eyeballs with the soap, but it seems to be tear-free.
My husband has dry skin, and we have hard water.
This combination makes for a whining husband.
I convinced him to use the Anima Baby Bar on his day off, and he was complimentary to how gentle the soap was.
Whew!
Anima Soap only contains a few ingredients and packs the punches with lather and extremely clean.
I love when I can say, "dynamite comes in small packages," and on this one, I'm thumbs up.
Beyond the performance of their soap, Anima Soap is a company that's committed to protecting what's important–people and the planet.
Anima comes from the Latin word "soul."
Their soap is high quality and very well priced–imagine an organic-based soap for $1.89!
There is no animal testing, and their packaging is 95% recycled!
I admire a company that creates a product and thinks of the human and ecological value first and foremost.
Disclosure: No monetary compensation was offered or accepted for this post. I have received the product mentioned to facilitate this review. The opinions are my own and in no way influenced by the sponsor. Other's experiences may vary.
We appreciate your subscription to Mommy's Memorandum