Disney Easter Books: Bringing Magic to Your Easter Celebration
Easter mayhem at the store? Don't fret! Let Disney Press save your day with enchanting Easter-themed books that will light up your Li'l Ones' baskets. From the Hundred Acre Wood to Radiator Springs, Disney's beloved characters are here to make Easter memorable. Discover the magic of these enchanting tales and find the perfect addition to your Easter celebrations!
---
Pooh's Easter Basket: A Hundred Acre Adventure
Ages: 3-6
Discover the Joy of Easter with Winnie the Pooh and Friends
Step into the world of the Hundred Acre Wood with "Pooh's Easter Basket." Shaped like a delightful Easter basket with a golden cord handle, this book brings to life the adventures of your favorite residents as they prepare for Easter. Let the magic of Pooh, Piglet, Tigger, and Eeyore captivate your young ones as they embark on a heartwarming Easter journey.
Expert Tip: Encourage your child's imagination by reenacting the Easter preparations with their own baskets and stuffed animals.
Storage: Keep this cherished Easter tale on your bookshelf to relive the Hundred Acre Wood's magic year after year.
Happy Easter, Baby!: A Touch-and-Feel Adventure
Ages: 3-6
An Easter Adventure for the Littlest Ones
Travel back to the days when touch and textures delighted your little one with "Happy Easter, Baby!" From the Disney Baby books series, this sensory experience features Disney characters alongside real babies, offering plenty of objects to touch and explore. It's a perfect Easter read for the tiniest members of your family.
Expert Tip: Engage your baby's senses by gently guiding their fingers over the various textures in the book.
FAQs: Can I wash the book if it gets dirty? No, but you can wipe the pages clean with a damp cloth.
Thumper Finds a Friend: A Heartwarming Tale
Ages: 1-5
Hop into Friendship with Thumper
Join one of the most famous bunnies, Thumper, in "Thumper Finds a Friend." When Thumper stumbles upon a sleeping hedgehog in the forest, he decides to be her friend. It's a celebration of friendship that will warm your heart and your child's.
This book contains vibrant illustrations that bring Thumper and his new friend to life.
Storage Information: Cherish the message of friendship long after Easter is over.
Phineas and Ferb: The Easter Eggs-travaganza
Phineas & Ferb throw an epic Easter fest, but Dr. D as the Easter Bunny spells trouble. Perry the Platypus to the rescue!
"Whatcha Doin'?" It's Phineas and Ferb and The Easter Eggs-travaganza! Of course, Phineas and Ferb are throwing a giant festival in their backyard for Easter, complete with a rockin' band and a confetti-shooting cannon. Dr. D is dressed as the Easter Bunny in his attempt to finally take over the Tri-State Area. Can Perry the Platypus save the day?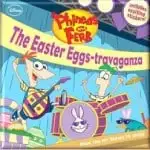 Winnie The Pooh: The Easter-Egg Hunt with Read-Along CD
Ages: 3-7
A Springtime Adventure in the Hundred-Acre Woods
Follow Winnie the Pooh on an Easter-egg hunt through the delightful parts of the Wood in "Winnie The Pooh: The Easter-Egg Hunt." This Easter-themed storybook comes with a read-along CD featuring charming narration and the voices of beloved characters. It's the perfect holiday gift for your little ones.
Winnie the Pooh's adventures have been captivating young hearts for generations, and this book continues the tradition.
FAQs: Can I listen to the CD without the book? Yes, the CD can be played separately for an audio-only experience.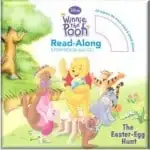 Mater and the Easter Buggy: A Radiator Springs Tale
Ages: 3-7
An Easter Adventure in Radiator Springs
For young fans of "Cars," "Mater and the Easter Buggy" is a must-read. Join Mater as he eagerly awaits the Easter Buggy's arrival to fill his tire with goodies. When things don't go as planned, Lightning McQueen steps in to save the day in this heartwarming tale of friendship.
Expert Tip: Share the valuable lesson of never giving up, even when things don't go as expected.
Known Alternate Names: In some regions, this story may be known as "Mater's Easter Surprise."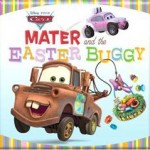 ---
These Disney Easter books are a surefire way to delight your children with their favorite characters, Disney's signature illustrations, and heaps of fun. Make this Easter a magical one with these enchanting tales that will have your family coming back for more year after year.
Disclosure of Material Connection: I received one or more of the products or services mentioned above for free in the hope that I would mention it on my blog. Regardless, I only recommend products or services I use personally and believe will be good for my readers. I am disclosing this in accordance with the Federal Trade Commission's 16 CFR, Part 255: "Guides Concerning the Use of Endorsements and Testimonials in Advertising.".