I received the eufy Pet Dog Camera D605 in order to facilitate a review. My opinions remain my own.
Eufy Pet Dog Camera D605: Keeping an Eye on Your Furry Friend
The Eufy Pet Dog Camera D605 is a cutting-edge device designed to keep your four-legged companion in sight, even when you're not around. With its innovative features and user-friendly design, this pet camera ensures you never miss a moment of your pet's antics. Whether you're at work, running errands, or simply curious about what your pet is up to, the D605 offers a reliable solution.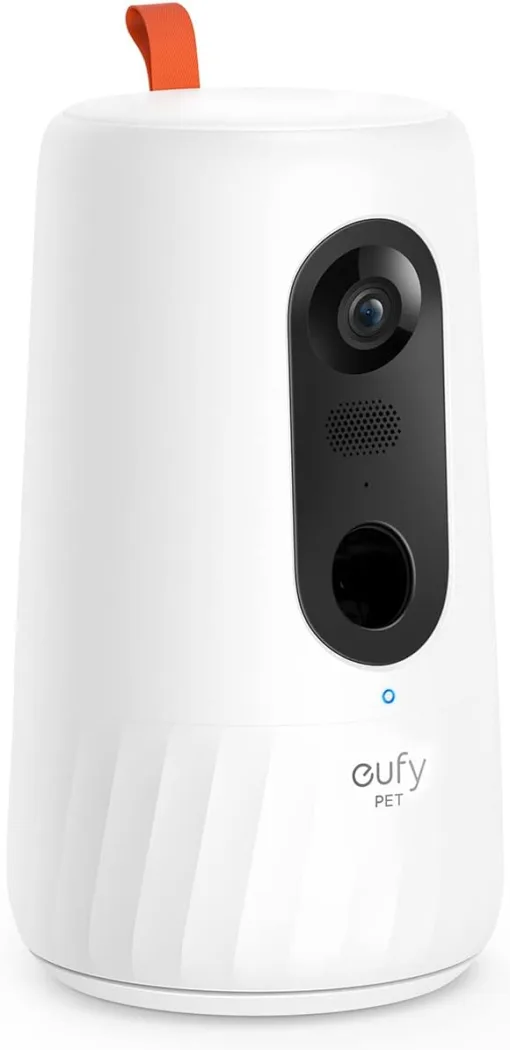 Key Features:
Real-time HD Video: Get crystal-clear, high-definition live video streaming directly to your smartphone or tablet.
Two-Way Audio: Communicate with your pet using the built-in microphone and speaker, soothing them even when you're away.
Smart Alerts: Receive notifications when your pet is active, ensuring you're always in the loop.
Treat Dispenser: Dispense treats remotely to reward your pet for good behavior or simply to brighten their day.
Night Vision: Even in low light conditions, the D605 provides clear visibility, allowing you to check on your pet at any time.
Adjustable Design: The camera can be swiveled and tilted to get the perfect view of your pet's favorite spots.
Easy Setup: Quick and straightforward installation process for hassle-free use.
Specifications:
Dimensions: 6.5 x 4.2 x 8.9 inches
Weight: 1.2 pounds
Connectivity: Wi-Fi and Bluetooth
Power Source: AC adapter
Expert Tips:
Place the camera in an area where your pet spends the most time for optimal monitoring.
Gradually introduce your pet to the camera's presence and the sound of your voice through the speaker to reduce anxiety.
Regularly clean the treat dispenser to prevent blockages.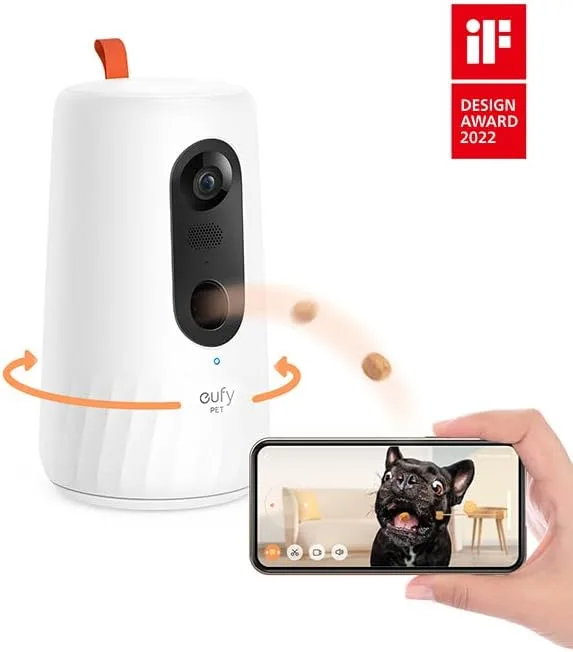 Why Pet Owners Will Adore the Eufy Dog Camera D605
If you're a pet owner, you know that your furry friend is more than just an animal—they're a beloved member of your family. That's where the Eufy Dog Camera D605 steps in, becoming your trusty companion in keeping a watchful eye on your pet's world, even when you're not physically present. Here's why this innovative pet camera is bound to become your new favorite gadget:
1. Real-Time Connection:** Imagine being able to peek into your pet's world at any moment, whether you're stuck at the office or out running errands. The D605 offers real-time HD video streaming directly to your smartphone or tablet, ensuring you never miss a playful moment, a comforting snooze, or a mischievous escapade.
2. Stay Connected, Virtually:** Two-way audio functionality means you're not just watching—you're interacting. Comfort your pet with your voice, even if you're miles away. It's like you never left home.
3. Treat Time Anytime: Who doesn't love a good treat? The D605's treat dispenser lets you remotely reward your pet's good behavior or just sprinkle some joy into their day. It's a little gesture that keeps your bond strong.
4. Peace of Mind with Smart Alerts: Receive notifications when your pet becomes active, ensuring you're always in the loop. Whether they're bouncing around or taking a leisurely nap, you'll be the first to know.
5. Night Vision for Round-the-Clock Monitoring: Your pet's shenanigans don't stop when the lights go out. With night vision capability, you can keep tabs on them in any lighting condition, 24/7.
6. Customizable View: The adjustable design of the camera allows you to pivot and tilt, so you can get the perfect angle on your pet's favorite haunts. It's like a tailor-made window into their world.
7. Easy as 1-2-3 Setup: No tech wizardry required. The D605's simple installation process means you'll be up and running in no time, without the frustration.
8. Expert Tips for Optimal Usage: Get pro advice on where to position the camera, how to introduce your pet to it, and how to ensure the treat dispenser stays smooth-sailing.
9. A Pet-Centric Device: The D605 is designed with pets in mind, catering to their needs and enhancing your connection, even when you're not physically together.
10. Strengthen the Bond: Maintain the heartwarming connection between you and your pet, even when you're apart. The D605 bridges the distance and lets your pet feel your love, no matter where life takes you.
With the Eufy Dog Camera D605, you're not just investing in a gadget—you're investing in moments, memories, and a stronger bond with your furry companion. Embrace the convenience, the fun, and the heartwarming connection this pet camera brings to your life.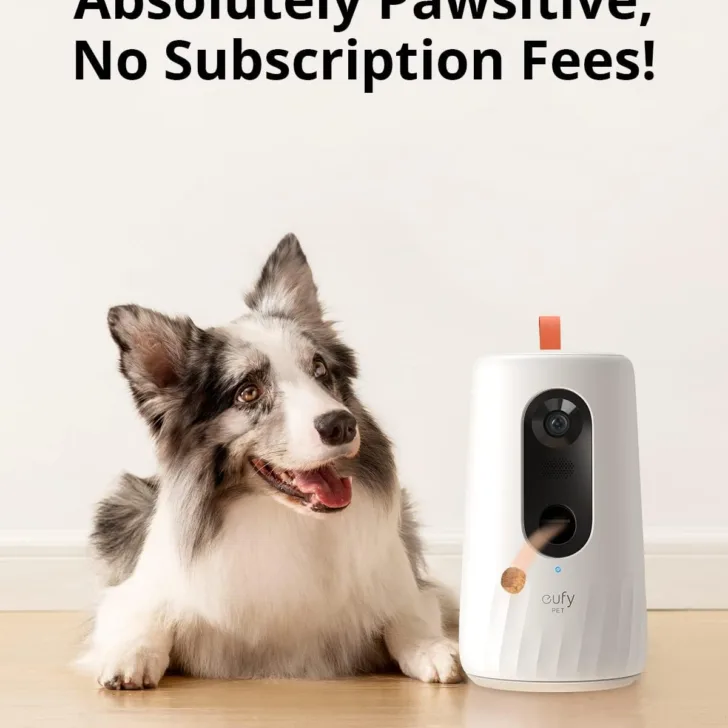 Setting Up Your Eufy Dog Camera with Treat Dispenser: Step-by-Step Guide
So, you've got your hands on the amazing Eufy Dog Camera with Treat Dispenser, and you're eager to get it up and running to start connecting with your furry friend. Fear not, because we've got you covered with this easy-to-follow setup guide:
Prep Time: Approximately 15 minutes
Servings: Unlimited moments of joy with your pet
Compatibility: Works with Android and iOS devices
What You'll Need:
Eufy Dog Camera D605
Smartphone or tablet
Stable Wi-Fi connection
Eufy Security App (download from App Store or Google Play)
Step 1: Unboxing and Placement Unbox your Eufy Dog Camera D605 and find the perfect spot to place it. Make sure it's within your pet's activity zone, offering a clear view of their favorite hangout spots.
Step 2: Power Up Connect the camera to a power outlet using the included AC adapter. Wait for the camera's indicator lights to show it's powered on and ready.
Step 3: Download the Eufy Security App Go to your device's app store and download the Eufy Security App. Create an account or log in if you already have one.
Step 4: Add Device Open the Eufy Security App and tap on "Add Device." Select "Pet Camera" from the list and follow the on-screen instructions to connect the camera to your Wi-Fi network. Make sure to have your Wi-Fi password handy.
Step 5: Camera Connection Once the camera is connected to your Wi-Fi, you'll see a live video feed on your app. Now you can remotely see what your pet is up to in real time!
Step 6: Treat Dispenser Setup Open the app's settings and locate the Treat Dispenser option. Follow the prompts to load your pet's favorite treats into the dispenser.
Step 7: Calibration The app will guide you through calibrating the treat dispenser's throwing distance. This ensures the treats are dispensed accurately to your pet.
Step 8: Test Dispensing Perform a test treat dispensing to ensure the treats are being thrown at the desired distance and your pet can access them easily.
Step 9: Interact and Enjoy Now that your Eufy Dog Camera D605 is set up, you can enjoy interacting with your pet through the two-way audio, tossing treats, and monitoring their activities, all from your smartphone or tablet.
Expert Tip: Gradually introduce your pet to the camera's presence and the sound of your voice through the speaker to reduce any initial anxiety.
Storage and Leftover Treats: Keep any remaining treats in an airtight container to maintain freshness. The Eufy Dog Camera D605 is ready to delight your pet at any time!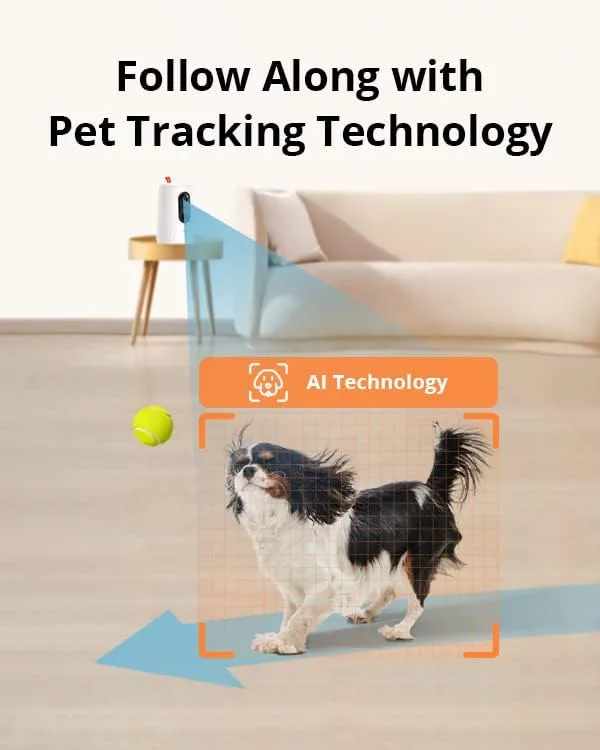 FAQs for the Eufy Dog Camera D605 Treat Dispenser
Got questions about the treat dispenser feature of your Eufy Dog Camera D605? We've got answers to ensure you make the most of this delightful feature:
1. Can I use any type of treats with the dispenser? While the dispenser is versatile, it works best with small, dry treats. Avoid treats that are too large or sticky to prevent clogs and ensure smooth dispensing.
2. How do I load treats into the dispenser? Open the dispenser's compartment by following the manufacturer's instructions. Place a small handful of treats in the designated area, making sure not to overfill. Close the compartment securely.
3. How do I prevent treats from getting stuck? To prevent treats from getting stuck, ensure they are of the appropriate size for the dispenser. Avoid using treats that are too sticky, as they can cause jams.
4. Can I adjust the throwing distance of the treats? Yes, you can! The Eufy app allows you to calibrate the treat dispenser's throwing distance. Follow the app's instructions to set the distance that works best for your pet's location.
5. My pet isn't immediately approaching the treats. What should I do? Some pets might take time to get used to the idea of treats being dispensed. Gradually introduce them to the dispenser by manually giving them treats and associating the sound of the dispenser with a positive experience.
6. How do I clean the treat dispenser? Regular cleaning is essential for optimal performance. Consult the user manual for specific cleaning instructions. Generally, you can remove the treat compartment and wipe it clean with a damp cloth. Ensure it's fully dry before adding treats.
7. What if the treats are not dispensing properly? If you notice issues with treat dispensing, check if the treats are of the appropriate size and consistency. Also, ensure that the dispenser's chute and throwing mechanism are free from any blockages.
8. Can I dispense treats when I'm not connected to the camera? No, treat dispensing is a feature that is controlled through the Eufy app and requires an active connection to the camera.
9. How many treats can the dispenser hold at once? The treat dispenser can hold a small handful of treats. Avoid overfilling to ensure proper functioning.
10. Are there specific treats recommended for the dispenser? While there are no specific brand recommendations, small and dry treats that can easily fit through the dispenser's chute are ideal.
11. Can I schedule treat dispensing at specific times? As of my knowledge cutoff in September 2021, the Eufy Dog Camera D605 does not have the feature to schedule treat dispensing at specific times. Please refer to the latest user manual or app updates for any new features.
Remember, the treat dispenser is not just a fun feature—it's a tool to engage with and reward your pet. Monitor their response and adjust accordingly to ensure they have a positive experience every time.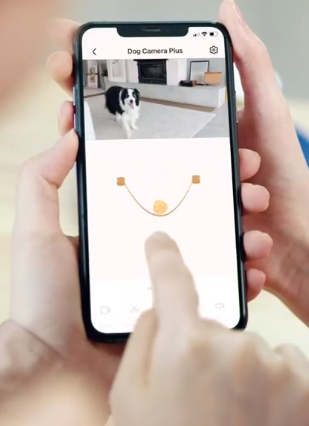 Where to Purchase the Eufy Dog Camera D605
Looking to get your paws on the Eufy Dog Camera D605? You're in luck! You can find this innovative pet camera at various online and retail locations. Here are some popular options to consider:
Eufy Official Website: The official Eufy website is a reliable source for purchasing the D605. Check out their online store for product details and purchasing options.
Amazon: Amazon offers a wide range of products, including the Eufy Dog Camera D605. You can read customer reviews, compare prices, and conveniently have it delivered to your doorstep.
Best Buy: If you prefer to shop in-store, Best Buy might have the Eufy Dog Camera D605 available at select locations. Check their website or visit a nearby store to see if it's in stock.
Walmart: Walmart's online platform often features the Eufy Dog Camera D605. You can browse their website and choose between delivery or in-store pickup.
Other Online Retailers: Various online retailers specialize in electronics and smart home devices. You might find the D605 available at places like Newegg or B&H Photo Video.
Before making your purchase, be sure to compare prices, read reviews, and check for any ongoing promotions or discounts. Additionally, consider the retailer's return policy and warranty information for added peace of mind. With the Eufy Dog Camera D605, you're well on your way to staying connected with your furry friend like never before!
Alternate Names:
Eufy Pet Cam D605
Eufy Dog Monitor D605
Eufy Pet Surveillance Camera D605
In Conclusion: The Eufy Pet Dog Camera D605 provides an excellent solution for pet owners seeking to stay connected with their furry friends from a distance. With its top-tier features, sleek design, and ease of use, this pet camera is a must-have for any pet-loving household. Keep an eye on your pet's activities, communicate remotely, and even treat them with a tasty snack—all at the touch of a button.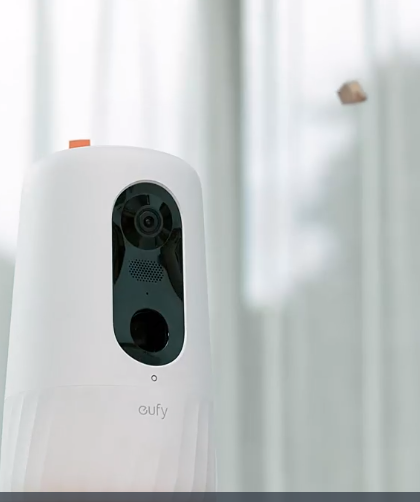 Discount Offer from eufy:
30.00% off from On-Device AI Tracking and Pet Monitoring, 360° View, Local Storage, 2-Way Audio
Original: $199.99 / Discount Price: $139.99
Promotion: Best Deal (Price Drop)
Dates: 8/14 – 8/20