There was a day that my Facebook feed exploded.
There was a new Disney Princess, the first of her kind, a Latina Princess.
Her name, Elena. Elena Castillo Flores to be exact; she's better known as Elena of Avalor.
Elena is from a place called Avalor.
It's filled with adventures.
Her kingdom of Avalor is magical, and it's Elena's mission to save it from an evil sorceress and rule it as Avalor's crown princess.
Elena may be young, but she exhibits traits of a great leader–thoughtfulness, compassion, resilience, and smarts!
By all appearances, Elena looks 16.
However, she spent 41-years inside the Amulet of Avalor).
Isn't a Princess' life complicated!?
You probably already know her story.
The series features Aimee Carrero as the voice of Elena.
Adios Elena! Disney TV Animation has announced that Elena of Avalor has been canceled after its third season.
Grab the free Elena and the Secret of Avalor printable activity sheets below and explore the world of Avalor!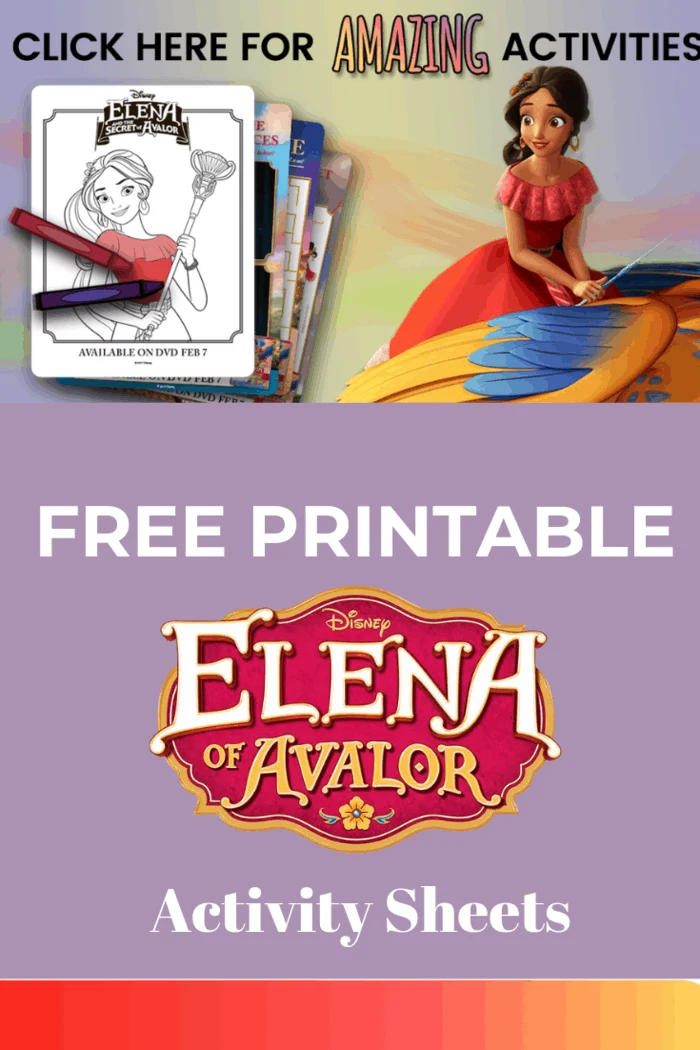 Now, Disney's newest Princess comes to DVD with the release of Elena and the Secret of Avalor to tell the story of how Elena's adventures in Avalor began!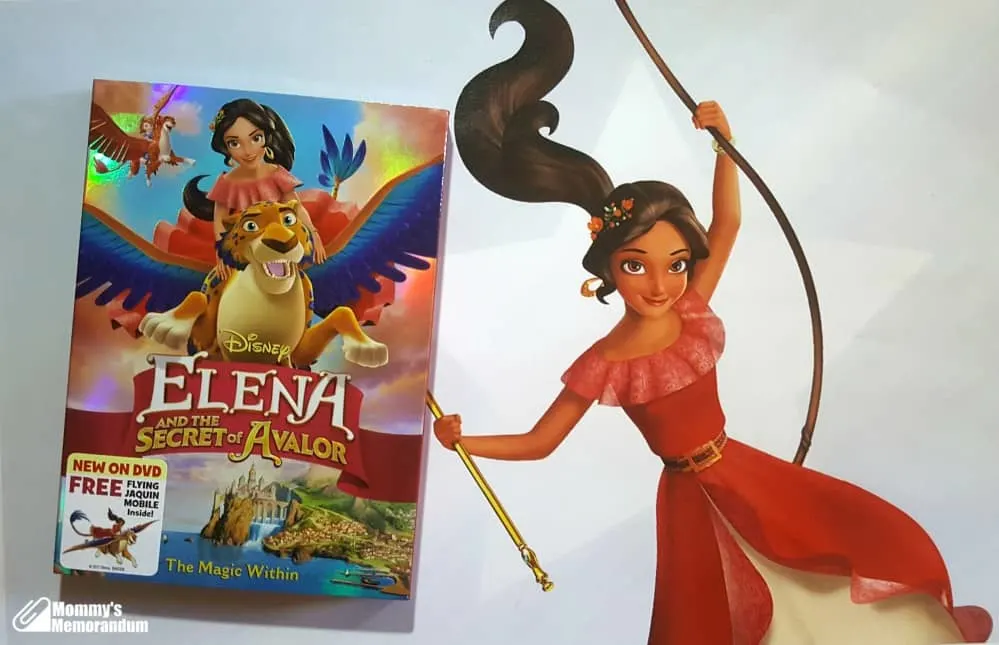 It is the story of her frozen in time and trapped inside the Amulet of Avalor for over forty years, Elena has finally found the one, brave princess who can set her free: Sofia of Enchancia!
With help from magical flying Jaquins, spirit animal Zuzo, and young wizard-in-training Mateo, Princess Elena must unite her people and battle the evil sorceress Shuriki (voiced by the legendary Jane Fonda) to reclaim her throne.
As the story goes, Elena chose to face Shuriki on her own.
When Shuriki tried to strike her down, the Amulet saved Elena's life by pulling her inside it.
We love our Elena and the Secret of Avalor DVD.
We enjoyed so many laughs, met new characters and had so much fun being together.
This fantastic DVD includes the TV Movie, Plus FOUR additional episodes, a music video, AND a FREE exclusive Flying Jaquin Mobile.
To celebrate the release of ELENA AND THE SECRET OF AVALOR on DVD, here's a new clip and FREE PRINTABLE Elena of Avalor activities!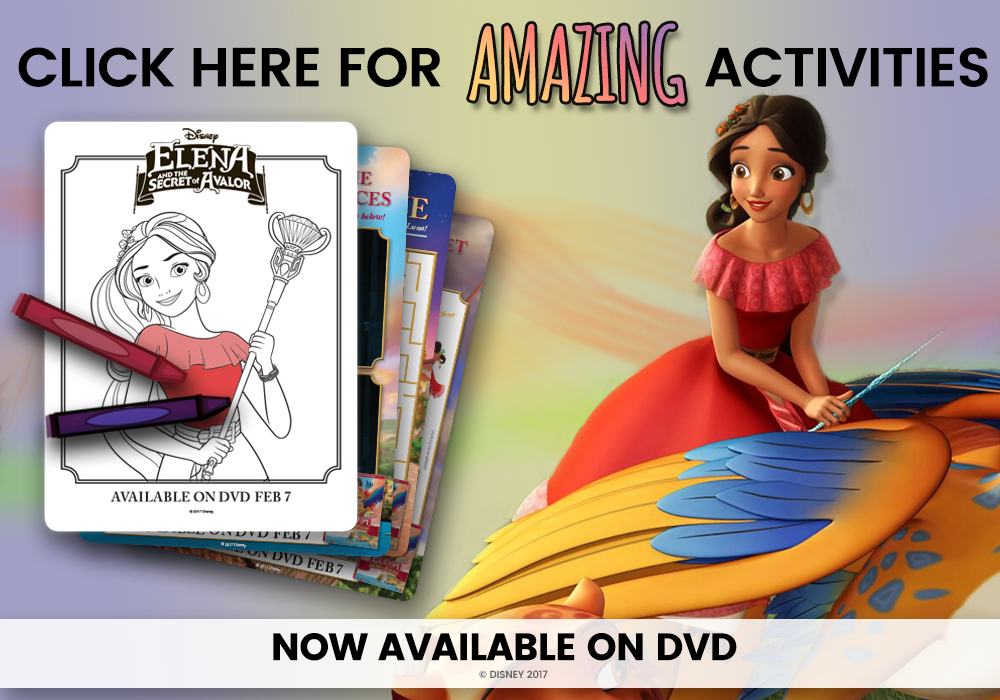 To celebrate the release of ELENA AND THE SECRET OF AVALOR on DVD, here are FREE PRINTABLE Elena of Avalor activities!

SOFIA FREES PRINCESS ELENA FROM THE AMULET
Join the adventure and celebrate Disney's newest princess by bringing home Elena and the Secret of Avalor!
We have even MORE PRINTABLE ACTIVITIES FOR ELENA OF AVALOR: REALM OF THE JAQUINS
My kids love themed activities that go along with shows they enjoy watching.
These printable pages are a fun way to turn a little TV time into learning time.
Activities include spot the difference, word find, maze, and name connect.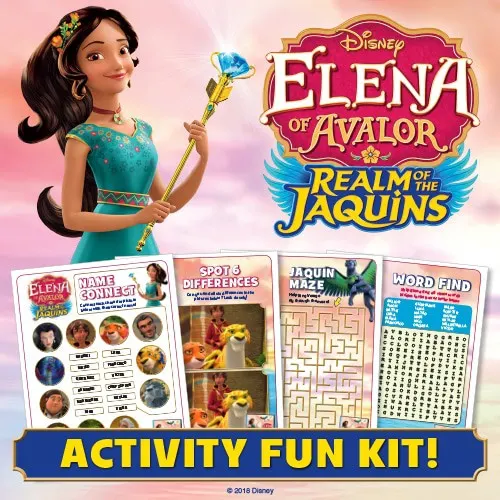 elena of avalor activities
elena of avalor activities

For even MORE fun, we have some free Elena of Avalor Printable Activity Sheets! They include two coloring pages, a maze and a spot the differences game.

Elena of Avalor - Table Runner

Elena of Avalor - Cup Wraps

Elena of Avalor banner