My husband grew up eating at Sam Wo in San Francisco's Chinatown and loved their lo mein; he would happily it any day of the week. This easy Instant Pot chicken lo mein recipe comes close,
My family devours it,
It's a great alternative to take-out with Chicken Lo Mein With slurp-worthy noodles, chunks of tender chicken, bright carrots and snap peas.
You'll have this pressure cooker Chinese Chicken Lo Mein on the table in about 30 minutes.
For this recipe, I used the Instant Pot Duo 60 7-in-1 Multipot.
A little bit about lo mein
Lo Mein is a dish where the noodles are boiled and tossed in a sauce.
Lo Mein noodles are typically an egg noodle, however this dish we are using linguine for convenience.
You can substitute noodles (we've used Ramen and lo mein noodles)–cooking time may vary.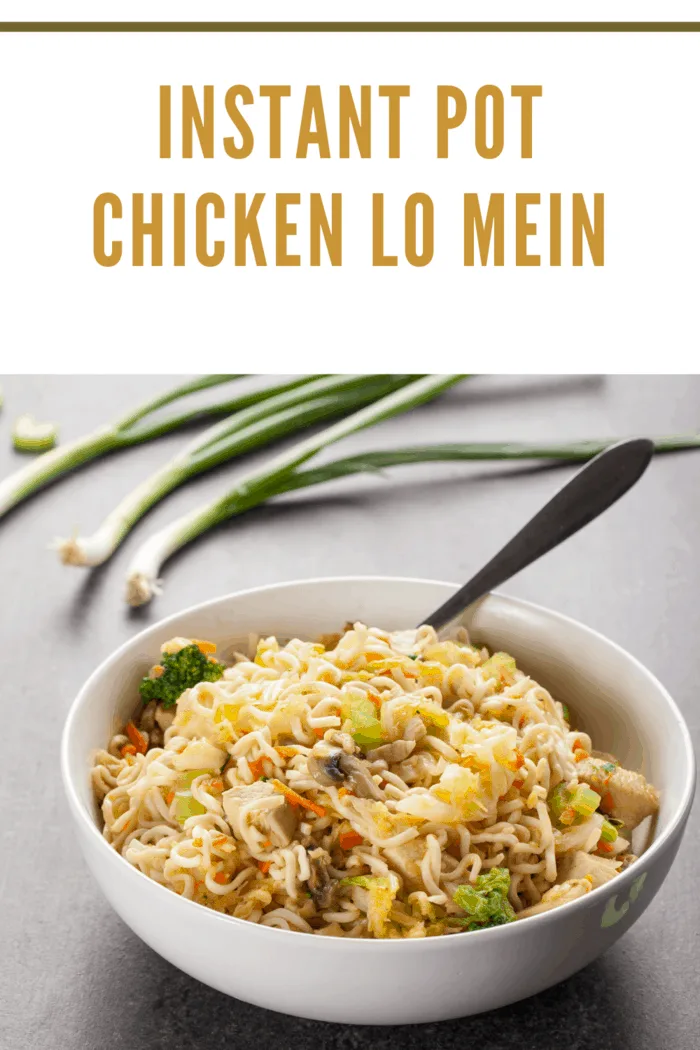 Easy Instant Pot Chicken Lo Mein
Prep Time: 10 minutes
Saute: 5 minutes on medium
Pressure Cook: 5 minutes on High
Release: Quick
Total Time: 30-minutes
Serves: 4
Dairy Free
Equipment: Measuring cups and spoons, chef's knife, wooden spoon or silicone spatula, medium bowl.
Instant Pot Chicken Lo Mein Ingredients:
1 Tablespoon toasted sesame oil
1 1/2 pounds boneless, skinless chicken breast, cut into bite-size pieces
1 garlic clove, minced
8 ounces dried linguine, broken in half
1 cup snow peas
1 cup broccoli florets
1 carrot, peeled and thinly sliced
1 /2 cups low-sodium chicken broth (try making your own Instant Pot Chicken Stock)
1 Tablespoon soy sauce
1 Tablespoon Fish Sauce
1 Tablespoon Shaoxing rice wine (see tip below)
1 teaspoon grated fresh ginger
1 Tablespoon brown sugar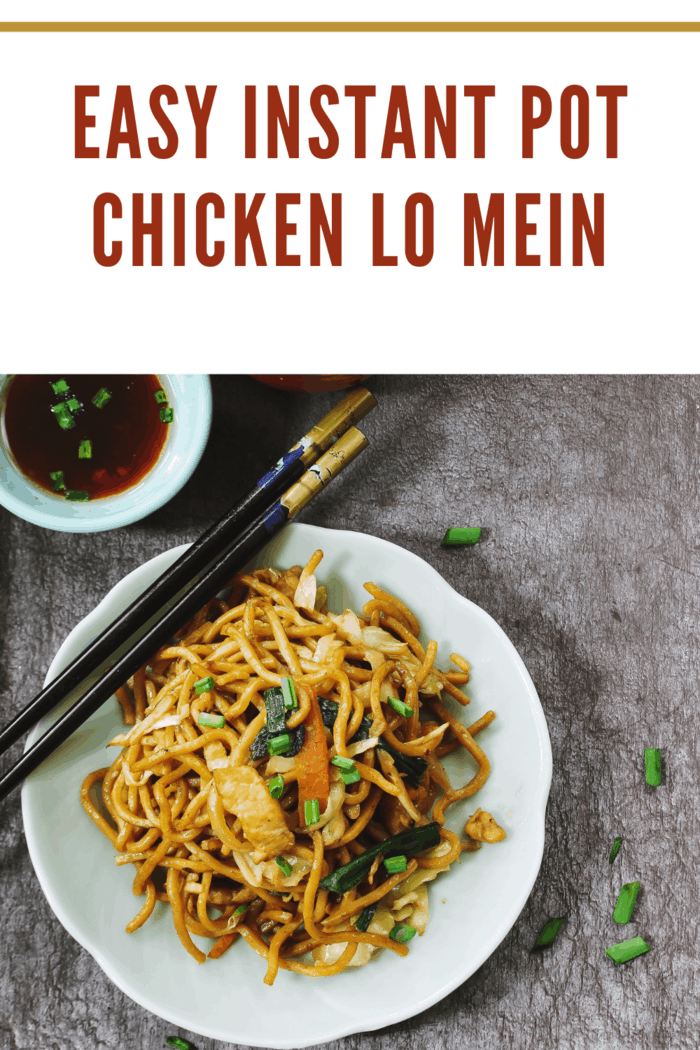 Instant Pot Chicken Lo Mein Directions:
Prepare the Chicken, Vegetables, and Noodles
Select Saute and adjust the heat to medium.
Add the sesame oil.
When the oil is hot, add the chicken and garlic and cook until the garlic is light brown and the chicken is opaque about five minutes.
Fan the noodles across the bottom of the pot.
Add the snow peans, broccoli, and carrot on top of the noodles.
Make the Sauce:
In a medium bowl, combine the broth, soy sauce, fish sauce, rice wine, ginger, and brown sugar.
Stir until the sugar is dissolved. our sauce over the vegetables in the pot.
Pressure Cook.
Lock the lid into place and turn the valve to "sealing".
Select Manual and adjust the pressure to High. Set the time for five minutes.
When the cooking ends, carefully turn the valve to "venting" to quickly release the pressure.
Finish the Dish.
Unlock and remove the lid.
Stir the noodles, breaking up any clumps, until the liquid is absorbed.
Ingredient Tip:
If you don't have fish sauce, you can substitute and an equal amount of soy sauce.
You can also substitute an equal amount of apple juice for the Shaoxing rice wine.
You can add any of these great vegetables to your Instant Pot for a personalized lo mein:
Red and green bell pepper
Green onions (these make a great finishing garnish)
Sliced baby bok choy
Sliced zucchini
Julienned carrots
Thinly sliced onions
Beansprouts
Frozen Peas