This Instant Pot Apple Butter recipe is a delicious preserve that can be used in place of any jam or jelly.
The name is deceptive as Apple Butter contains no actual butter. The name actually refers to the butter-like thick, soft consistency.
Seasoned with cinnamon and clove, apple butter is delicious on bread, or when used as an ingredient in baked goods.
Apple butter can be used as a fat substitute in reduced-fat or fat-free cooking, as well as vegan recipes.
Soft apples like McIntosh, Granny Smith, and Cortland apples, are a great choice for apple butter because they break down faster when cooked. This being said, you can use any apples you have, or a combination of apples to make apple butter.
The sugar from the apples breaks down and caramelizes, giving the apple butter a beautiful caramel brown coloring.
You may also want to check out my Pinterest Instant Pot board for more great recipes like this pressure cooker Apple Butter!
Let's get on to the deliciousness!
Easy Instant Pot Apple Butter Recipe Ingredients:
5 pounds of apples, cored and quartered
1/4 cup water, or apple juice
2 cinnamon sticks
1/4 tsp Nutmeg
1/4 tsp ground cloves
1/8 tsp. salt
3/4 tsp vanilla extract
1/4 cup sugar, optional (taste test as the apples may give it plenty of sweetness)

Easy Instant Pot Apple Butter Recipe Directions:
Add cored and quartered apples to Instant Pot. Add water and place cinnamon sticks on top of apples
Secure the lid and set the time. Place lid on Instant Pot and lock into place. Turn the valve to "sealing" and set the time for 20 minutes.
Allow Natural Release. Allow pressure to release naturally, about 25 minutes.
Remove and discard Cinnamon Stick.
Use an immersion blender to puree apples. You can also move apples into blender or food processor to puree.
Add remaining ingredients and stir.
Press Saute and reduce to desired consistency 15-45 minutes.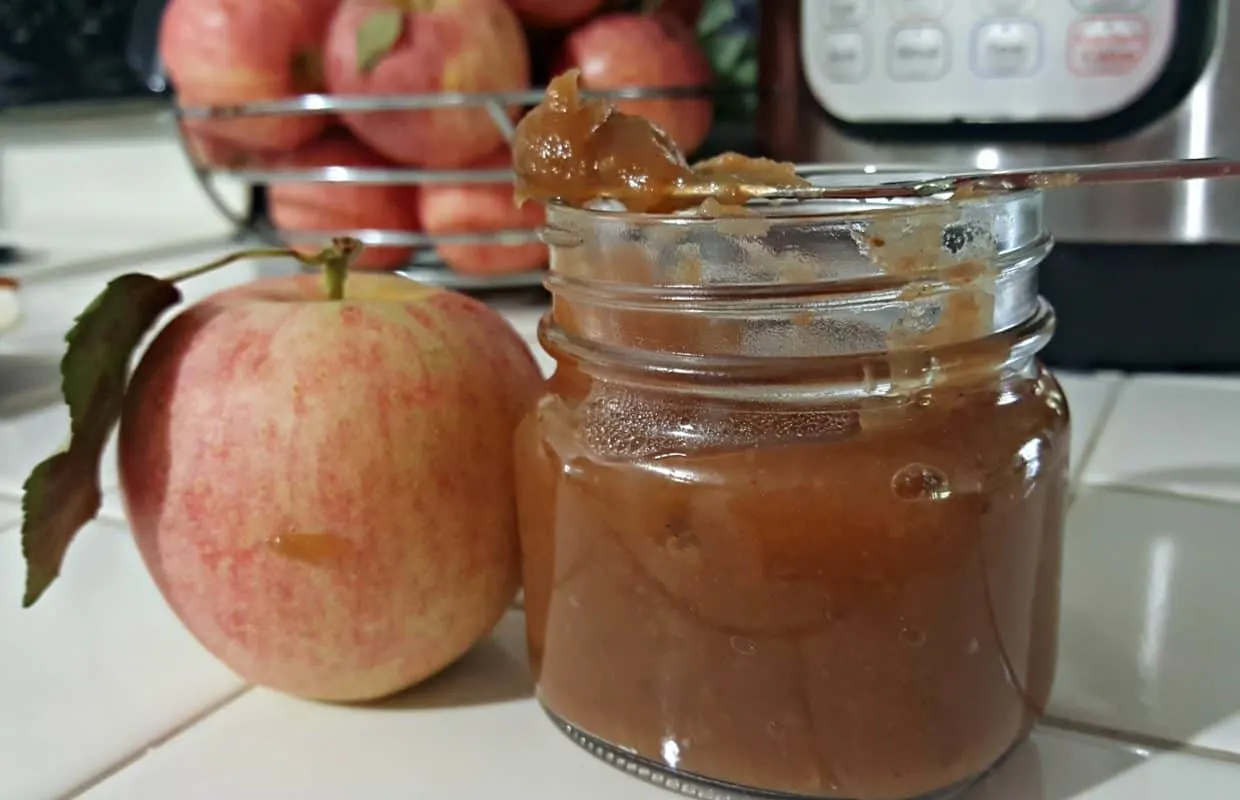 Typically apple butter is done when a spoon is dipped in and then turned upside down and "butter" doesn't fall off of the spoon.
You may also like this Instant Pot Strawberry Habanero Jam recipe.
Summary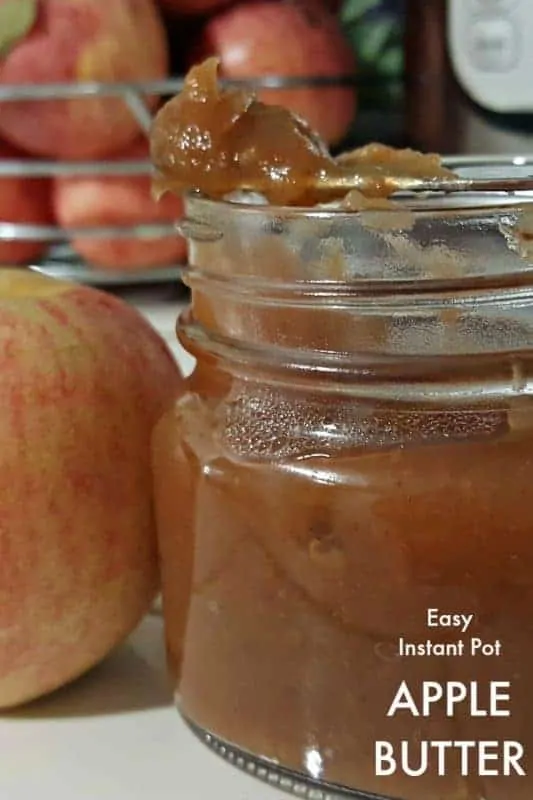 Recipe Name
Easy Instant Pot Apple Butter Recipe
Author Name
Published On
Preparation Time
Cook Time
Total Time