This Coho Ceviche recipe is brought to you by Sitka Salmon Shares.
This easy coho ceviche offers the sweet and tangy citrus flavors from the lime and orange juice which pair perfectly with the rich and smooth flavors of the coho salmon.
Serve it as an appetizer or as part of a big seafood feast.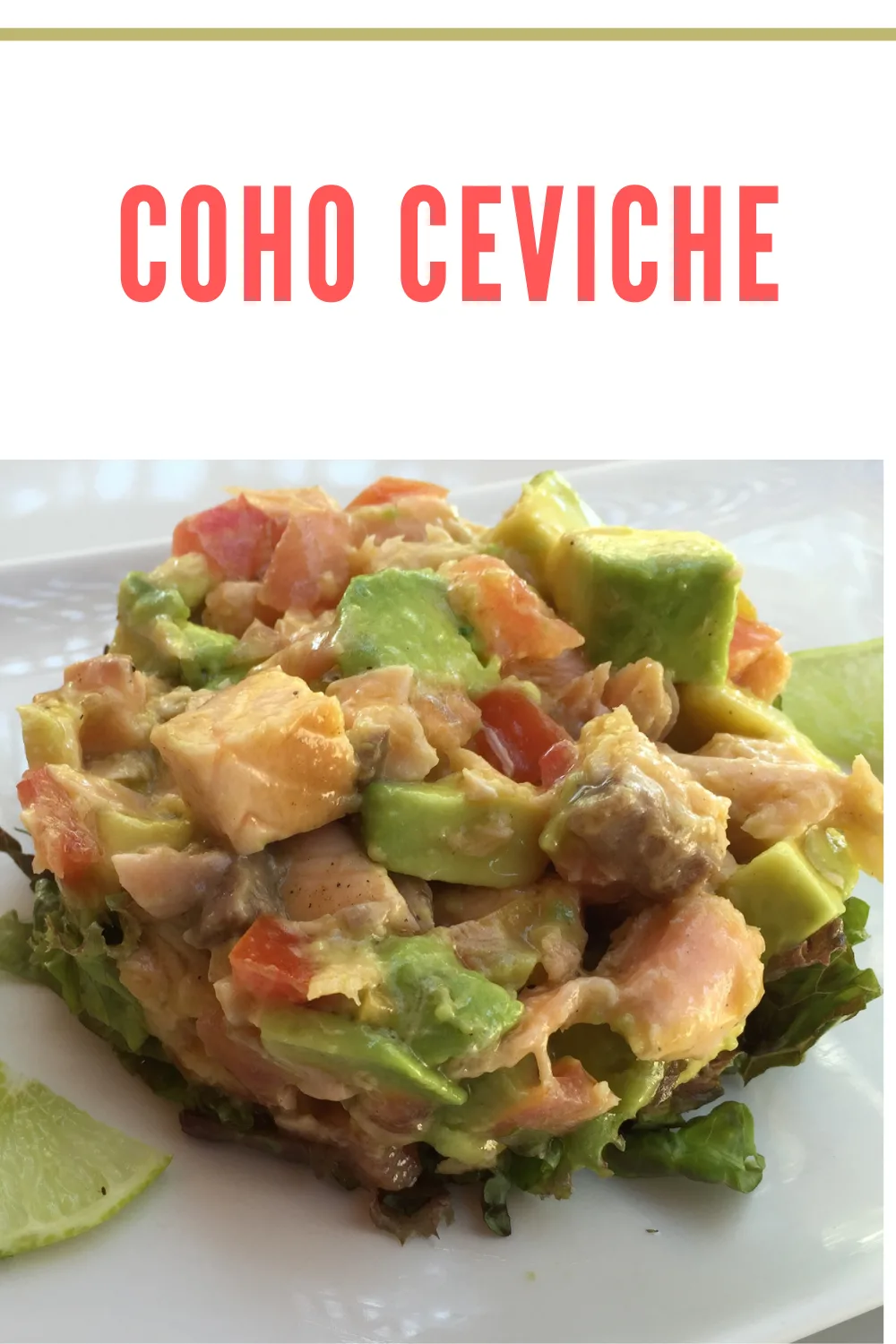 Ingredients to make Coho Ceviche:
3/4 pound coho salmon, skin removed and cut into 1/2-inch cubes
5 limes, juiced and divided
1 orange, juiced and divided
1 clove garlic, minced
1 jalapeno or fresno pepper, seeded and minced
1 medium shallot, minced
1 tomato, diced
1 avocado, diced
1/2 teaspoon cumin
2 Tablespoons chopped cilantro
salt and pepper (to taste)
tortilla chips (for serving
How to Make Salmon Ceviche:
"Cook" Coho:
In a medium size bowl, combine the coho cubes with the juice of half an orange and 3-4 limes.
The lime and orange juice should cover the coho.
Cover and refrigerate for 30 minutes.
Add Flavorings:
After the coho has "cooked" for 30-minutes, pour out the lime and orange juice from the bowl.
Mix in the rest of the ingredients, juice of 1/2 lime, 3 Tablespoons orange juice (from the other half of the orange) and season with salt and pepper to taste.
Serve:
Serve as an appetizer with chips.
According to a recent report by the American Heart Association eating fish twice a week is an important part of keeping your heart healthy.
Sitka Salmon Shares is a company that makes eating fish twice a week a delicious treat to look forward to making and eating.
They choose high-quality, responsibly caught seafood and deliver it directly to your door monthly AND your purchase benefits small boat fishermen, so you're not just doing your body good, you're doing good for others.
My family recently learned about Sitka Salmon Shares and wanted to share our experiences with you.
What is Sitka Salmon Shares?
Sitka Salmon Shares delivers premium, sustainable, wild Alaskan seafood from fishermen directly to your doorstep.
It's a subscription-based food delivery service, where you'll be paying for your "share" each month during the season.
You can pay upfront for savings, or on a monthly basis.
What Are the Share Options?
Sitka Salmon Shares offers 4 "Share" options:
Premium Sitka Seafood Share (starts at $129 per month)
Sitka Seafood Share (starts at $119 per month)
Sitka Salmon Share (starts at $119 per month)
Sitka White Fish Share (starts at $119 per month)
You can find full details about what's included in each of the shares and even compare shares to see what's the best fit for you on SitkaSalmonShares.com.
Make sure to use the code MMFish for a discount on any 2021 Sitka Seafood Share that is purchased by July 31st.
What Comes in the Box?
When your box arrives, it'll contain dry ice to keep the fish frozen.
Sitka Salmon Shares blast freezes the fish at the peak of freshness to ensure it stays fresh.
If you don't plan to make the food within 24 hours simply transfer it to your freezer.
We live on the other side of the country from Alaska and our fish arrived frozen.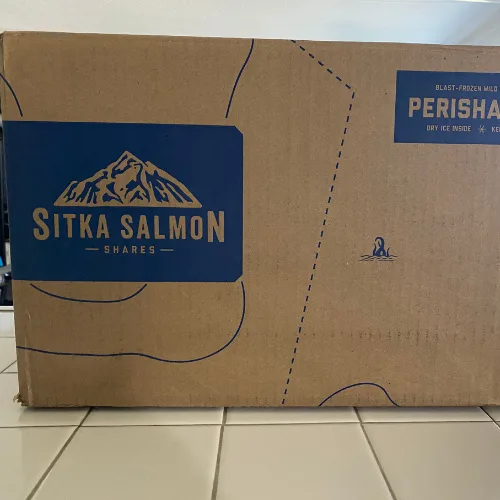 We planned to use our fish for dinner the next day, so I placed the lingcod in the fridge to defrost and the salmon in the freezer.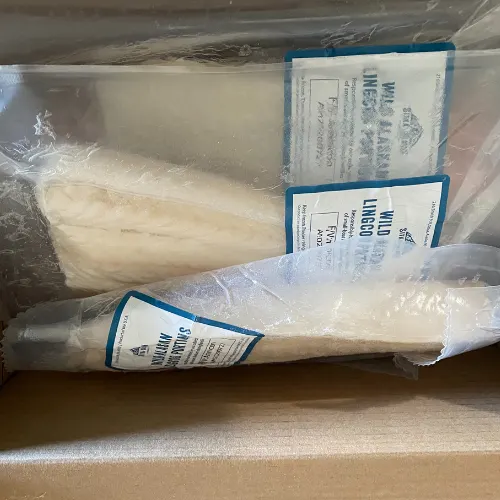 In your Sitka Salmon Shares box, you'll find large recipe cards.
These recipe cards are an excellent resource for preparing your fish "shares" and are easy to follow and require simple everyday ingredients.
The recipe cards are heavy cardstock and a full 8.5″x11″ making them durable in the kitchen and easy to follow along while cooking.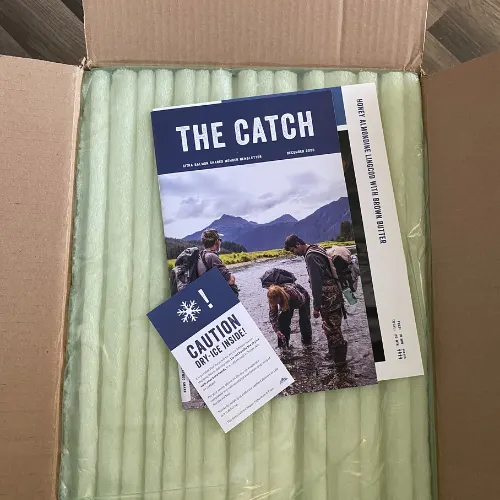 Why Should You Try Sitka Salmon Shares?
There is so much I love about Sitka Salmon Shares.
Beyond the incredible quality and taste of their fish the also:
Implement a hook-and-line method that minimizes the negative ecological impact.
Their fishermen receive approximately 10-30% more for their harvest, which could be an extra $10,000 of income each season for fishermen.
They donate a percentage of their gross revenue to efforts promoting small-scale fisheries and conservation in Alaska.
For those who prefer to be consumers of community-focused and environmentally focused companies, Sitka Shares is an excellent choice.
Sitka Salmon Shares Review
My family loves seafood.
When our Sitka Salmon share arrived both my husband and I were impressed.
We received salmon and lingcod.
The steaks are thick and gorgeous in color.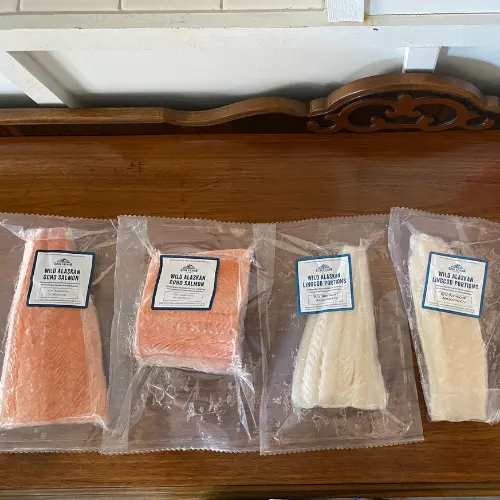 While beautiful, the true test would come from the taste.
My husband isn't really a salmon lover but even he thought it looked incredible.
The lingcod was a beautiful white.
These are THICK steaks of fish.
We made several meals from our Sitka Salmon Shares box and I love the convenience of having the selection delivered directly to my door.
If you've been looking for a seafood delivery subscription service this is definitely one to consider.
Additionally, if you do sign up for a 2021 Premium Sitka Seafood Share make sure you use the code MMFISH to save $25 on your purchase.