As you know, I"m inherently lazy. While I love to cook, there are days when I just want to take the easy route, which makes the slow-cooker one of my favorite appliances! I love the thought of just throwing it all in there, turning it on and walking away only to come back and discover dinner is ready!
One of my new favorite cookbooks that utilizes my favorite appliance is The 150 Best Slow Cooker Recipes: Second Edition (Robert Rose, Inc, Oct 2011) by Judith Finlayson. Celebrating the first edition's tenth anniversary, this book takes old standards and revises them to add new dimensions. There's 100 of the original recipes that have received makeovers yeilding them to be healthier.
One of the great things about this book is the recipe tabs. It's everything at a glance from entertaining, vegan/vegetarian options and tips to halve a recipe.
This cookbook also starts with a section that gives you a glimpse of what's inside. Regardless of your cooking level it's a must-read with information on how to best use a slow-cooker, which ingredients should be left longer or cut smaller for the perfect texture, taste and appeal. I even learned how to check that the slow-cooker is cooking at the proper rate and temperature.
Dinner won't get monotonous with the options in this book. In the mood for Chinese, Mexican, American? It's all here.
Having lived in Miami for a decade, I love the food. I found a Cuban Picadillo with Pimento Stuffed Green Olives recipe on page 128. It tastes like Miami and even has a recipe for frying plantains (a must-have with picadillo).
The book is set up with beautiful color photos, plus the recipe includes a column to the side that tells how many the recipe serves, if it's entertaining worthy, a tip, and a make-ahead portion. You can view a glimpse of the book's setup as well as this recipe for Down Home Chicken Gumbo.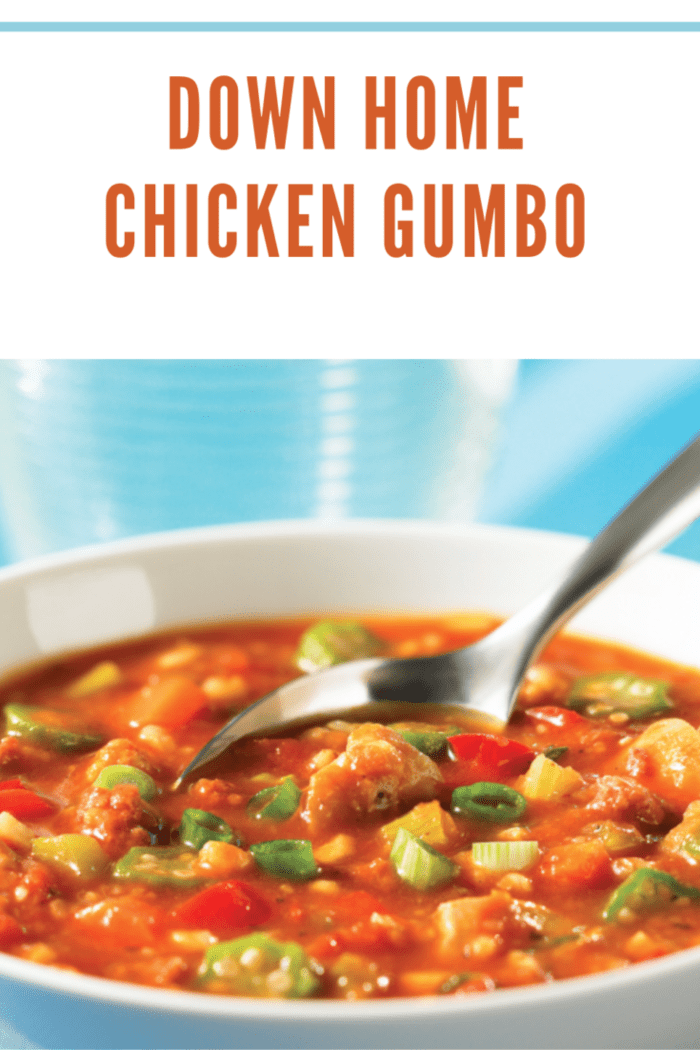 • Medium to large (4 to 5 quart) slow cooker
Ingredients:
1 tbsp olive oil 15 mL
8 oz fresh chorizo sausage, removed from casings 250 g (see Tips)
2 onions, finely chopped
4 stalks celery, diced
4 cloves garlic, minced
1 to 2 tsp Cajun seasoning (see Tips, left) 5 to 10 mL
1 tsp salt 5 mL
1 tsp cracked black peppercorns 5 mL 1 bay leaf 1 1⁄4 cup short-grain brown rice (see Tips, page 86) 60 mL
2 tbsp tomato paste 30 mL 1 can (14 oz/398 mL) diced tomatoes, with juice 1
4 cups chicken stock 1 L
1 lb skinless boneless chicken thighs, cut into 500 g
bite-size pieces
2 cups sliced okra (1⁄4 inch/0.5 cm) (see Tips, left) 500 mL
1 red bell pepper, seeded and diced
1 1⁄4 tsp cayenne pepper, optional (see Tips) 1 mL
How to Make Down Home Chicken Gumbo
Finely chopped green onions, for garnish
1. In a skillet, heat oil over medium heat. Add sausage, onions and celery
and cook, stirring, until sausage is cooked through, about 7 minutes.
Add garlic, Cajun seasoning to taste, salt, peppercorns and bay leaf
and cook, stirring, for 1 minute. Add rice and toss until coated. Stir in
tomato paste. Add tomatoes with juice and bring to
a boil.
2. Transfer to slow cooker stoneware. Stir in stock and chicken. Cover
and cook on Low for 5 hours or on High for 2 1⁄2 hours, until hot
and bubbly. Stir in okra, bell pepper, and cayenne. Cover and cook on
High for 20 minutes, until okra is tender. Remove and discard bay leaf.
Garnish with green onions.
Tips:
If you are halving this recipe, be sure to use a small (2 to 31⁄2 quart) slow cooker.
The quantity of Cajun seasoning and whether you add cayenne depends upon how hot your chorizo is. If you're in doubt, err on the side of caution. You can always pass hot pepper sauce at the table.
Andouille, a spicy smoked pork sausage used in Cajun cooking, is traditionally used in gumbo. If you can find uncooked andouille, by all
means use it here. However, most andouille is precooked and heavily smoked, which wouldn't work in this recipe. Okra is a great thickener
for soups but becomes unpleasantly sticky when overcooked. Choose young okra pods 2 to 4 inches (5 to 10 cm) long that don't feel sticky to the touch, which means they are ripe. Gently scrub the pods, cut off the top and tail and slice. This is a much more delicious version of the chicken gumbo soup I enjoyed as a child, which, I'm sorry to say, came out of a can. Despite the difference in quality, it evokes an abundance of pleasant food memories — I could still enjoy it almost every day of the week.
Serves 6
The 150 Best Slow Cooker Recipes: Second Edition is will be available online though Amazon and Barnes & Noble.
*I received The 150 Best Slow Cooker Recipes in order to facilitate an honest review. The opinions, where expressed, are my own and were in no way influenced by the sponsor. Others experiences may vary.