Disney's Haunted Mansion: A Spooky Delight Arriving on Digital and Physical Formats
Release Date:
Digital: October 4
Physical (4K Ultra HD, Blu-ray, DVD): October 17
Unveiling the Haunted Thrills at Home
Prepare for a supernatural journey as Disney's Haunted Mansion materializes on your screens and shelves. This enchanting film will be available on all major digital platforms, such as Prime Video, Apple TV, and Vudu/Fandango, starting October 4. If you prefer to collect your chills in physical form, mark your calendar for October 17, when it releases on 4K Ultra HD, Blu-ray, and DVD.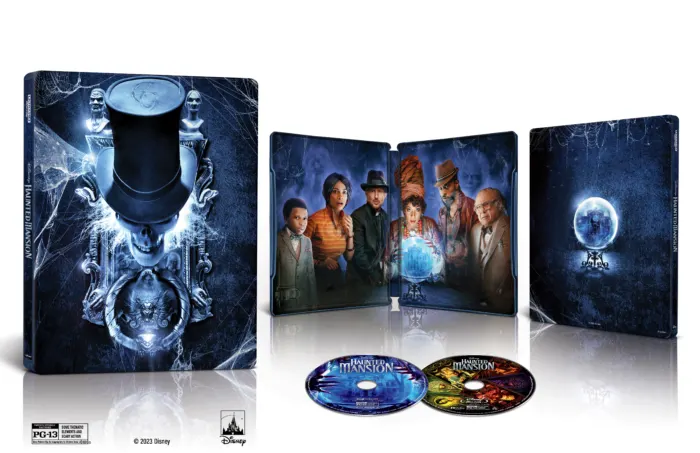 A Spooky Tale Inspired by a Classic Attraction
Film Synopsis:
Based on the beloved theme park attraction, Haunted Mansion invites you into the eerie world of Gabbie (played by Rosario Dawson), a single mother who stumbles upon a home infested with pesky ghosts. In her quest to restore peace to her abode, Gabbie enlists an oddball team of self-proclaimed spiritual experts to evict the supernatural inhabitants. This film promises a relentless blend of action, adventure, and humor, boasting an ensemble cast featuring LaKeith Stanfield, Tiffany Haddish, Owen Wilson, Danny DeVito, Dan Levy, Jamie Lee Curtis, and Jared Leto. Haunted Mansion's hauntingly entertaining script was penned by Katie Dippold and masterfully directed by Justin Simien. The film's production is helmed by Dan Lin and Jonathan Eirich, with Nick Reynolds and Tom Peitzman serving as executive producers.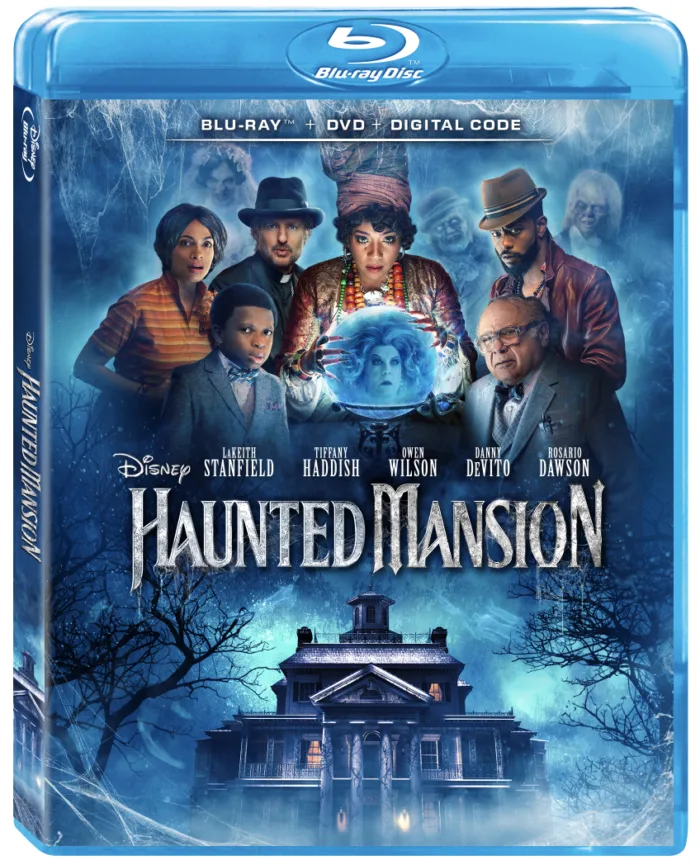 Unlock Exclusive Bonus Features
Delve deeper into the haunted mystery with exclusive bonus features, available for your enjoyment:
Featurettes:
Making Haunted Mansion (13:05) – Dive behind the scenes with the cast, crew, and filmmakers to uncover the secrets of crafting this spine-tingling adventure inspired by the world-famous ride. Explore how cutting-edge technology breathed life into the ghosts, what role it played, and how the iconic attraction served as the film's muse.
999 Happy Haunts (7:05) – Venture into the Disney Parks' attraction and discover 999 Happy Haunts – and maybe even room for one more! Uncover the hidden Easter eggs, showcasing characters from all walks of life, both living and otherwise, who appear in both the movie and the ride.
Deleted Scenes:
Witness moments that didn't make the final cut of Haunted Mansion:
Carol (0:45)
1 Star (0:44)
Harriet's House Of Intuition (3:11)
They Say The Place Is Haunted (1:16)
Between Realms (1:42)
Crump Manor (1:07)
Emergency Baptism (1:01)
A Good Head For Business (0:32)
Gag Reel:
Discover the lighter side of making a spooky movie with unexpected laughs!
Please note that bonus features may vary depending on the product and retailer.
Bring the Haunted Mansion's ghoulish delights into your home and immerse yourself in the supernatural adventure that awaits. Whether you prefer the digital realm or a physical collection, October is the month to experience the magic and mystery of Disney's Haunted Mansion.