If you just noticed that your exterior doors are fading, warping, and hard to open and close, you should think of replacing them as soon as possible. This is because the front doors give visitors the first impression of your home. Entry doors are also the main entrance to your home, so burglars can find their way into your home if the front doors are dented and weak.
One of the challenges you will face with replacing your front doors is the time of the year to do it. You can choose to replace them during spring, summer, winter, or Fall. But each of these seasons has its advantages and disadvantages. However, choosing a season will not be a big deal because as long as your exterior doors replacement is done by a professional, you are good to go.
1. Replacing In Spring
Spring has nice weather because it is nice and warm, and most homeowners will think of replacing their doors during this time. Because the season has longer days than nights, most installers are also busy.
One advantage you will get from replacing your door in spring is the discounts from door sellers and installers. Most stores have discounted items to make more sales when the demand is high.
However, the downside of replacing during spring is that it will be a bit challenging to get a contractor. This is because most of them are busy. They also charge a high installation fee during this time because of the demand.
To not face these challenges, identify a contractor and book them before spring comes. By doing so, you will have your contractor standby to replace your discounted door.
2. Replacing In Summer
Replacing your exterior doors in summer is an excellent choice to make. This is because it has an almost nice and warm climate like spring, with longer days. You will be comfortable during the installation process with the warm weather because no heat will be lost when the old door is taken out.
However, the contractors are also busy during this season, and the installation fee is higher. It is advisable to select the door earlier and book a contractor before the season begins. Ensure you are getting a professional contractor.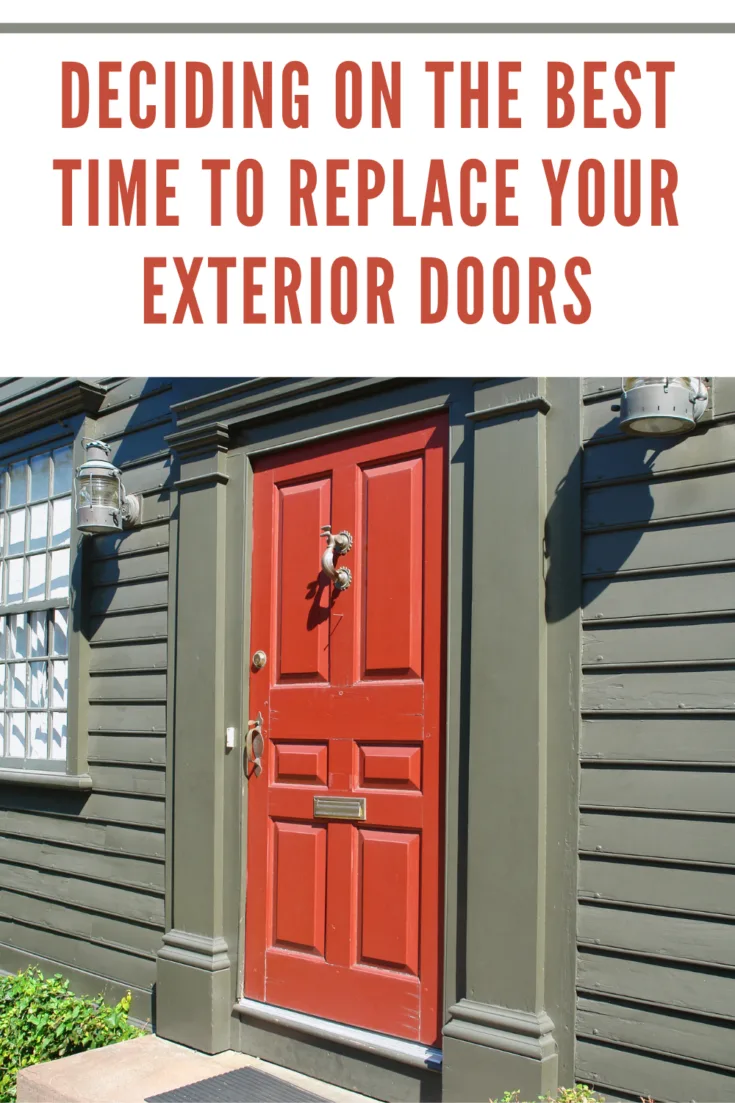 3. Replacing In Fall
Could it be that Fall is the best time to install entry doors? This assumption is based on the fact that most homeowners choose to install their replacement doors in summer and spring, so there is not much work for the installers.
Also, during Fall, most parents are thinking of taking their kids back to school, so they might not think a lot about replacing their front door at that time due to the pressure of paying school fees. During Fall, you will not lose a lot of energy because your HVAC system is turned off at this time.
4. Replacing In Winter
Most people will not consider exterior doors replacement in winter because it is very cold, making it an offseason for contractors. The homeowner will also experience a lot of energy loss during the replacement process. However, since contractors are not busy, you are likely to get faster installation.
The new door will also bring immediate changes when you install it in winter. You are also expected to get better installation deals, like lower installation costs, because the demand is low.
When the season is almost over, be sure to see a change in your energy bills if your door is energy efficient. This is also a good time because you will surprise your family with a new front door when schools close for holidays.
5. So, Which Is The Best Season
Sincerely, there is no better season to replace entry doors. Every season has its advantages and disadvantages. For the seasons that contractors are usually busy, you can pick a replacement date and book a contactor before the season comes. It all comes time to the season that fits you well. For instance, if you do not want competition and paying hefty replacement fees to installers in summer, you would want to opt to replace your exterior doors in winter.
---
Resources: