We are at the London Hotel; Dave Bautista just walked into the room. He is a massive man at 6-foot-7-inches. He walks with confidence. He smiles shyly.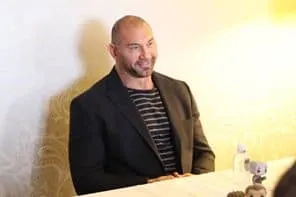 My kids know him as the professional wrestler "Bautista," the six-time world champion, who holds the record for the longest reign as World Heavyweight Champion.
He rumbled Tag Team Championships with Ric Flair and John Cena.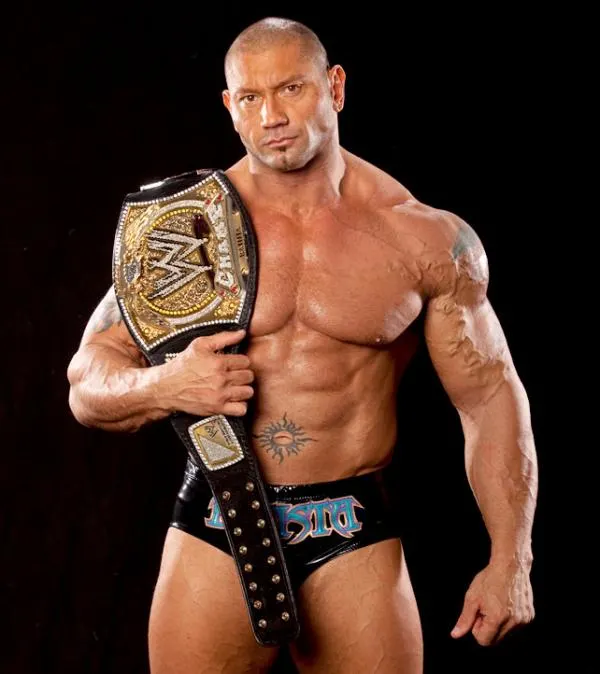 My husband and the guys at work know him for his MMA fight in 2012, defeating Vince Lucero via TKO in the first round.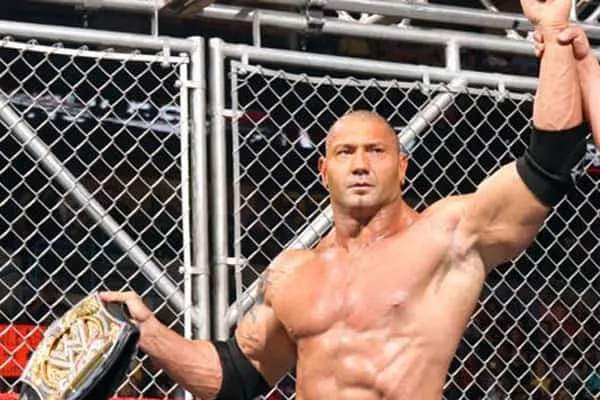 But let's face it, we all know him as Drax the Destroyer from Guardians of the Galaxy.
He's the big, tattooed guy in the movie with enhanced strength and resilience and the ability to cast energy blasts from his hands.
In Guardians of the Galaxy Vol. 2, Drax comes to the forefront. It's a different role from Bautista from the original Guardians. A change that pushed the comfort zone of Bautista.
"When I first read the script, I wasn't crazy about it. Usually when I get a script I go over my dialogue first. I was expecting them to go a different direction with Drax. I thought he was gooing to be more of the destroyer. I thought he was going to be a more comic book Drax. I don't find myself funny at all, so when I was reading the lines I was saying to myself, 'they're not funny'. I did think the script was great. It is deep. It is emotional. Still, I was a disappointed about my part."
Then, Bautista did a table read with his Guardians co-stars:
"I realized it is hysterical. I had a completely different outlook on it as a whole."
In his surprisingly soft voice, he talks about Guardians of the Galaxy Vol. 2.
"I think it's a beautiful movie. I like it's better than the first film. It's weird. I feel like the more and more we get into film, the more I am sucked into it, and there are certain beats I sniffle up."
"I just get so emotionally like invested in this film. I felt that the first Guardians was fun and exciting and some parts were very emotional, but not like this one. I felt like I was just totally absorbed in Vol. 2. As far as watching me on film, I just cringe. I just like don't like watching myself on film. It's just uncomfortable. Last night at the world premiere I just put my head down and just try to get through it. I am uncomfortable with it."
Being in this room with Dave Bautista leaves me in awe.
He's a giant in every term.
He is taller than average, his muscles are extreme, and yet he is gentle.
He is calm.
His voice is soft-spoken, almost a whisper.
He may have been the most surprising part of the press junket.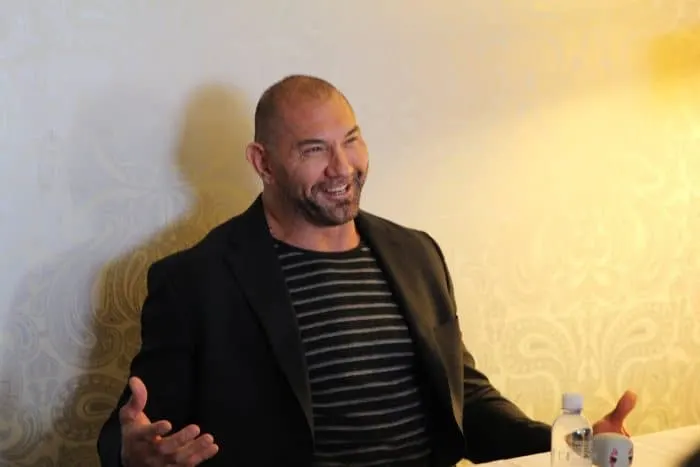 But he does play a BIG guy on the screen. Does he pull from those experiences to create his larger-than-life character, Drax?
"Someone said something to me the other day that resonated a little bit, and I never really put any thought into it. He was making the comparison between my role as Drax and Wrestling, and I said 'There's no comparison. Wrestling is so big and so broad and such a big, improvisational physical performance, and acting is so intimate.'

He says, 'Drax is so big. He's so larger than life."

I never really thought about it, but it really is. So, perhaps subconsciously it does help a little bit, because Drax is definitely not who I am."
He chuckles, softer than you'd imagine emerging from a man who towers above at 6 foot 7-inches and whose shoulders are broad, with biceps the size of tree trunks.
He shares how he sees his character, Drax compared to himself.
"He's big and boisterous and a little bit egotistical and proud. I'm not that. I'm just much more self-conscious and understated. Especially when Drax starts laughing. It's just so big and ridiculous!"
Disney-Marvel's Guardians of the Galaxy has been well-received. The fame of each of the characters has skyrocketed.
Bautista shares how he handles fame and how he grounds himself.
"I go home to Tampa and I hide. I do. I live in a regular neighborhood. It's just a normal neighborhood. My wife shies away from the spotlight. She doesn't like it. It's just life and I like being there. I'm very content there. All this attention and the spotlight is very uncomfortable for me."
Bautista pauses for a moment. He reflects on the spotlight and then shares why he does it:
"I tell people this and nobody really gets it. When we're walking down the red carpet and they're saying, 'Oh, this is great.' For me it's not. I enjoy it. I don't hate it, but at the same time it's just overwhelming for me. People have a hard time relating why it would be overwhelming, especially when they look at what I've done for a living, especially with wrestling and everything being out there in the spotlight. I do it because I love it. I am passionate about it. That doesn't mean I was always like feeling super comfortable. I do it because I want to step outside of my career zone and pursue my dreams, which is terrifying."
Bautista hopes to continue the role as Drax. He gives insights on what he'd like for his character in Guardians.
"If I had some input in it, what I'd really love is for people to have a visual.A face, and a name to put with a face. I'd love if they would actually show Drax's family.

Some of the race of beings from where he comes. I'd like to see more beings like Drax, more people with different tattoos. It would be great if the audience could just have a visual of Drax's family."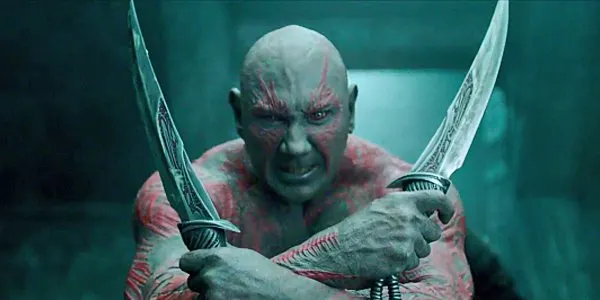 While Bautista himself has some impressive tattoos, his character Drax is covered in tattoos. Bautista talks about getting made-up as Drax.
"It's most of my body they cover. Actually it's not bad. It takes about an hour and a half now. On the first film it took like four to six hours. They use these glue transfers. It's really hard to get off, but it goes on really fast. I can't complain. Zoe (Saldana) and Karen (Gillan) had 2am and 3am pickups for makeup."
Bautista may be quiet, but he reveals the chemistry and antics that occurred while filming Guardians of the Galaxy Vol. 2.
"Michael Rooker's a bit of a prankster but not so much where he would do something to just irritate somebody or have a laugh at somebody's expense. But we had a lot of laughs. I think you guys have all interviewed Chris Pratt, and know he just loves making people laugh. Sometimes he's just hysterical without even trying. There is a lot of great chemistry. We all got really close in the first film. We've spent so much time together on press tours and whatnot. We've actually done like three films together as the Guardians. We've done, you know, Guardians 1 and 2 and gone to the Avengers.

It's a huge luxury coming into the Vol. 2 for me. I felt comfortable with everyone. I didn't have to feel self-conscious; they know I am a little awkward and they accept that about me.

I have ADD and I zone off quite a bit. Sometimes I'll zone off and I can hear Zoë (Saldana) saying, 'David. David, where are you?' She's really sweet accepts it at the end. "
And just in case you missed it, the Guardians will be in the Avengers. We tried to get Bautista to give us the inside scoop.
"I would love the spill the beans. I can tell you this. We're in the Avengers. "
And then he laughs, almost the hardy laugh you expect from Drax.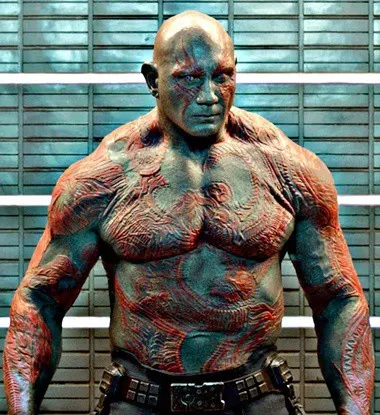 Drax's incredible body isn't makeup or CGI; it's Bautista.
He talks about fitting working out into the shooting schedule and his secret to keeping fit.
"It's a lifetime thing for me. It's a commitment thing. I think people expect me to have a certain personality because of how I look, and I always tell people I look the way I do because of the personality I have. The only place I ever felt comfortable was working out. I just felt like I was a fish put back in the water. I felt like I could do this on my own. It just makes me feel good. It makes me feel more confident, and that's why I look the way I do.

I am so self-conscious on the inside. I don't have a personality where I feel like I have to be the biggest guy in the room. On days that I'm makeup, I can't work out. I watch what I eat, and instead of being driven from here to there, which is sometimes ridiculous — sometimes you're being driven across the street, I'll walk off the set. I'll run from here to there or jog. I do pushups in my trailer or free squats on set when we're standing there to keep my blood flowin'."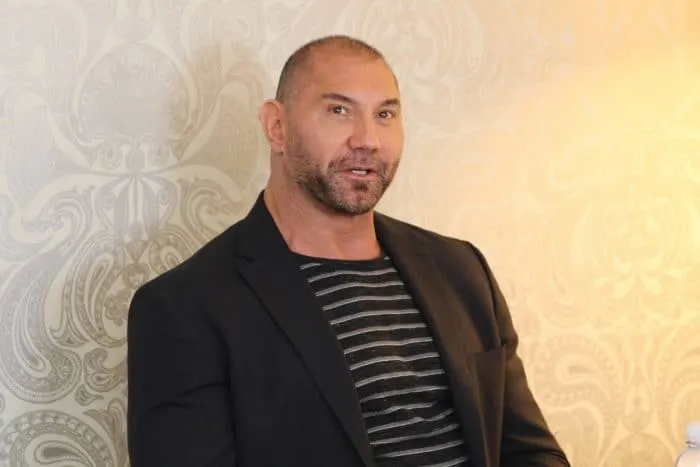 See Dave Bautista as Drax the Destroyer in Guardians of the Galaxy Vol. 2 and The Avengers.