Create a Baby Shower Gift that's unBEARably Cute! #Tutorial
The online world is teeming with an abundance of delightful images showcasing the artistry and creativity of diaper cake shower gifts. I have had the pleasure of attending numerous baby showers where these marvelous creations served as eye-catching centerpieces or as cherished presents tailor-made to complement the expecting mother's personal style. However, amidst this plethora of options, one particular gift has remained etched in my memory as an all-time favorite and has even become my signature offering—the enchanting gift of the clothesline!
But for those seeking to explore uncharted territories and veer away from the tried and true, Gerber Childrenswear presents an adorably irresistible idea that seamlessly merges fun, utility, and simplicity—the beloved Bear Buddy. Brace yourself for an outpouring of jubilant coos and heartfelt celebration as this charming companion takes center stage.
The process of creating the Gerber Childrenswear Bear Buddy is as enjoyable as it is straightforward. With just a few simple steps, you can fashion this lovable companion to bring joy and a touch of whimsy to any baby shower or celebration. Imagination is the only limit when it comes to personalizing this delightful gift, ensuring it resonates with the recipient's unique taste and style.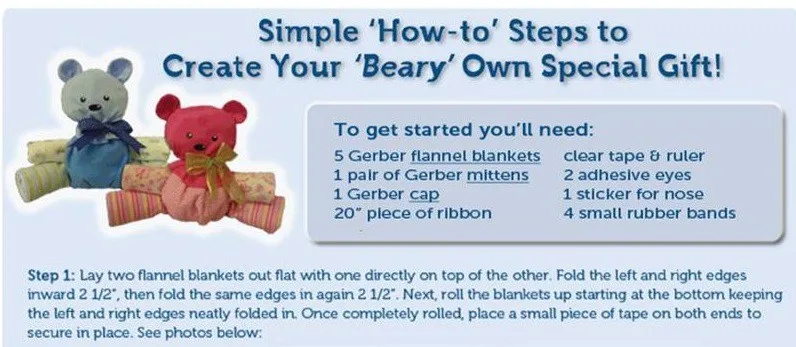 How to Make a Bear Buddy for a Baby Shower
Supplies:
5 baby flannel blankets
1 pair of baby mittens
1 baby cap
20-inches of ribbon
2 adhesive eyes
1 sticker for nose
4 small rubber bands
Clear Tape and Ruler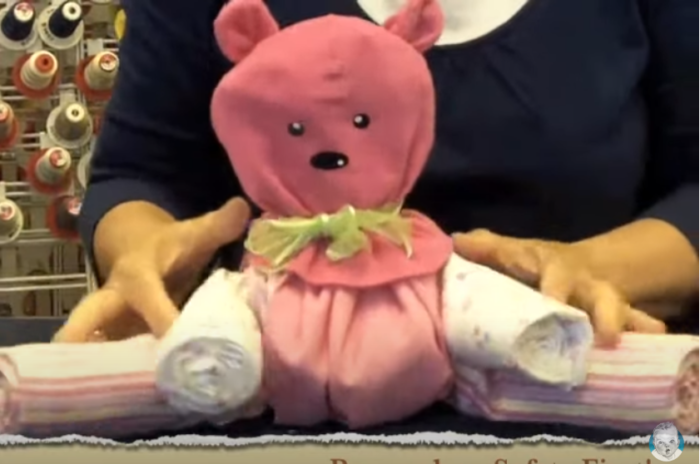 How to Make a Bear Buddy for a Baby Shower
Lay two flannel blankets out flat with one directly on top of the other.
Fold the left and right edges inward 2 12/".
Next, roll the blankets up starting at the bottom keeping the left and right edges neatly folded in.
Once completely roller, place a small piece of tape on both ends to secure in place.
How to Video:
How to video
and easy instructions are available for those more visual!
In the realm of baby shower gifts, the Gerber Childrenswear Bear Buddy stands apart as a "beary" cute idea that seamlessly combines fun, functionality, and ease of creation. Prepare to bask in the glow of exuberant celebrations as you present this enchanting companion—a symbol of love and joy that will undoubtedly leave an indelible impression on all who